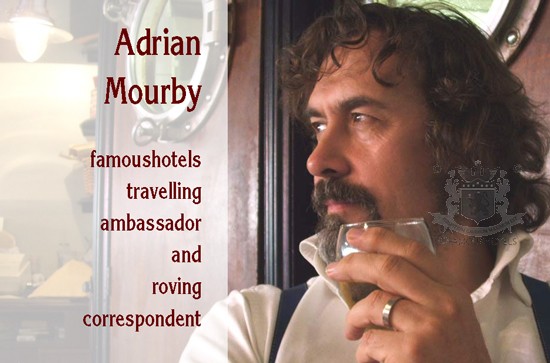 Adrian Mourby
Mourby of Milan
( words)
Adrian Mourby visited the city of the World Expo 2015, only to spend all his time at the Grand Hotel sipping Martinis. Can we continue to support such a man? We can.
Recently I visited Milan while the city was in the grip of Expo 2015. Many new hotels have sprung up in reaction to this international celebration of the future, but my interest was in the past. There are two great historic hotels in Milan, il Principe di Savoia, a vertical 1920s palace that lies between the Mussolini-era Central Station and the city centre, and Grand Hotel et de Milan on Via Manzoni, which dates back to the 1860s.
For decades everyone who came to Milan and could afford this gracious old hotel stayed at the Grand, from Enrico Caruso to Tamara de Lempicka, from Ernest Hemingway to Maria Callas and His Imperial Majesty the Emperor of Brazil but the hotel's favourite guest was -and still is- Giuseppe Verdi, and rightly so. The grizzled old composer made rooms 105 and 106 his office when in Milan, and when he was not on his country estate, Milan was where he was usually to be found.
It is difficult for an non-Italian of my generation to understand the importance of Verdi in the nineteenth century. His music and his politics made him the embodiment of the Italian desire for independent nationhood. Garibaldi may have led the troops, Cavour may have done the politics and Victor Emanuele of Savoy put himself forward as king, but Verdi was the soul of Italian Independence. As a man he endured great personal tragedy but he managed to transmute that suffering into beautiful yearning music, and thus he became – and still is for many – the voice of Italy.
After first nights at La Scala, just down the road from the Grand Hotel, the Milanese would seize his carriage and haul it themselves to the Albergo de Milan, as the Grand Hotel was then known. And when the composer was dying in what is now Room 106, they strewed Via Manzoni with hay to dampen the sounds of horses' hooves outside his window.
I called in to the Grand Hotel for dinner one evening this summer and to see Verdi's "office". But first I drank a martini in Gerry's, the hotel's conservatory style bar. I'd memories of a fine gin martini from several years ago and I was not disappointed now. It surprises me how many sophisticated hotels get a simple thing like a martini wrong but according to hotel legend Ernest Hemingway taught the barstaff how to mix them in 1922. Hem was on a return peacetime visit to Milan having been nursed back to health here in Via Manzoni during World War I.
The bar of the Grand Hotel et de Milan has a timeless, slightly under-restored quality, as indeed does reception and the dark main staircase. However this is a wonderful illusion as the hotel was damaged in an air raid during World War II and was unpleasantly modernised when it was restored in the 1950s. Fortunately it was then de-modernised in the 1991 during its last refurbishment and returned to something Verdi might have recognised. A marble statue at the bottom of the staircase commemorates the visit of Dom Pedro II, Emperor of Brazil in 1888. A half-naked "Indian" maiden stands over the serpents of slavery which she is piercing with her spear. Dom Pedro was popular in Italy for abolishing slavery in Brazil but not so popular over there. He was deposed after his return to Brazil the following year.
I walked up the stairs in the company of with Riccardo Santi, the sales manager, who had the key to Sala Verdi. On our way up Riccardo explained what had always seemed a mystery to me. Why "et de Milan"? I'd had editors who in the past had tidied up the name to "Grand Hotel de Milano". According to Riccardo the usage is not unusual in Italy. "When the albergo became a Grand Hotel it was still in the eyes of the Milanese "de Milan". It is Grand but it is of our city. There is a pride in that name".
I complimented Riccardo on my martini. "I like to feel we do a few things here but we do them well," he answered modestly.
On the first floor we followed signs to Sala Verdi that displayed a photo of that well known grim-faced old man. In this case he was sitting with a hand propping up his white bearded jaw at a large dark desk with a small cupboard built on to one end of it. As desks go it is a remarkably ugly piece of Victoriana. But it's even more remarkable to come round the corner and find the desk in the corridor outside Sala Verdi and find it so small – Verdi must have been tiny! Here he worked on several operas including his late comedy Falstaff.
In the last refurbishment Verdi's Milanese "office" was divided into two rooms, 105 and 106. As someone was staying in Room 105, Riccardo only showed me 106 but this is the room that has been kept as close to its nineteenth-century appearance as possible. The sofas have been re-covered but the deep red drapes, the gilt mirrors and chandeliers are wholly authentic. The one piece of furniture that's missing is the small red bed in which Verdi died. The hotel donated it to Villa Verdi, his country estate in Sant' Agate. I'd seen it there when I visited in 2013. It was a generous gesture, but then Sala Verdi now doubles as the hotel's function room and would you really want to sleep in the bed where an Italian composer breathed his last? Even a composer as great as Giuseppe Verdi.
After paying homage I took my leave of Riccardo and went to dinner in the hotel restaurant, which is named Don Carlos after the Verdi opera. The walls were covered with photos of singers who have dined here after performances at La Scala. Several couples were already eating but the waiter told me that the restaurant really only gets lively after the curtain comes down. I enjoyed four small courses and the waiter's imaginative wine pairings and I also enjoyed the music: Beethoven's Seventh Symphony in its entirety. It felt like a restaurant for grown-ups, like the rest of the hotel wholly devoid of gimmicks.
Riccardo is right. This is a hotel that does a few things but does them well. That no-nonsense commitment to quality is probably why Giuseppe Verdi liked staying here. He certainly looks like the kind of hotel guest who could have made his displeasure felt if things were not to his liking.
ENDS