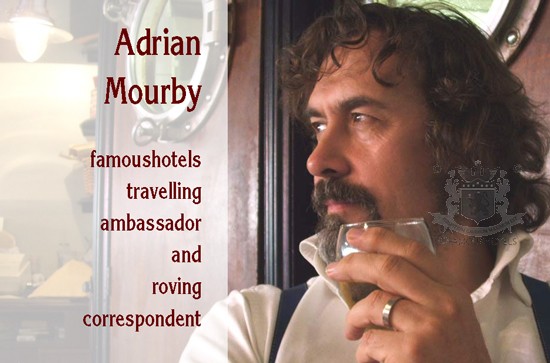 Adrian Mourby
MOURBY OF MARTINI?
( words)
We have little choice, but sometimes our roving correspondent visits not-select members of our esteemed organisation, and before we can say a thing, he has done it. This time, his long-term quest to find the ultimate hotel martini serves as an excuse. What will he come up with next? The Hotel New Hampshire?
A WEEKEND OF REBRANDED HISTORY
I arrived at the Four Seasons Hampshire as part of my long-term quest to find the ultimate hotel martini. These days many of the best bars in Britain are located in its hotels, and the Four Seasons in Park Lane offers a fine gin martini made with Monkey 47. So, could its rural offshoot compete?
But at my first sight of this august hotel all thoughts of dimly-lit cocktail bars evaporated because the Hampshire Four Seasons is a surprisingly fine red brick Georgian mansion standing in its own bucolic grounds known and known to centuries of history as Dogmersfield Park
The village of Dogmersfield takes its name from the word "doke",which is Anglo Saxon for a kind of waterlily and "mere" meaning a stretch of water. Finally "feld", which means a piece of land (or field) tells us that Dogermersfield was built on the "the land by the lake where the water lilies grow."
Unfortunately for the people of Dogmersfield, their village was all too visible from the bedrooms of this wonderful Georgian mansion. In the eighteenth century they were relocated round the corner – whether they wished it or not - by the St John-Mildmay family who did so much to create this tranquil aristocratic Hampshire landscape. One of the Mildmay baronets paid out even more money - £2000 - in 1789 to divert a canal away from Dogmersfield Park that would have wrecked his view. And £2,000 was a lot of money at the time of the French Revolution.
But ultimately it was money well spent. When I parked my car in front of reception the view was well-nigh perfect, ignoring the inevitable pylons it was all lawns, trees and distant lake with just the hotel dog and a young man in uniform wandering over to greet me.
Once inside I set about discovering the history of this stately building which has only been a hotel since 2005. Ironically it turned out Dogmersfield Park is now much older than it has been for centuries. When Four Seasons took over the site, they restored the old house not to how it looked in Victorian times but to how it looked when first built in the 1700s, re-establishing the neoclassical symmetry and the delicacy of ornamentation and doing away entirely with a heavy-handed Victorian west wing The interior panelling, marble fireplace and great staircase under a circular skylight are also wonderfully authentic – if extremely recent.
But to understand this house properly I read up properly on its history sitting in the library bar, booklet in hand as I waited for 6pm, the magic hour when British bartenders mix their best martinis.
The original manor of Dogmersfield stood here in Saxon times on high ground above the little village by the lake, and after the Norman Conquest it was mentioned in the Domesday Book. Eventually King Henry I (reined 1100 – 1135), the fourth son of William The Conqueror, granted the manor of Dokemeresfeld to the Bishop of Bath. ( The property remained ecclesiastical until the dissolution of the monasteries in the 1530s.) Henry VII is said to have introduced his heir, Prince Arthur to Catherine of Aragon in Dogmersfield House in 1501. When Arthur died a few months into their marriage, she was then married off to his younger brother, the future Henry VIII, he of the many subsequent wives and the Reformation.
Later Henry's VIII's son, Edward VI gave the house, which had become crown property, to Thomas Wriothesley, first Earl of Southampton. (If you've read Wolf Hall you'll know that Mr Secretary Cromwell refers to Thomas Wriothesley as "Call-me-Risley"). The Wriothesleys held it for over 100 years before it passed through marriage to various families, the last of which were the St John-Mildmays.
The very last Mildmay to live in the house, Sir Anthony had to sell up in 1933 because he was found guilty of adultery and breach of promise. He therefore had to reach a financial settlement with not one but two ladies. The usual course of twentieth-century stately-home history then unfolded. Dogmersfield became a school, a billet for Polish airmen, and several more schools and seminaries until it was fire-damaged in 1981.
So many English country houses were lost to fire and decay in the years after the end of World War II that it's fortunate that the smoking ruins of Dogmersfield were not demolished. Instead Amdahl, a computer firm, took over the site and built a new wing as their headquarters while preserving the old eighteenth-century shell. This was a modern brick and stone construction, opened by Princess Anne in 1986, but it took its architectural inspiration from the old ruined manor house next door. When in 2001 the Four Seasons Hampshire building project began, that wing was absorbed as the hotel's East Wing, with a matching brick West Wing containing the dining room and bar on the other side of the old house, and a new north wing that would contain the spa. Out in the courtyard that now links all four sides of the hotel stands a single ruined arch, which is all that remains of the old chapel of Dogmersfield House that marked the furthest extent of the manor in 1728.
For the rest, you really wouldn't know there ever was a fire. As I found recently when I visited Warsaw, these days we build "old" better than they ever managed it in the past. To the east of the East Wing there stands a dovecote that has been there since the seventeenth century. It's matched by a new one, added in the last ten years for symmetry, and you'd be hard pressed to tell them apart.
It's all very impressive. As for my martini, James the bar manager advised that I try Tanqueray 10 gin with Lillet (rather than vermouth) and a garnish of grapefruit. It was a fine aperitif, not too heavy nor challenging, and I followed it at dinner with a glass of Champshire, the hotel's cocktail of Louis Roederer champagne and elderflower. Finally I rounded off the evening with Lady Mildmay, a bourbon-based cocktail invented by the hotel, combining lemon juice, caster sugar, angostura and egg white. It was much gentler than its namesake, the fearsome eighteenth century lady who evicted the villagers who were spoiling her view.
The next morning my gin-based quest continued as I drove 20 minutes west to the Bombay Sapphire Distillery in Overton, which opened to the public a year ago and has already become a major tourist attraction. It was the Four Seasons' idea that I visited this surprisingly idyllic site on the River Test. Here I found another eighteenth-century sequence of buildings, this time a mill built in 1719 by Henry Portal, whose company manufactured paper (including the watermarked paper for British and Indian pound notes). As at the Four Seasons, this was a case of history having been acquired as the Bombay Spirits Company only moved here in 2014. Thank goodness they did because there had been a proposal to demolish the eighteenth-century mill and build a modern housing development here. Once again it was an absolutely lovely spot and, once again, there was a martini waiting at the end of my tour, this time a "Twisted Martini" of Bombay Sapphire with a dash of orange bitters.
History is a valuable - but vulnerable - national asset. Yes, some times it gets taken over by others and rebranded, but you can't get away from the fact that Four Seasons have preserved Dogmersfield Park and Bombay Sapphire has preserved Overton Mill and two important pieces of the English countryside were thereby saved from demolition.
I'll definitely drink to that.