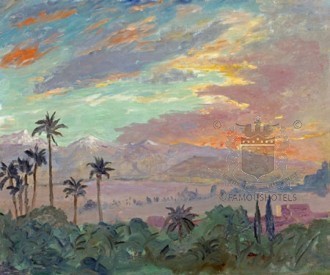 Adrian Mourby
La Mamounia Prize for Literature
( words)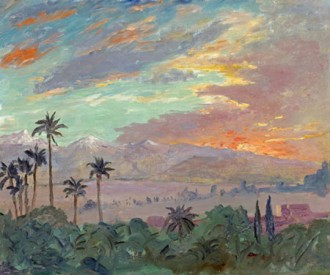 "Sunset over the Atlas Mountains", 1935 oil painting by Winston Churchill
Winston Churchill considered La Mamounia and Marrakech the most unforgettable place on earth. The world-famous balcony that bathed his creative sensitivity in glorious light and perfumed gardens, was a temporary home to Churchill five times, including a 1943 visit he made with President Roosevelt after a conference in Casablanca. Alfred Hitchcock shot scenes from "The Man Who Knew Too Much" in the La Mamounia's lobby,
Our correspondent, Adrian Mourby, says:
The legendary La Mamounia has garnered a number of prizes since its spectacular reopening in 2009, including Tatler Hotel of the Year 2010 and Conde Nast Traveler's Best Place to Stay in Morocco, but now it's launching its own award, the Literary Prize of La Mamounia. The first award will be presented on 6 November 2010. Subsequent awards will be made annually in September to commemorate the hotel's star-studded reopening gala, which famously mixed Hollywood divas, French celebrities and a Who's Who of Morocco.
This year ten writers – all Moroccan and working in the French language – are in contention for the first Mamounia Literary Prize. Each has published a novel in the last year. The winner will receive 20,000 euros. The award is designed to position La Mamounia as a centre not just for luxury but for culture.
The hotel is also considering an art prize in future years or an artist-in-residence scheme. Given that one of its former residents, Winston Churchill, painted the hotel's legendary garden with such zeal, the winner will be following in auspicious footsteps. "It is the most beautiful place in the world," Churchill wrote to President Franklin D. Roosevelt of the gardens he viewed from his balcony.
From our archvives:
By the way: the idea is a wonderful incentive for local writers and should be copied by other hotels around the world. Famous for its SEA Write Award is also The Oriental in Bangkok, which gives away a prestigious South East Asian literary award every year since decades.