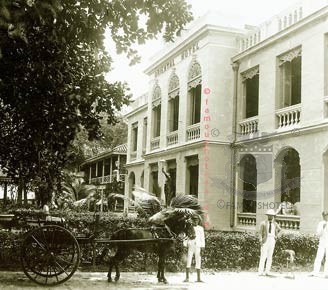 HOTELS
The Lady's True Age
( words)
---
By Andrew Williamson and Andreas Augustin
---
Never ask a lady about her age! we have all learnt to accept. But if we stop calling hotels grand old ladies, we might very well aks.
'How old is this establishment?' is often one of the first questions asked about any famous historic hotel. Modesty is not a consideration when answering: the older the better. These grand old ladies look upon longevity as a blessing and go out of their way to stretch the truth. An architect's first hesitant blueprint is all that is needed to start counting, even if the plan was not translated into bricks and mortar until years later.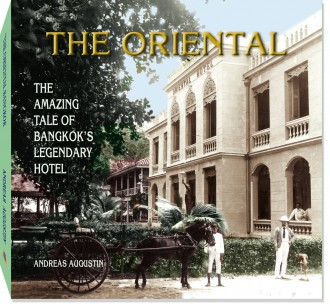 By contrast Bangkok's most famous hotel The Oriental is more reticent about her age. To discover the truth one had to politely accept the age to which she was prepared to admit, while quietly adding to this total. As with any ageing beauty, her good looks and carefully maintained façade can easily deceive.
The exact date of the opening of the hotel was long lost in the mists of history. During the 1970s the board of the hotel decided to end the uncertainty. 1976 heralded the opening of the new River Wing and so, putting history to work, the hotel was declared a hundred years old. Giorgio Berlingieri, director of the hotel and co-founder of Italthai, the major shareholder in The Oriental, explained his decision: 'It is poetic license. And we are not exaggerating. We are a hundred years old when we could give an even more impressive figure.'
Everybody therefore is happy with the hotel's official date of birth: 1876.
Ony recently, with the discovery of an early Bangkok diary, we were able to proof that the hotel existed already in 1863. So, in the next years we will be busy researching documents of the period between 1860s and 1876, and I can assure you that we will find more stunning stuff. We have published this new finding in our new EDTION RACONTEUR — The Oriental — The Amazing Tale of Bangkok's Legendary Hotel.
---