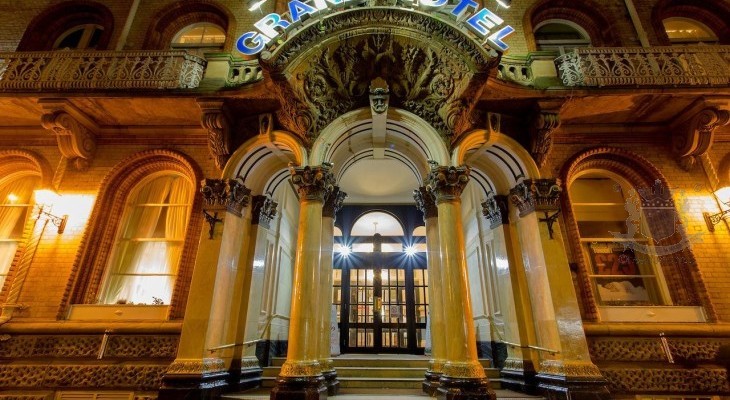 Andreas Augustin
CALENDAR HOTELS
( words)
Above: Britannia Grand Hotel in Scarborough,
---
HAVEN'T HEARD THAT EXPRESSION BEFORE? A calendar building always plays with calendar related numbers: 2 for day and night, 4 for the seasons, 7 for days, 12 for months, 52 rooms e.g. per floor for weeks and – you guessed it right – 365 rooms, or windows.
A living example is the Britannia Grand Hotel in Scarborough, a very popular seaside resort at the north-eastern coast of England. It is situated in the city centre overlooking the town's harbour and South Bay.
Built in 1863 it joins the league of Europe's first purpose-built hotels. Its superb architecture holds a few surprises: the four towers represent the seasons, the 12 floors stand for the months, the 52 chimneys symbolize the weeks and the originally 365 bedrooms exemplify the days of the year.
Today the hotel has reduced its number of rooms to 280, but not lost its popularity among the Britons who enjoy the romance. In 2006 Britannia made a £7 million refurbishment to the existing Hotel. In 2017 the listed hotel was awarded and named by Historic Britain as one of the top ten places, buildings and historical sites that tell the remarkable story of England and its impact on the world.