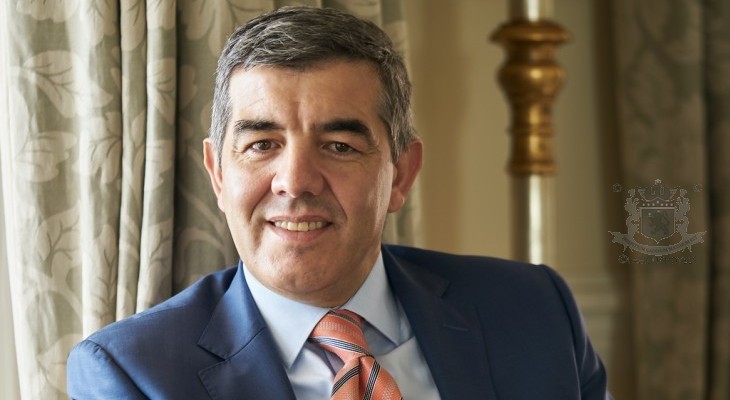 Breakfast with
Breakfast with Ciriaco Campus, Reid's Palace, Madeira
( words)
Belmond Reid's Palace is located in the Atlantic Ocean, on the flower-island Madeira, Portugal, off the western shores of Northern Africa. Its romantic gardens are overlooking the bay of Funchal, the capital of the island.
I am having breakfast with Ciriaco Campus, the general manager.
Our book REID'S PALACE represents an integral part of the hotel's philosophy and marketing concepts. Our small paperback book I HAD TEA AT REID'S — THE REID'S TREASURY is a bestseller since its launch in 2008. This spring we present the new edition, available at the hotel:

The 2017 edition of The Reid's Treasury "I Had Tea At Reid's".
Ciriaco, we are having breakfast at the pool side terrace at one of the most famous breakfast buffets in the world.
Q. Please tell me about your personal history here at Reid's?
A. During 5 years I had the pleasure to be the Director of Sales and Marketing. In February 2013 I became Hotel Manager and in February 2014 I was appointed General Manager.

Winston and Clementine Churchill were the players in a 1950s PR-campaign to bring Reid's and Madeira back to the map of international traveler after World War 2.
Q. In fact you come from an island yourself. You were born in Ghilarza in the heart of Sardinia (Italy). Where is the difference between Sardinia and the island of Madeira.
A. As a matter of fact there are many similarities between the two Islands, they are both volcanic and they both boast unspoiled nature. The biggest difference for me between them is that Sardinia is home, Madeira is my second home.
Q. And what is your preferred breakfast?
A. My breakfast habit is probably not the healthiest. I usually have a cup of tea with some biscuits and jam. Sometimes I have the pleasure of having breakfast at the Hotel, as today, and it is impossible to resist to the exotic fruits and the freshly baked croissants.
Q. What books do you read?
A. I like thrillers and novels. I am a Ken Follet and Daniel Silva fan.
Q. Where is the difference in hotel business— island versus city hotels.
A.The main difference is in the rhythm. City hotels have a lower average length of stay compared to the resort ones, and this has a big impact on both the operations and the interaction with the clients. In resorts you have more time and opportunities to interact with clients, and practice the essence of our job, which host the clients.
Q. If you were a guest at Reid's, why would you definitely not stay at your hotel?
A. If I was a guest at Reid's I would definitely not find any reason for not staying in this beautiful house. Here you are welcomed and pampered in a genuine, professional and discreet manner and you can enjoy an authentic and unique experience.
Q. If you were a hotel tester, what would you check first?
A. Empathy of the staff, efficiency and cleanness
Q. What was the most unfair guest comment you read over the past 12 months?
A. I think that comments are like questions, they are never unfair. As we live in a democracy everybody has the right to express his / her point of view, and in this respect, I take comments as what they are: learning opportunities.
Q. Reid's is almost family operated by many different families, sometimes clans, for generations. How does this affect operations?
A. Reid's is operated by a team of professional who daily give their best for the good of the house. I am lucky enough to work with this group of people, as this facilitates my job.
Q. What was your personal greatest moment at Reid's?
A. It was last November when we got our Michelin Star for the William Restaurant.
Q. What's your ultimate goal for the hotel
A. Make it the place to be for an authentic escape.
Q. Do you have a motto in life?
A. Nothing is impossible.
And a few SHORT answers, please:
Q. To whom did you listen in the past week?
A. I listen every day to many person, and I try to get the best out of any of them.
Q. Reid's was famous for dress codes, black tie dinners and dances.
A. Time changes dress code is not as strict as it used to be. We stand out for our attitude, and for the level of service we deliver.
IMAGE HOTEL HISTORY
Q. How important is the hotel's history for you as a marketing tool?
A. Very important, as without the past we could not live the present.
Q. Do you prefer development or tradition?
A. Development starting from tradition.
Q. If you had the choice, would you follow the same career or would you lead a different life?
A. I would follow the same career, nobody forced me to do what I do, I chose it.
Q. How many languages do you speak and which ones?
A. I speak 4 languages, Italian, English, Portuguese and French.
Q. What would be more tempting for you than being the GM of this hotel?
A. Being the CEO of the company
Q. Do you clean your shoes yourself?
A. Yes I do.
Q. What is your favourite music?
A. I like classic, opera, rhythm & blues.
And the QUICK ones
Black & white or colours — Colours
Furs or synthetics? — Furs
Electric or wet shaving? — Wet shaving
City or countryside? — Countryside
Reading or watching? — Both
Tea or coffee? — Both
Cats or dogs? — Dogs
Waterskiing or snowboarding? — Golf
Open air or inside the music hall? — Both
Introverted or extroverted? — Extrovert
Thank you, dear Ciricao.
The Team at Reid's
General Manager: Ciriaco Campus
Food & Beverage Manager: Marcelino Rodrigues
Front Office Manager: Alcino Cunha
Head Concierge: Aguiar Nunes
Executive Chef: Luis Pestana
Executive House Keeper: Patricia Arriagada
Director of Public Relations: Patricia Duarte
Director of Sales: Pauline Engelse

Questions: Andreas Augustin / famoushotels.org