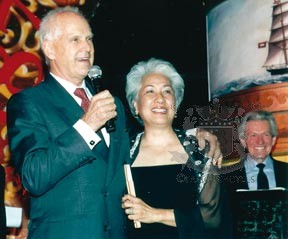 PERSONALITIES
Bangkok, Oriental: The Great Wachtveitl
( words)
Kurt Wachtveitl will retire after 42 years as General Manager of the hotel he had made famous: the Mandarin Oriental, Bangkok. For over four decades German born Kurt Wachtveitl had set new standards for the global hotel industry.
When I was an aspiring travel writer, some 25 years ago, I travelled to Bangkok to meet "Khun Kurt". He was already a legend. It was the time of the first Institutional Investor's ratings. From now on, thousands of travel writers, hotel managers and hospitality industry related people from all over the world flocked to Bangkok to meet the legendary hotelier, to stay at his hotel, to - at least - sneak into the lobby and breath for a moment the air of The Oriental. The "best hotel in the world"!
We all arrived to find out how he did "it"?
We found him in the lobby. Usually in the early evenings. He chatted with his guests. He smiled most of the time. He knew he was on stage.
While other hotel managers started hiding in their offices, Wachtveitl came out. He was always available. In his first years at The Oriental, you would find him at the cashier's desk, early in the morning, at checkout time. That's where he overheart guests complaints. First hand. This was the place to be, to react, to sooth ruffled feelings.
Once I asked him: "How did you do it?". He answered seriously: "We tell our staff exactly what to do;" and continued with a smile "and after two weeks, we tell them again."
The Importance of being Honest
In cooperation with our organisation, famoushotels.org, Wachtveitl was largely responsible that The Oriental has achieved its unique position as a legendary historic hotel in the Far East. His interest was to establish a verified history of The Oriental, to clean up all rumours and false legends and to establish a perfectly collated history of his hotel. famoushotels.org is the "house-historian" of The Oriental since 1994. We answer about 200 requests concerning the history of The Oriental per year.

Besides constantly pushing The Oriental to establish state-of-the-art technologies and amenities, Wachtveitl made the hotel's rich history one of its unique selling points, and encouraged famoushotels.org year after year to continue our research into the history of his hotel. We still unearth new material every year and are currently preparing the next edition of this successful book.
In our book about the hotel's history we were able to unveil some of the secrets of Wachtveitl's management style. He has passed on much of his knowledge to an endless list of junior assistant managers, resident managers and to the rest of his team. The Oriental was - and is - one big hotel management school (not only because of OHAP, the hotel's own trainee programme). Some of the secrets, Wachtveitl will take with him. Smiling, in the tradition of the country that has been such a wonderful stage for him. And what a performance we had witnessed!

We take a deep bow.

Andreas Augustin
Four decades of famous hospitality:
All members of the Royal Thai family (here: HRH Queen Sirikit) are faithful guests of The Oriental since the 19th century.
Wachtveitl has welcomed hundreds of official visitors of states (here Singapores PM Lee Kuan Yew).
Rajiv Gandhi and Sonia
Penny Wachtveitl as a charming and entertaining host. Here with Lord Lichfield.
Mr and Mrs Yehudi Menuhin
Kurt Wachtveitl introduced his team to Queen Elizabeth of England.
With Khun Ankana, the longest serving woman of Thai hospitality industry - she is The Oriental's guest relations manageress.
And with his staff, who adores him and who he treasured!
Norbert Kostner (left), the hotel's executive chef since decades, Khun Ankana, Wachtveitl with Penny W.
Short biography: Kurt Wachtveitl ('Khun Kurt') is a man with a vision. He graduated from EHL hotel school at Lausanne, Switzerland in 1961, read history of art and literature in Rome, Italy and philosophy in Spain. His professional career includes stops at Trois Couronnes, Vevey; Beau-Rivage Palace, Lausanne (where he met Penny); Suvretta Haus, St Moritz; and the Park Lane Hilton, London.
The group's press release reads accordingly:
"During his long and illustrious career, Kurt Wachtveitl has been instrumental in positioning Mandarin Oriental, Bangkok as one of the world's best luxury hotels, which has regularly attracted accolades and awards from respected travel associations and publications worldwide. Mr Wachtveitl has also received recognition as one of the world's best General Managers, including a Lifetime Achievement Award at the annual Hotel Investment Conference (HICAP) in 2006 and more recently, the 2008 Independent Hotelier of the World award from Hotels Magazine, USA.
"Throughout his career, Kurt Wachtveitl has been a pioneer in the hotel industry embracing new and exciting ideas that have kept this famous Bangkok property at the forefront of luxury hospitality throughout the world. On behalf of my fellow board members, we wish Kurt well in his retirement and thank him for his extraordinary contribution over the past 40 years," commented Khun Nijaporn Charanachitta, Chairperson of the Board of Directors of OHTL Public Company Limited.
"For four decades, Khun Kurt, as he is affectionately known in Thailand, has been an integral part of the success of this legendary hotel and has played a significant role in the global recognition of Mandarin Oriental Hotel Group. He has shown tireless commitment and devotion to his guests and his colleagues, providing the best example of gracious hospitality in the global hotel industry. All of us at Mandarin Oriental salute this incredible lifetime achievement," said Mr Edouard Ettedgui, Group Chief Executive of Mandarin Oriental Hotel Group."
Kurt Wachtveitl will be succeeded by Jan Goessing, a long term hotel industry veteran who has spent the past 14 years with Mandarin Oriental... Read more
Related Articles on famoushotels.org: