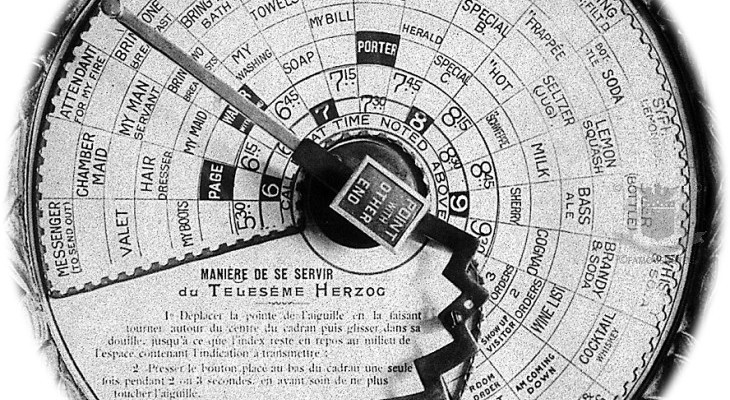 PERSONALITIES
Teleseme: 104 good reasons to call the staff
( words)
By Andreas Augustin / famoushotels.org
International hotels around 1900 were filled with inventions lavishly described in their promotional literature. Guests were assured that the air they breathed was the freshest possible, thanks to novel ventilation systems. Doors closed quietly on nonslamming hinges. To open them, you didn't have to leave your bed. Services were provided unobtrusively via the 'servidor, a compartment in the room door accessible by small doors on either side (still in use at The Oriental in Bangok and at The Peninsula hotels, for example). Once central clock was in charge of the clocks in all rooms. And so on.
Here we have a sophisticated machine for you: Internal communication became increasingly sophisticated with telegraph devices, such as the Herzog Teleseme and the Telautograph, and finally with room telephones.
Here one could press for example for
My fire, prepare my bathroom, my mail post cards telegrams, newspapers in French, my luggage is ready or bring my luggage, porter, Herald, frappée, bottle of soda water, drinking water, Sherry, Cognac, Brandy and soda, cigars and cigarettes, I am coming down or show up visitor, hurry my order or do not disturb me. The first (or last) button was dedicated to the simple outcry HELP, fire, doctor!
The Teleseme was invented to send instructions to the staff from a guest's room, long before telephones became a standard in every room. Its list of services shows us the standards of a true luxury hotel around 1900. We have added a high resolution picture for our readers to print out.
The Teleseme was – as described in historic technical papers – a system of apparatus for electric signals to be transmissioned by moving an indicating finger or index of as many as 104 different buttons, each connected by a separate wire with the push button (at the bottom of the device).
The HERZOG teleseme SYSTEMS Of ANNUNCIATORS was built by HERZOG teleseme CO., 55 BROADWAY, NEW YORK.