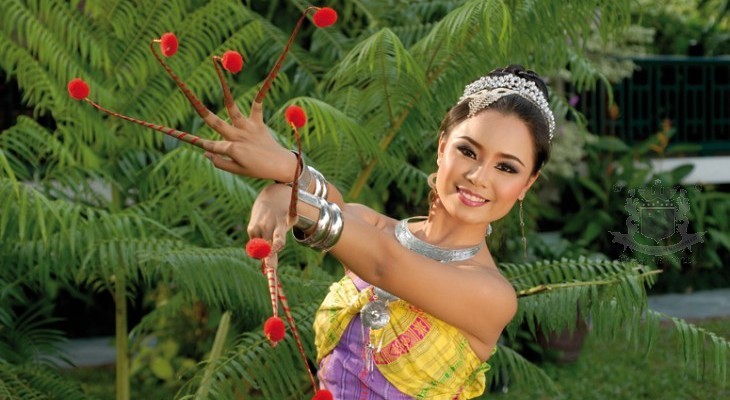 Andreas Augustin
Scent of a Woman
( words)
Author Andreas Augustin visits a good old friend. Once called one of the "Maidens of the East", today one of the Grand Old Ladies of South East Asia. The Mandarin Oriental in Bangkok keeps its reign as the most famous hotel of Thailand, but for most travellers it is just the best hotel in the world.
---
Darling, so good to see you again! Let me bow in classical Thai style, my hands folded – I "wai" to you. You look younger than ever, how do you possibly do that? Love your perfume!
I feel tempted to inquire, but of course a true gentleman would never ask the age of a lady. On the other hand, you officially announced your 142nd birthday. We all know the story: in 1976, you have decided that you admit to 100 years of age. That would make your opening year 1876, and we are counting ever since, aren't we? But only recently I have stumbled upon a "Bangkok Calendar" from 1863, where your name featured prominently: "ORIENTAL HOTEL — Dyer and West, Proprietors". So in fact you would be 155 years old? Maybe you are telling stories here and there, as many grand old ladies do, and we graciously pardon them.
Your landing pier is directly at the River Chao Phraya, the mother of all waters. So, from your early days on, you were home to seafaring people and tradesmen, travellers and explorers. You burnt down twice, in the 1880s you grew into a respectable hotel with a large quadrangular structure and an inner courtyard, today's Authors' Lounge.
Not far from here, a strange "animal" with four arms and four legs had been discovered: the first Siamese twins, Chang and Eng. They became an international attraction.
In the jungles of Siam, rare and sacred white elephants were rounded up and brought to the Royal palace as a symbol of a successful reign.
During the 1890s, the Royal Thai Yacht Maha Chakri anchored in front of you because you had become the hotel of choice of the King. There were no other hotels of western style and quality. Your first Royal visitor was the King of Siam, as Thailand was called before, HM Chulalongkorn, who invited his first international guest, the future Tsar of Russia, to stay at The Oriental in 1891.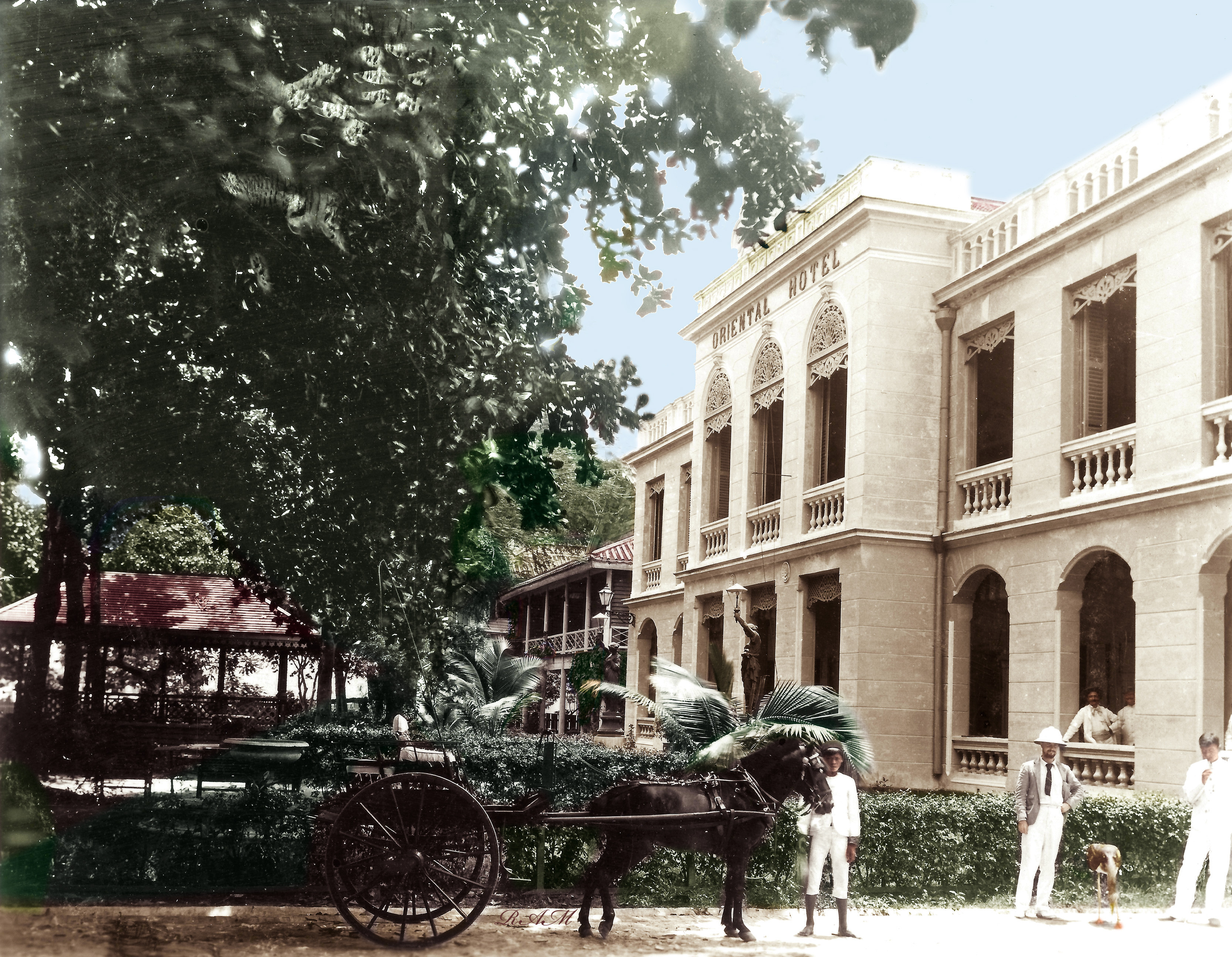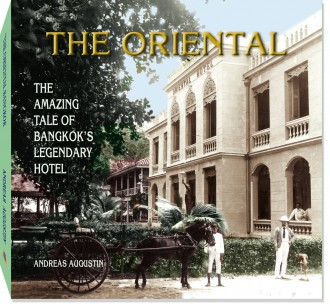 You were owned and managed by various outstanding characters: by Dutch businessman and founder of the East Asiatic Company, H. N. Andersen, by Marie Maire, a championship golfer and talented amateur hotelier, by French photographer Germaine Krull, a Thai politician and American silk trader Jim Thompson, by Italian-Thai owners. Then you accepted the proposal of Hong Kong based hotel group Mandarin, which – after its happy marriage with you – became known as Mandarin Oriental. Today, professional managers are at the helm of your operation. German Kurt Wachtveitl was there for over 40 years — and what an honour it had become to be in this position. Today Australian Greg Liddell stands at your helm.
---
In 1916, the God of Dance, Vaslav Nijinsky, performed at the hotel. In 1923, English novelist Somerset Maugham recovered from Malaria in his room. Convalescent, he composed – in the shade of the shutters of his veranda – a fairy tale of Siamese princesses. In 1932, it took a KLM flight 15 stops between Amsterdam and Bangkok to arrive. In 1945 the Bamboo Bar opened. The first thing you introduced there was a dress code: tie compulsory. No excuse.
Eleonore Roosevelt visited, Graham Greene, Roger Moore, Michael Jackson, the Prince of Wales, David Bowie, the King of … — the VIP list is over 800 names long. But isn't every of your guests a very important person? Excuse me for a second, but the ice-cream man arrives at my pool-sunbed. I take the green tea sorbet and a dash of lime, please.
You have received so many extensions that I almost lost count. The Embassy Wing and the Tower Wing, the River Wing, and last but not least Asia's first internationally acclaimed Spa and Fitness centre with tennis courts. The Royal family of Thailand still treats you as its guesthouse. Therefor it is always appropriate to be well dressed, as a member of the Royal family may just come down the stairs. After all, HM The Queen personally cut the ribbon to open your River Wing.
You have a sense for culture, you present the portraits of your visiting writers in the Authors' Lounge and you honour the winner of the SEA Write Award, the South East Asia writers' award, with generous hospitality. In 1980, James A. Michener held the laudation of the first event, followed by Paul Theroux, Norman Mailer, Sir Peter Ustinov, …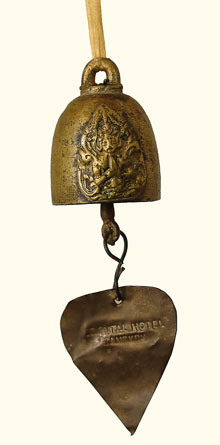 You have put on new make-up, Darling, and you look stunning. Your historic Authors' Wing holds a new secret tip, the new Ambassador Suite. And how generously and elegantly you decorated the sumptuous Royal Suite! Downstairs you serve me "La Grande Dame", a tea blend exclusively created by the classic Paris house of tea Mariage Frères for your Afternoon High Tea. But this is only the start, you invite me to eight restaurants, and, as always, it is not hard to choose.
After crossing the river on your private ferry boat, I return to my suite from your tennis courts at 7 pm. I observe details of carefully assembled interiors and amenities. While I was away, my butler has laid out the content of my Necessaire on a white towel as if he wants to give me an educated overview of my personal possessions. The TV plays the current company's trailer. Ever since the clip "Moments of Delight at Mandarin Oriental", I am fascinated by Chinese musician Sa Ding Ding.
While I change for dinner, I enjoy the assorted hors d'oeuvres you have kindly sent me on a plate covered by a glass cloche. Exquisite goose liver pâté. A sip of champagne, a glance at the knot of my tie. I hope you like it. My butler is waiting in the wings, so to say, since generations an undisclosed system tells him when I leave the room. I know his secret. After I have left, he will quickly enter and restore my bathroom, the towels, to turn-down my bed. Arrange my manicure set.
---
At first nights in Asia I usually prefer the wonderful breeze on the "River Terrace". The opulent buffets are too tempting. Same with breakfast. Sitting outside when the day awakes, I read my mails, the papers, watch the world over my coffee cup. Gently, my time flows down the Chao Phraya river. Sometimes, it comes back. The River, I mean. It's a matter of low and high tide in its delta nearby. It is clean water, by the way. Hundreds of fish. Just throw a piece of bread into it.
One of the following nights is dedicated to "Le Normandie". Two Michelin Stars at the top of The Oriental. Here you ask gentlemen to wear a jacket. Thank you for keeping up the tradition of etiquette. "Ciao" is classic Italian food on the terrace, "Lord Jim's" – named after Polish-English writer Joseph Conrad's book — serves seafood in a cool interior. Thai food at "Sala Rim Naam", where I enjoy sea crab meat cooked in coconut milk. And the show of your Thai Dancers. Next to the front entrance is "The China House", kept in Shanghai Art Deco. Cantonese cuisine, Dim Sum and Brunch on Sundays to be reserved.
I wander through your gardens. An orchestra of cicada boys in the trees serenades the diners on nearby terraces, but in fact they are playing their music to attract cicada girls. All this occasionally totally drown out by the overwhelming clatter of the long tail boats on the river. Large dinner cruise ships glide by, lit by garlands of colourful light bulbs, entertained by piped music. Their diners look at us and think, how lucky we are to be sitting on the terrace of The Oriental. We – in return – rarely envy them.
The later the evening, the more contributes the fragrance of Hibiscus, Bougainvillea and Frangipani to my olfactory impressions. What a scent.
In front of the Authors' Wing stand two statuettes of torch holding ladies. They appear on the earliest photographs of the Oriental. Always lit by electricity, their shine had lead great travellers, writers, actors, statesmen and crowned heads while wandering the gardens at night. How many declarations of love were made in their gleam?
An overwhelming flower arrangement stands in the lobby (think Christmas tree, Rockefeller Center). Modestly, but prominent, at the concierge desk, rests my book about your history on a shiny brass presenter. So kind of you to display it so notably. But I get carried away — it is a heavy perfume you have put on, my dearest lady. Jasmin, Bougainvillea and Frangipani are a wonderful mix, seducing in every respect. The mild air carries the sound of Jazz from the Bamboo Bar, performed by The Oriental's house band. Is this your last temptation that evening? Don't worry, you have already convinced me: I will spend another night in your bed — dreaming of white elephants, Siamese Twins and Princesses.
---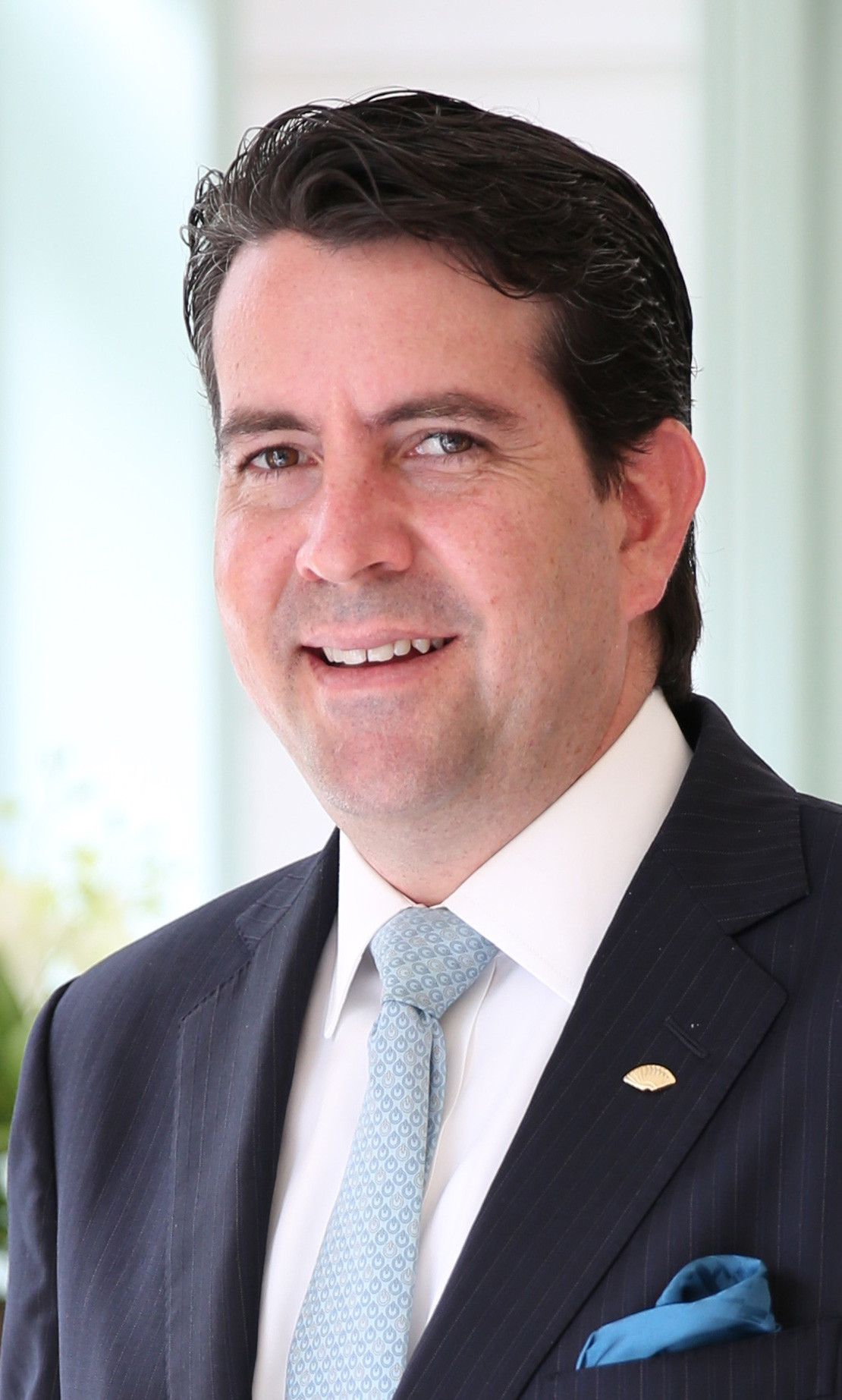 Current general manager at The Mandarin Oriental Bangkok is Australian Greg Liddell.
The Mandarin Oriental is a Select Member of The Most Famous Hotels in the World.
Andreas Augustin is the author of the book THE ORIENTAL – THE AMAZING TALE OF BANGKOK'S LEGENDRAY HOTEL.
---
Originally appeard in Marie Claire Italy: https://www.marieclaire.com/it/lifestyle/viaggi/a20120730/hotel-in-thailandia-the-oriental/