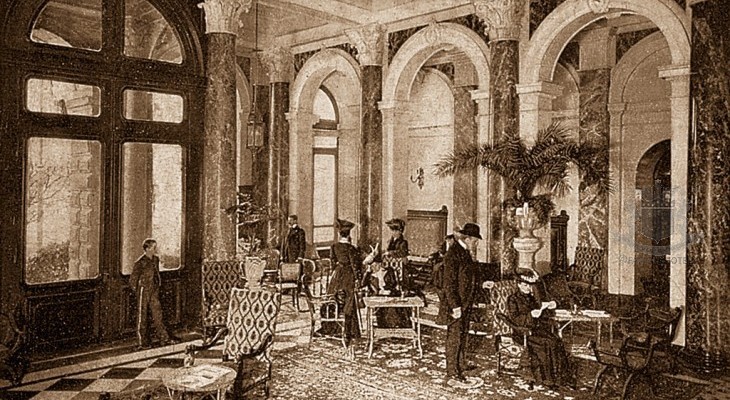 Andreas Augustin
Ein Hotelier als Kavalier — vom Scheitel bis zur Zehe
( words)
The Lobby of the Grand Hotel National in Lucerne.
---
Wiener Salonblatt: Im Jahr 1886 bereist ein Redkateur des Wiener Salonblatts die Schweiz und kehrt im Hotel National in Luzern ein. Dort trifft er auf den Hotelier Cäsar Ritz. Im Folgenden schildert er uns einen Mann von eminenter fachmännischer Begabung, dessen Höflichkeit und feines Gehaben von dem der vornehmen Clientele, die das Hotel National besucht, kaum zu unterscheiden ist.
---
ANY AUTOMATED TRANSLATION MIGHT READ A BIT AWKWARD, AS THE STYLE OF GERMAN LANGUAGE EMPLOYED DATES FROM 1886.
---
24.10.1886

Den allerersten Platz in der Reihe dieser großartigen Luzerner Fremden Karawansereien nimmt unstreitig das unmittelbar am See gelegene "Grand Hotel National" ein, wo ich auch abstieg. Der palastähnliche Bau macht einen geradezu imposanten Eindruck. In vier Stockwerken enthält das Hotel 240 mit elegantestem Comfort eingerichtete Zimmer mit wunderbaren Betten, in denen selbst der längste und dickste Schweizer Tourist sich behaglich dehnen und strecken kann, zwanzig Privatsalons, ein Billardzimmer mit reizenden Genrebildern, einen Lesesaal mit Bibliothek, zwei Restaurants, einen American Bar, einen großartigen Speisesaal mit herrlichem Deckengemälde — kurz. Alles, Alles, was das Ideal des raffiniertesten Comforts zu vervollständigen vermag.
Läßt sich schon aus dieser Vollkommenheit des gebotenen Comforts das Zuströmen der distinguiertesten Reisenden leichtlich erklären, so wird die hohe Gunst, deren sich das prächtige Etablissement namentlich in den Kreisen der Aristokratie ganz Europas erfreut, noch begreiflicher, wenn man das Vergnügen hat, den Leiter desselben persönlich kennen zu lernen. Würde sich uns Herr Cäsar Ritz nicht als solcher ausdrücklich vorstellen, man müßte diese feine und vornehme Erscheinung für einen der vornehmsten und distinguiertesten aristokratischen Gäste seines Hotels nehmen.
... von den denkbar feinsten, gesellschaftlichen Formen, die Sprachen aller Culturnationen vollkommen beherrschend, so daß er den französischen, englischen, russischen, italienischen Gästen wie ein Landsmann erscheint ...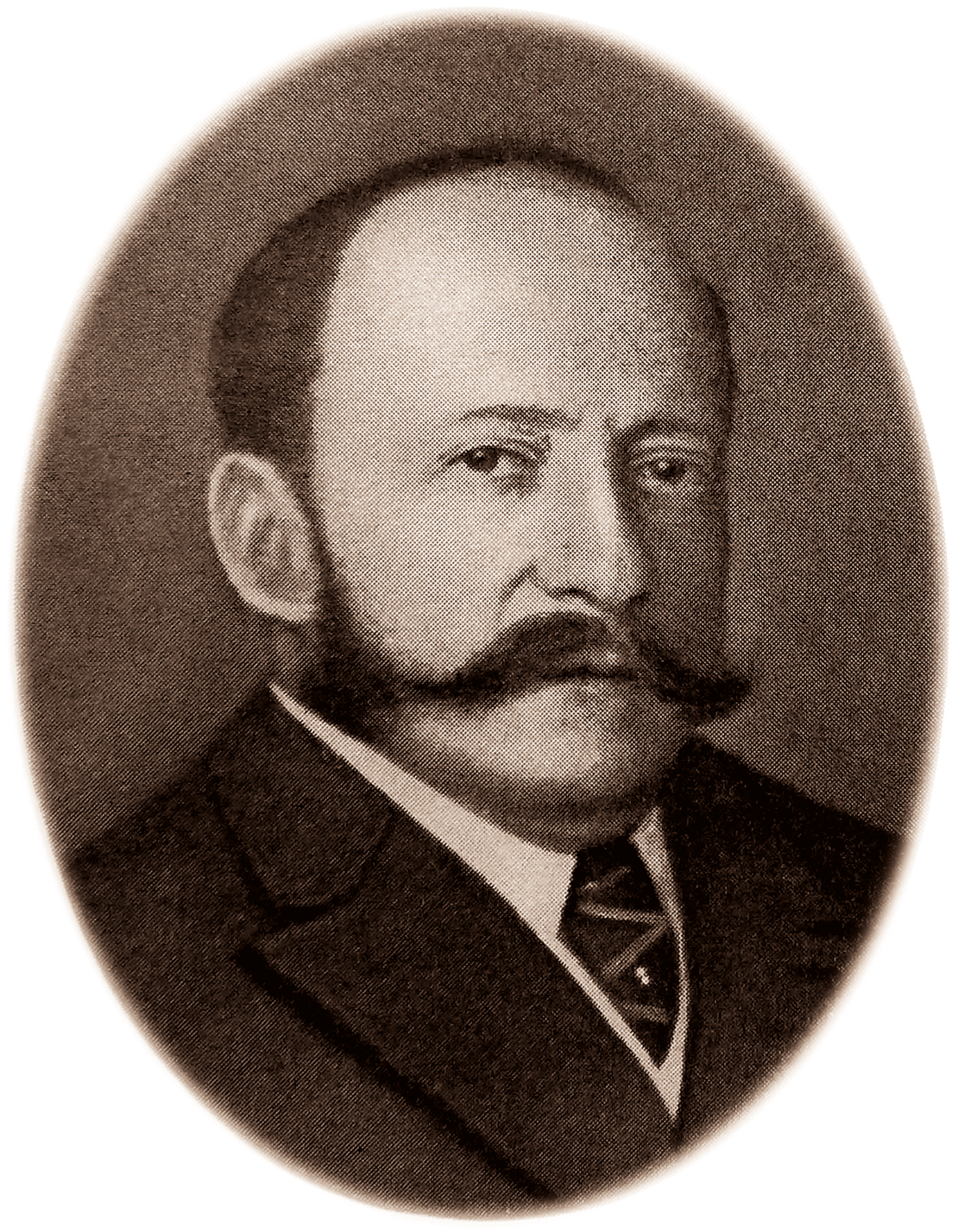 Herr Cäsar Ritz macht den Eindruck eines Cavaliers vom Scheitel bis zur Zehe — von den denkbar feinsten, gesellschaftlichen Formen, die Sprachen aller Culturnationen vollkommen beherrschend, so daß er den französischen, englischen, russischen, italienischen Gästen wie ein Landsmann erscheint, übt dieser Phönix von einem Hotelier auf Jedermann nach den ersten Minuten einen wahrhaft bestrickenden Eindruck, einen Eindruck, der es, wie gesagt, sehr begreiflich erscheinen läßt, daß die Aristokratie Oesterreichs, Frankreichs, Englands, Rußlands, Italiens fast ausnahmslos das "Grand Hotel National" mit ihrer Clientel beehrt - fast allsommerlich weilen auch Mitglieder unseres Kaiserhauses, wie Ihre kais. Hoheiten, die Erzherzoge Heinrich und Leopold, Großherzog und Großherzogin von Toscana als Gäste in diesem prächtigen Etablissement, dessen weiter mit der höchsten Noblesse der Erscheinung und des Benehmens gediegenste Fachkenntnis verbindet.
Wahrhaftig, dieser Cäsar von Luzern darf getrost das stolze Wort seines classischen Namensbruders aus dem alten Rom in eigenen Gebrauch wiederholen: "Veni, vidi, vici" — i mit der kleinen Licenz der Übersetzung, daß es von Cäsar Ritz heißen muß, daß er durch seine Noblesse und Liebenswürdigkeit Jedem sofort besiegt und gefangen nimmt, der in's "Grand Hotel National" kommt. Ganz besonderes Geschick wird bei Herrn Ritz auch im Arrangement der großartigen Tadle d'hôte und in der Herstellung des Menü entwickelt, welches immer und durchwegs exquisiteste Leistungen aus Küche und Keller bietet.
Eine besonders interessante Spezialität des Hotels bilden die nach den Table d'hôte im geräumigen, säulengeschmückten Verstibule des Hotels, aus dem eine monumentale Freitreppe in's erste Stockwerk führt, veranstalteten Concerte, bei denen den Gästen die abwechselndsten künstlerischen Genüsse geboten werden. Am Abend meiner Anwesenheit produzierte sich eine aus vier Männern bestehende neapolitanische Sängergesellschaft: die vier Sänger — bildschöne Leute in der malerischen Nationaltracht: Gelbe Rohlederschuhe, farbige Strümpfe, weiße Sergepantalons, rosaseidene Matrosenhemden, schottische Schärpen und die neapolitanischen Zipfelmütze, die Finger von Brillanten strotzend — diese vier prächtigen Erscheinungen erwiesen sich in ihren Vorträgen — sie sangen Opernarien und nationale Lieder, zu denen sie sich selbst mit Guitarre und Mandoline begleiteten — als echte und rechte Künstler, nicht als saloppe Virtuosen. Besonders der Baritonist entwickelte Stimmmittel und eine Kunst des Vortrags, die ihn für jeden Operndirector zu einer kostbaren Acquisition machen würden.
Einen ganz eigenartig fesselnden und reizvollen Eindruck machte die hochelegante Hotelgesellschaft, welche das Vestibule füllte und in der man u. A. an dem betreffenden Abend auch den Bruder des Königs von Neapel, Grafen von Caserta mir Gemahlin bemerkte. Eine berückende Fülle junger Damen — der Mehrzahl nach Engländerinnen — gabs da zu sehen in den Pracht und geschmackvollsten weißen Toiletten, zu denen die zierlichen Lackschuhe, die schwarzseidenen Strümpfe — pardon für die Indiscretion — und die schwarzen Handschuhe einen wirkungsvollen Farbencontrast bildeten. Dazu große Hüte mit wallenden Federn und fabelhaften Schmuck. Aber auch reizende Erscheinungen in schwarzen Spitzenkleidern und mit rothen Strümpfen — pardon für die Indiscretion — konnte man bewundern, zumeist Italienerinnen, während die obengeschilderte weiße Toilette größtentheils von vornehmen Töchtern Albions (Albion is the oldest known name of the island of Great Britain) gewählt erschien. Es war ein wahrhaft berauschend schöner Anblick, diese Elitegesellschaft welche den weichen Tönen der neapolitanischen Kehlen und Mandolinen lauschte — und draußen auf dem im hellen Mondlicht erglänzenden See Hunderte von Kähnen — ein unvergeßlicher Abend. Bis nach Mitternacht dauerten die Vorträge, welche von dem eleganten Publikum mit rauschendem Beifall belohnt wurden — von Rechtswegen.
Noch einer interessanten Specialität dieses Lieblings Hotels der vornehmen Reisewelt muß gedacht werden — der elegant livrierten Mohren, welche den Gast bei der Ankunft empfangen und dazu beitragen,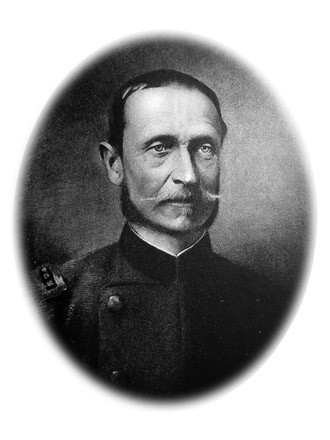 den märchenhaften Eindruck des herrlichen Bildes zu erhöhen. Auch bei der Abreise tritt einer dieser eleganten Mohren in Action, indem er sich mit einer großen Schale präsentiert, aus welcher der galante Hotelier herrliche Rosen nimmt, um sie den abreisenden Damen als duftendes Souvenir an den Aufenthalt im Grand Hotel National zu überreichen — die Erinnerung allerdings an diesen allerangenehmsten Aufenthalt in der Schweiz hält entschieden länger vor, als der Duft der Abschiedsrosen.
Foto: Colonel Pfyffer, der Mann, der Cäsar Ritz als Direktor seines Hotels nach Luzern holte.
Aus dem Buch "Der Grosse Cäsar" von Andreas Augustin