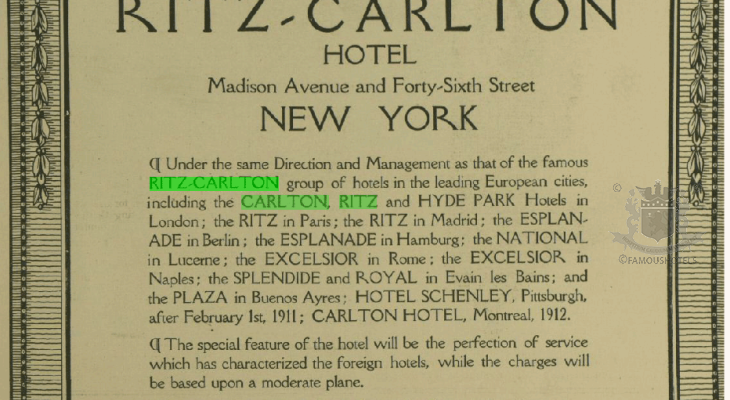 HOTELS
Ritz-Carlton: The Beginning
( words)
The first Ritz-Carlton Hotel(s)
Ritz-Carlton's name is based on The Carlton in London and the Ritz in Paris and London, all of them conceived and opened by César Ritz, the Swiss hotelier.
---
The Ritz-Carlton Investing Company was established by Albert Keller in 1911, paying a stately sum to the Ritz Hotel Development Syndicate in London for franchising the name in the United States.
In 1911, in their opening announcement of the first Ritz-Carlton Hotel, located on Madison Avenue and Forty-Sixth Street, New York, general manager Theo Kroell and manager Albert Keller boast a breathtaking collection of asscociated hotels.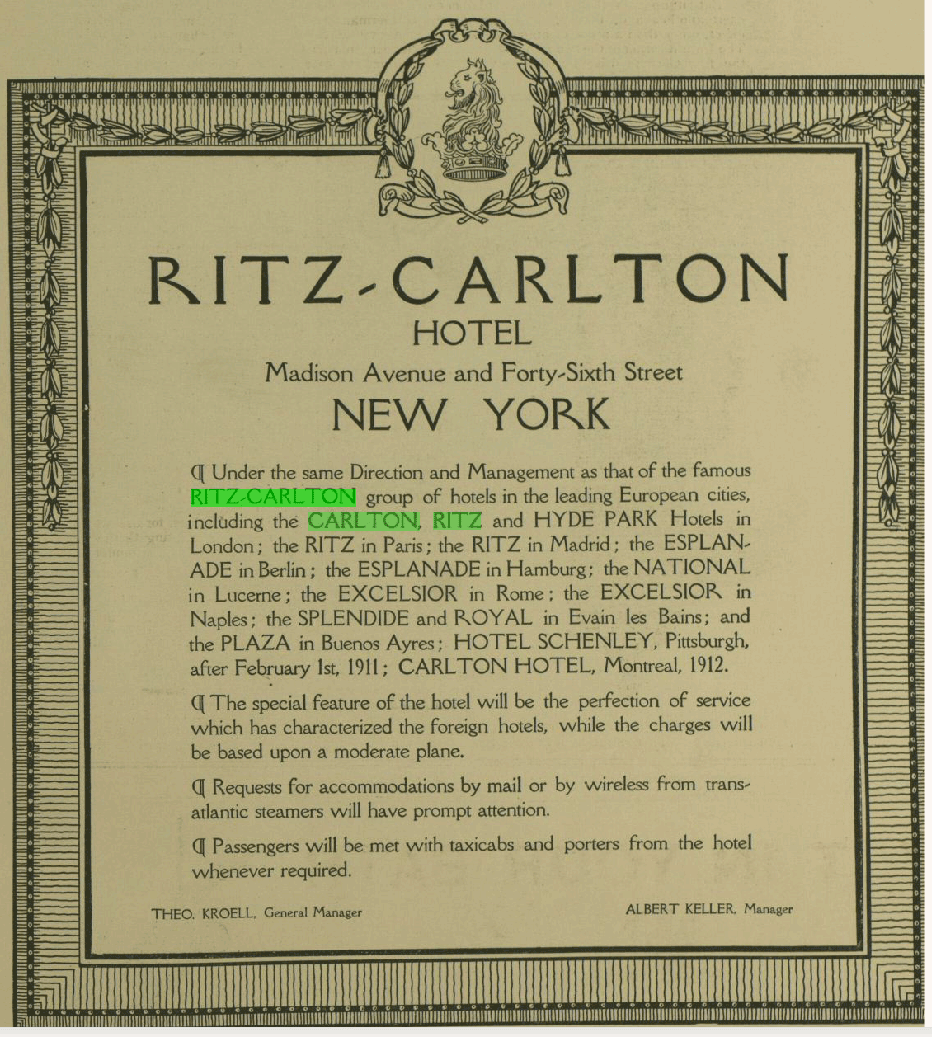 The first Ritz-Carlton Hotel(s) — 1911, The Illustrated London News
---
The Ritz-Carlton is "Under the same management and direction as that of the famous RITZ-CARLTON group of hotels in the leading European cities, including the CARLTON, RITZ and HYDE PARK Hotels in London; the RITZ in Paris, the RITZ in Madrid, the ESPALANDE in Berlin, the ESPLANADE in Hamburg, the NATIONAL in Lucerne, the EXCELSIOR in Rome, the EXCELSIOR in Naples, the SPLENDIDE and ROYAL in Evain les Bains, and the PLAZA in Buenos Ayres, HOTEL SCHENLEY, Pittsburgh, after February 1st 1911; CARLTON HOTEL, Montreal, 1912.
The special features of the hotel will be the perfection of service which has characterized the foreign hotels, while the charges will be based upon a moderate plane.
Request for accommodations by mail or by wireless from transatlantic steamers will have prompt attention.
Passengers will be met with taxicabs and porters from the hotel whenever required."
Louis Diat ran the kitchens and is believed to have invented the modern vichyssoise there. The hotel was expanded in 1911, adding 100 rooms, a 300-seat banquet hall, ballroom, and private dining rooms. Demolished in 1951.
---
The Ritz-Carlton hotels revolutionized hospitality in America by creating luxury in a hotel setting. They also introduced an European attitude to personal service:
Private bath in each guest room.
Lighter fabrics in the guest room to allow for more thorough washing.
White tie and apron uniforms for waiters, black tie for the Maitre d' and morning suits for the management.
Extensive fresh flowers throughout the public areas.
A la carte dining and gourmet cuisine, utilizing the genius and cooking methods of Auguste Escoffier.
Intimate, smaller lobbies for a more personalized guest experience.
---
Other hotels followed in Philadelphia, Boston, Pittsburgh, Atlantic City and Boca Raton. New York's Ritz Carlton continued to operate until World War 2. By 1940, only The Ritz-Carlton, Boston was operating. The former building of the New York Ritz-Carlton was razed in 1951 to provide a site for an office building.
Today, the most historic of the US American Ritz Carlton hotels is the Ritz Carlton in Boston "embodying the vision of Cesar Ritz, Yankee ingenuity and Boston social sensibilities".
---