Schloss Velden - The Castle at Lake Woerth, Austria (English)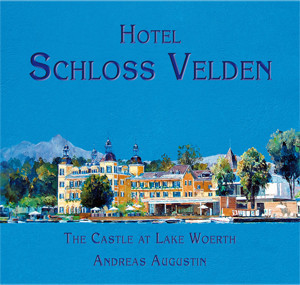 Photographs
Illustrations
138 historic and contemporary photographs and illustrations; Cover picture by Manfred Markowski, Photography by Robert Reck & Martin Rauchenwald
Binding
Hardcover with dust jacket
Read our Feuilleton 339 (English, German and Italian)
This is a book about a fairytale castle at Austria's warmest lake, Lake Woerth (Wörthersee). It opened in 1892, and became one of Europe's legendary resort hotels for one century. Now it has been restored to its former glory, extended by a modern wing and reopened as a five star luxury property.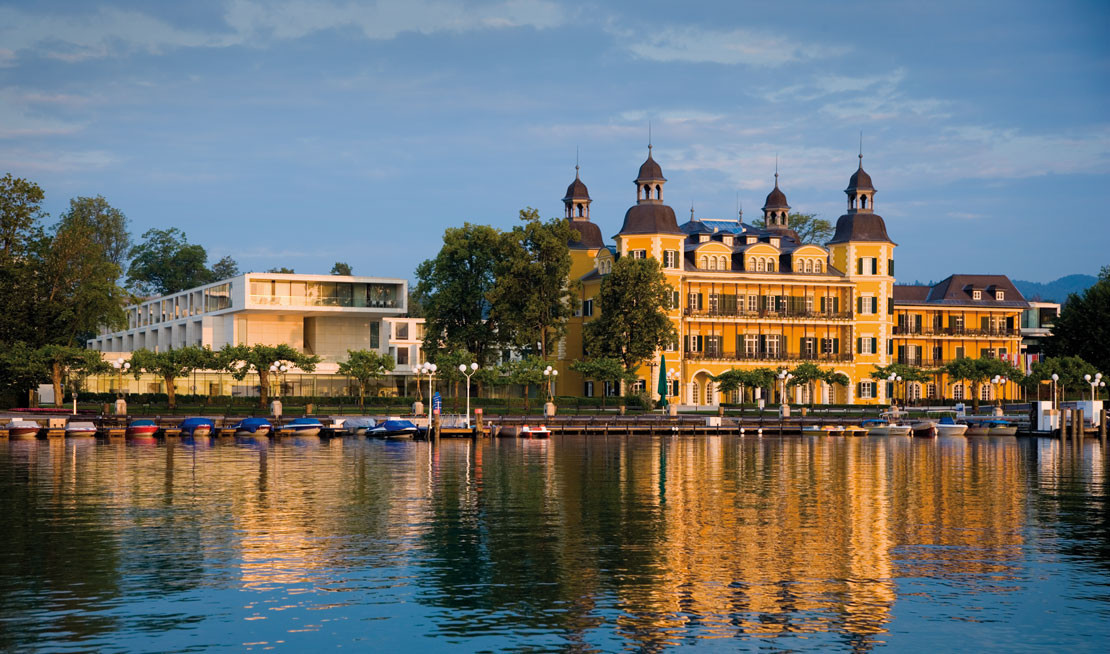 Sommerfrische is an Austrian term, as tricky to translate as, for example, 'Zeitgeist' or 'Gemütlichkeit', which have long found their way into the English language. Velden was created at the very end of the 19th century as a summer retreat for the jaded and worried people from the thick air and hurry of the crowded towns. They were in search for peaceful spots where they could relax, recover and – of course – also show themselves off during their 'Sommerfrische'.
'Sommerfrische' is a wider idea than summer vacation. It refers to a time in summer when the nobility moved to their country houses, to the alpine resorts, to the lakes and mountains of Austria. It stands for summer (Sommer) and re-'fresh'-ing (frisch)
Sommerfrische is the landlocked response to the posh seaside resorts of Biarritz, Brighton or – to stay within the borders of the former Austro-Hungarian monarchy – Abbazia (Opatia), Rimini or Porto Rosz. 'Summer retreat' is what writers from the Brontë sisters to Daphne du Maurier would have said and Rosamunde Pilcher might still use.
Welcome to Velden's legendary Schlosshotel, a retreat for all of us at all times of the year.
Andreas Augustin
The author would like to especially thank Willlibald Kollmann, who initiated the project; Kurt Mahnert, who was in charge of it; Henning and Nadine Reichel, our hosts in Velden; Silvio Nickol, who cooked for us.
We thank the deceased Governor of Carinthia, Jörg Haider; Velden's Mayor Ferdinand Vouk, the two municipal archivists Karl Frick and Hans Viertler, and Peter Günzl from the Veldner Zeitung.
In no particular order we also thank: Bernhard Pichler-Koban (Veldener Tourismus GmbH), Isabella Berk, Florian Wolf, Carsten Behr, Martin Schellenberg, Katja Schulze, Axel Bethke, Brigitte Gruber, Petra Nestelbacher, Alex Obertop, Heidi Unger, Dominik Bornewasser, Mario Sonnleitner, Thilo Drais, Katja Hasselkus, René Assinger, Stefan Unterlader, Ondréj Kovar, Sunny and Melanie Sweetman ('Food should be fun!'), Bacherlwirt Erich Schwarz, Robert and Renate Kenney,
Karl Wlaschek, Peter Silling, Richard Sparakowski, Karin Bolesch and Gerhard Petrowitsch.
We also thank the Capella Team, especially Horst H. Schulz, Peter Schock and John Drake
Research in the Archives of the Municipality of Velden and Vienna: Carola E. Augustin
Cover and illustrations: Manfred Markowski
Photographs: Martin Rauchenwald, Robert Reck, Helge Bauer, Studio Palliardi
Historic Photographs: Famous Hotels Archives, Archives of the Municipality of Velden, Prof. Sebastian Unrath's private collection,
Technical Assistance: fotohorst Klagenfurt
Franz Baumgartner drawings: PANOVISION, Architektur und Virtual Reality Heimo Kramer
All historic data has been carefully selected and put together during research with the objective of providing a general historical and entertaining overview. This work does not therefore claim to be complete. In this context we want to thank the managers of the house for their consequence in giving preference to historical reality over the advertising appeal of legends.
The entire work, including such parts as the band, the dust jacket, enclosed postcards and bookmarks are subject to copyright. Any form of storage using electronic media or distribution via networks is prohibited. Any reproduction of excerpts from this work is subject to the explicit written consent of the author.
Digital data for publications is available any time via archives@famoushotels.org
Production, printing and binding: www.theiss.at
© Andreas Augustin 2009
© THE MOST FAMOUS HOTELS IN THE WORLD
Italian: Translation by Nicoletta Contardi
English: Translation by Gabriele Hanauer-Mader
Edited by Thomas Morgan Cane
German edition: 978—3—900692—31—5
English edition: 978—3—900692—32—2
Italian edition: 978—3—900692—33—9
e-mail: info@famoushotels.org or visit us at: www.famoushotels.org
Design Ramazotti Michelangelo, Milan