Hotel Regina – Wien, Österreich (Deutsch)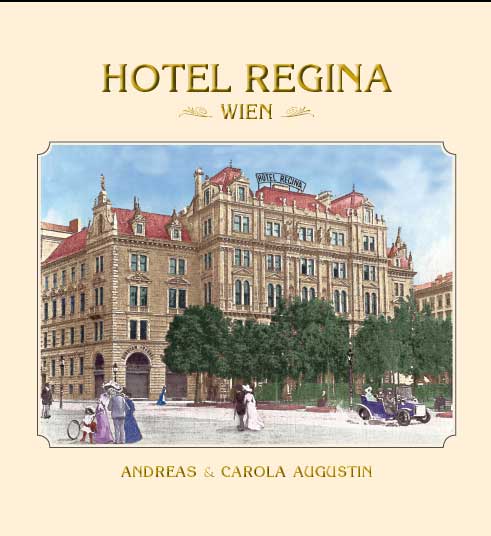 Author
Andreas und Carola Augustin
Photographs
Illustrations
over 190 images, historic photographs, menus and documents
The bilingual (German/English) and richly illustrated journey into the World of Yesterday, the Vienna of Franz Joseph I., the architects Ferstel and Förster, singer Richard Tauber, author Stefan Zweig, Sigmund Freud, Placido Domingo and Johannes Heesters.
GERMAN:
AUS EINEM ELEGANTEN PALAIS DER RINGSTRASSENZEIT ENTSTAND DAS HOTEL REGINA. SEIT 1896 FÜHRT DIE FAMILIE KREMSLEHNER DIESES TRADITIONSHAUS AM SCHÖNSTEN PLATZ DER WIENER RINGSTRASSE. FÜR KÜNSTLER, POLITIKER UND INTERESSANTE GÄSTE AUS ALLER WELT IST "DAS REGINA" EIN ZUHAUSE. DIESES BUCH FÜHRT SIE AUF EINE REISE DURCH DIE ZEIT, VON DEN ANFÄNGEN DER RINGSTRASSE BIS IN DIE GEGENWART, VOM RESTAURANT ZUM ELEGANTEN HOTEL.
KURIOSE EREIGNISSE UND KÖNIGLICHE GESCHICHTEN REIHEN SICH ANEINANDER.
UND DABEI BEGANN ALLES MIT EINEM MORDANSCHLAG.

ENGLISH:
HOTEL REGINA VIENNA
SINCE 1896 THE KREMSLEHNER FAMILY TAKES GOOD CARE OF THEIR GUESTS AT THE HOTEL REGINA. IT IS ONE OF THE REMAINING ELEGANT PALACES OF THE RINGSTRASSE ARCHITECTURE. IT HAS BECOME A HOME AWAY FROM HOME FOR FAMOUS ARTISTS, LEGENDARY POLITICIANS AND OTHER TRAVELLERS FROM ALL OVER THE WORLD.
THIS BOOK TAKES YOU ON A JOURNEY THROUGH TIME. MEET THE FAMOUS PATRONS OF THE HOUSE. READ ABOUT ITS HISTORY. ENJOY A GLIMPSE BEHIND THE CURTAIN.
IT ALL STARTED WITH THE HOTEL'S RENOWNED RESTAURANT.
ACTUALLY, IT ALL BEGAN WITH AN ATTEMPTED MURDER.
---
More: https://famoushotels.org/news/stefan-zweig-at-hotel-regina-vienna
Hardcover, with dust jacket.
Asked to entertain a complete history research of the hotel, we were employed by the Kremslehner family, who own the Hotel Regina since its foundation (1877). Managing partner Wolfgang Kremslehner proved to be an enthusiastic companion in history research and collecting interviews, documents and leads. His uncle Peter Kremslehner opened his private collections and the hotel's archive for us. We completed the research in 2016, the publishing year of the book.
Among the many findings we discovered a very special hotel guest in history. By coincident we met collector Thomas Plötzeneder, who told us about his purchase of a collection of letters written by the eminent Austrian writer Stefan Zweig. Some of them were sent from the hotel Regina, bearing the hotel's letterhead.
In 1937, Zweig fled from a growing anti-Jewish attitude and left his home town Vienna for ever. He spent his last days in Vienna at the Hotel Regina. It was here, on 28 November 1937 (his birthday), that he penned down his hand written catalogue of autographs. He donated this collection to the Austrian National Museum. The Hotel Regina was his last official postal address in Vienna.