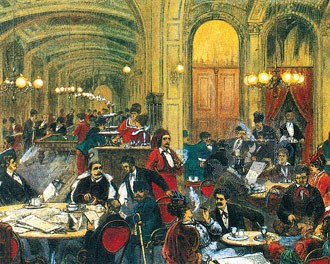 PERSONALITIES
Source of Information: newspapers at public places
( words)
Informed
In days of unlimited access to internet publications, it is often forgotten that in days before TV, mobile phones and the www the only source of information were daily, weekly and monthly publications; newspapers and magazines and the occasional personal newsletter which arrived by mail. Often papers appeared several times a day (morning, evening editions).
In Europe, one of the most important melting pots for that source of information were, for example, coffee houses.
The Viennes (Austria) coffee houses, for example the Café Central (opened 1876) or the coffee house at the hotel Imperial (1873), had a collection of newspapers available. Intellectuals often judged these institutions by the quantity and quality of publications available. Thus coffee houses were a source of mostly uncensored information, making them to a meeting point of intellectuals, revolutionaries and all those who had enough time to browse through the papers.
The intellectual Anton Kuh writes: 'Vienna without Newspapers is Vienna without Vienna'. Since the newspaper is Vienna, Vienna is a newspaper. The city lives only when it reads itself in print. In the morning, the coffee houses present the picture of a day of fasting. The customers sit around paper-starved. An empty reader's stomach shows in their eyes.'
For many years, the Café Central has published a special catalogue to give an overview of all its newspapers and magazines. At its peak there were over 250 national and international publications available at the reading table.
Austrian papers:
Vienna:
Neue Freie Presse
Neues Wiener Tagblatt
Neues Wiener Journal
Reichspost
Arbeiterzeitung
Extrablatt
Oesterreichische Volkszeitung
Deutschösterreichische Tageszeitung
Wiener Neueste Nachrichten
Wiener Morgenzeitung
Der Tag
Die Stunde
Wiener Allgemeine Zeitung
Der Abend
Sporttagblatt
Sonn- und Montagszeitung
Der Morgen
Montag mit dem Sportmontag
Montagsblatt der Publizistischen Blätter
Oesterreichische Sonntagszeitung
Provinzblätter:
Grazer Tagespost
Grazer Volksblatt
Grazer Tagblatt
Linzer Tagespost
Salzburger Volksblatt
Innsbrucker Nachrichten
Freie Stimmen, Klagenfurt
Österreichische Unterhaltungszeitschriften:
Die Muskete
Der Götz von Berlichingen
Oesterrische Illustrierte Zeitung
Interessantes Blatt
Wiener Bilder
Moderne Welt
Die Bühne
Der Humorist
Der Spiegel
Ausländische Tages- und Unterhaltungszeitschriften
Deutsche Tageszeitungen:
Berliner Tageblatt
Lokalanzeiger Berlin
Deutsche Tageszeitung
Vossische Zeitung
Der Vorwärts
Breslauer Zeitung
Dresdner Neueste Nachrichten
Frankfurter Zeitung
Kölnische Zeitung
Hamburger Nachrichten
Münchner Neueste Nachrichten
Deutsche Unterhaltungszeitschriften:
Frankfurter Illustrierte
Leipziger Illustrierte Zeitung
Die Woche
Das Buch für Alle
Sport im Bild
Westermanns Monatshefte
Velhagen und Klasing
Reklams Universum
Meggendorfer
Fliegende Blätter
Simplizissimus
Die lustigen Blätter
Die Jugend
Wissenschaftliche und Fachblätter:
Politik:
Sozialistische Monatshefte
Deutsche Rundschau
Neue Rundschau
Handel, Industrie, Volkswirtschaft
Allgemeiner Verkehrsanzeiger
Handelsmuseum
Kapitalist
Merkur
Le moniteur de l'exportation
Die Börse
England:
The Times
Daily Mail
London News
The Graphic
Italien
Corriere della Sera
Tschechoslowakei:
Delnicki Listy
Videnski Delnik
Narodni Politika
Narodni Listy
Venkov
Lidove Novine
Ceski Svet
Svetozor
Humoristicky Listy
Tagesbote aus Mähren
Reichenberger Zeitung
Prager Tagblatt
Bohemia (mit Briefmarkensammler)
Dänemark:
Politiken
National Titende
Frankreich:
Le Matin
Le Figaro
Le Figaro artistique
Le Temps
L'illustration
La vie parisienne
Le moniteur de l'exportation
Jugoslawien:
Obzor
Slovensky Narod
Slovenec
Morgenblatt (Agram)
Polen:
Czas
Naprzod
Nowa Reforma
Rzespospolita
Slowie Polskie
Kurjer Warszawski
Illustr. Kurjer Codzienny
Schweden:
Svenska Dagbladet
Holland:
Allgemeen Handelsblaad
Nieuwe Rotterdamsche Courant
Schweiz:
Neue Zürcher Zeitung
Fachblätter
Schönebergers Börsen und Handelscourier
Berliner Börsencourier
Der Konfektionär
Wiener Kürschner-Zeitung
Oesterreichischer Volkswirt
Der Kleinrentner
Europas Volkswirtschaft in Wort und Bild
Juristische Blätter
Amtsblatt der Stadt Wien
Literatur:
Literarisches Zentralblatt
Literarisches Echo
Westermanns Monatshefte
Kunst, Architektur:
Deutsche Kunst und Dekoration
Oesterreichische Bau- und Werkkunst
Velhagen und Klasing
Zeitschrift des oesterreichischen Ingenieur- und Architekten Vereines
Die vierte Wand
Technik:
Zeitschrift des Vereines deutscher Ingenieure
(V.D.I.)
Oestrreichische Chemiker-Zeitung
Chemiker-Zeitung Cöthen
Zeitschrift des Vereines österreichischer
Ingenieure und Architekten
Medizin:
Wiener Medizinische Wochenschrift
Wiener klinische Wochenschrift
Medizinische Klinik
Münchner medizinische Wochenschrift
Pharmazeutische Post
Musik, Theater, Schach:
Signale für die musikalische Welt
Jahrbücher des Anbruch
Die vierte Wand
Deutsches Funkschach
Oesterreichische Schachzeitung
Sport, Gesellschaft:
Europa Motor
Allgemeine Automobilzeitung
Sport im Bild
Sport
Allgemeine Sportzeitung
Der deutsche Jäger
Öffentliche Sicherheit
Der Humorist
Der Spiegel
Mode, Hygiene
Elegante Welt
Die Dame
Wiener Mode
Wiener Chic
Moderne Welt
Die Pelzmode
Die Schönheitspflege
Die Frau und Mutter
Fremdenverkehr:
Semmeringer Nachrichten
Arosa
Engadin Express
Graubünden
Sul Mare
Die Tschechoslowakei
Nachschlagewerke:
Meyers Konversationslexikon
Kompass
Bürgerliches und Strafgesetzbücher
Lehmann
Die Wiener Polizei
Das Recht für Alle (Dr. Rudolf Müller)
Oesterr. Verwaltungsgesetzbuch
Guide de l'exportation et importation