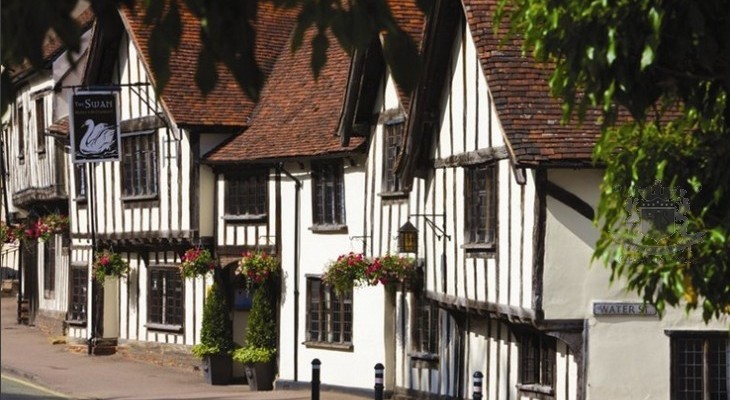 Adrian Mourby
Mourby of Lavenham
( words)
Some hotels are world famous, some are not. The Swan Hotel in Lavenham is quintessentially English, says famoushotels - travelling amabassador Adrian Mourby while trying to find his way to the bar.
The Swan is a half-timbered mediaeval inn, a winding maze of rooms, corridors and small flights of stairs. I had to duck three times under beams just to get to my bedroom. One reason for the labyrinth is that over the years The Swan has extended into two other old buildings, and into a medieval guild hall where wool was once traded. This has now been restored as the hotel's function room.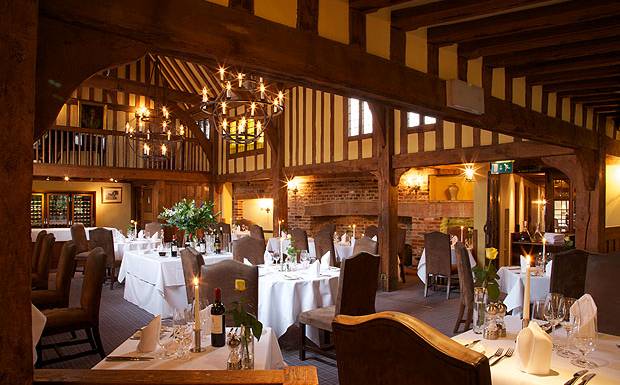 The Gallery Restaurant
Lavenham, 30 miles from the east coast of Britain, was once a major centre for England's wool trade with Europe. Flanders was just a short voyage across the North Sea. In 1397 when King Richard II demanded a loan from the 70 richest towns in England, Lavenham had to pay as much as settlements of a (then) similar size: the cities of Bath, Derby and Portsmouth.
But a collapse of Lavenham's industries in the seventeenth century left the town preserved like a half-timbered museum. Its mediaeval and Tudor appearance is so remarkably complete that it was used as a location for the 1968 English Civil War film Witchfinder General with hardly any set dressing required.
Trying to find my way down to the bar I was fascinated to find a glass case containing a woman's shoe from 1660. It was discovered inside a wall of the hotel in 1985 and duly reported to the Concealed Shoe Index. I had no idea Britain had such a thing as a Concealed Shoe Index, but evidently single shoes walled up inside buildings were once considered effective against evil spirits and their location is always recorded.

Registered with the Concealed Shoe Index, this tiny woman's shoe dates from 1660. There are not many hotels showcasing that sort of memorabilia.
The route to the bar was along bricks worn smooth and shiny with age. They had been used as ballast in wool ships before finding their way to The Swan centuries ago. The bar itself proved to be a low-ceilinged small room close to reception. It was pleasantly refurbished in 2011 when it was given its new name, The Airman's Bar. The name arises comes from the servicemen – English and American – stationed at RAF Lavenham during World War II. They inscribed their names in pencil on the wall plaster and the hotel decided some time ago to preserve them forever under glass. It was fascinating to read the signatures of all the young men who had crowded into this bar. The USAF was represented by aircrew from Pennsylvania, Nebraska, New York, and Ohio while the heroism of US General F. W. Castle is told in a framed newspaper article opposite the bar. After taking off in a bomber from Lavenham General Castle's plane was hit by anti-aircraft fire. He ordered the pilot and crew out and continued to fly the plane himself until it was no longer over Allied lines, but it blew up before he could parachute out.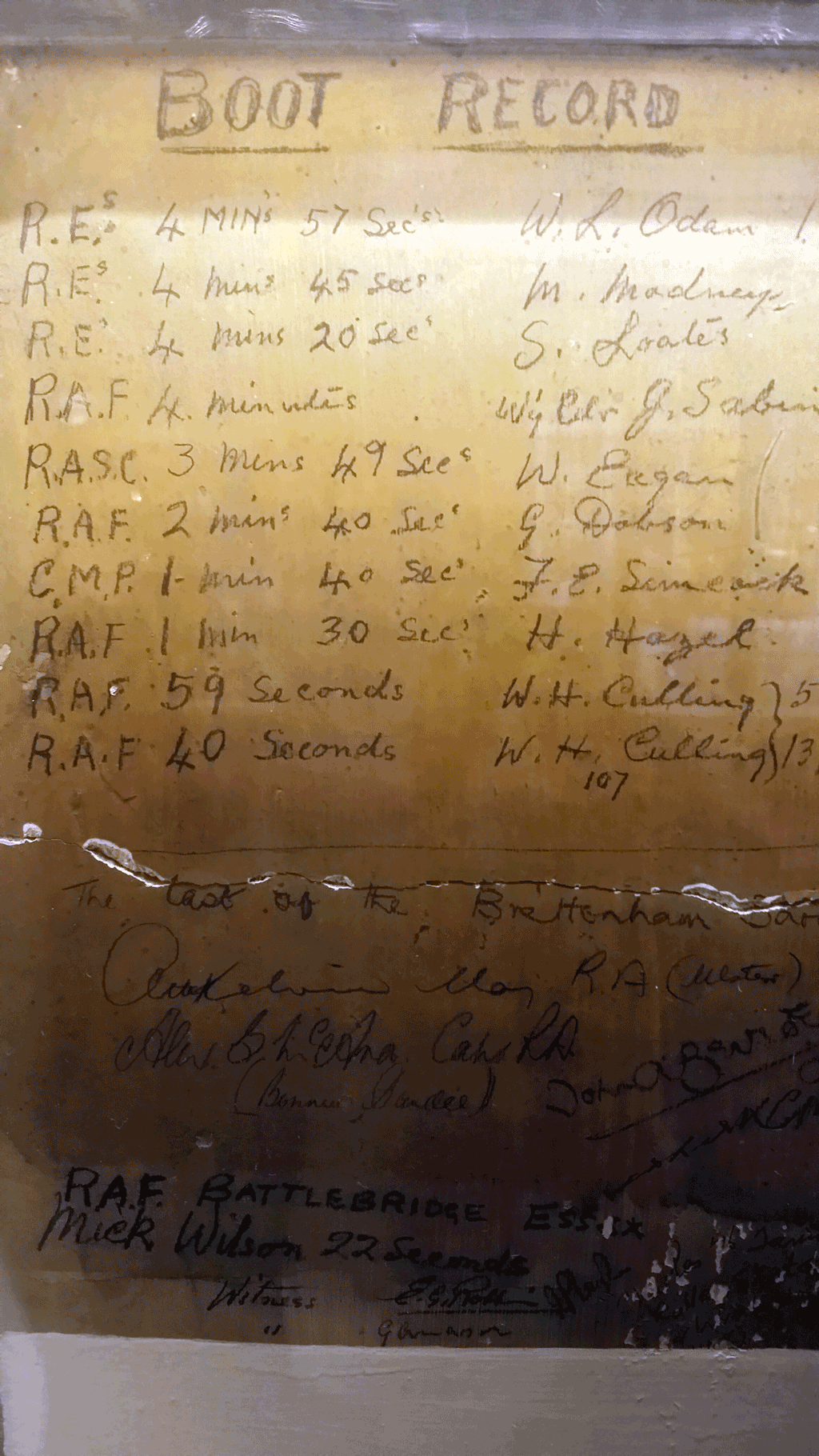 Boot camp at the Battle of Britain.
Other glass cabinets displayed cap badges and insignia of the many regiments who drank in the Airman's Bar including "The Gentlemen from Hell" (487th Bombardment Group) who flew B17 Heavy Bombers from Lavenham during World War II. One wall was inscribed with the scores of those members of the RAF and Royal Engineers who attempted the Swan's "Boot" challenge. As the glass boot that used to be kept over the bar contained a full three and a half pints of ale, the scores were impressive. On 17 February 1940 W. L. Odam (Engineers) took 4 minutes and 5 seconds but by 13 July – at the beginning of the Battle of Britain, W. H. Culling (RAF) managed to down the Boot in a staggering 40 seconds. I doubt that he was much use to the war effort after that! Sadly the boot itself was broken a few years ago and has not been replaced.
Fresh graffiti from servicemen visiting The Swan has been sanctioned, meaning that today the Airman's Bar is an ongoing piece of British history. It serves some good local ales too!