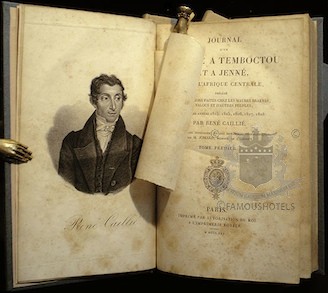 PERSONALITIES
RENÉ AUGUSTE CAILLIÉ — From Here to Timbuktu
( words)
CAILLIÉ (or Caillé), RENÉ AUGUSTE (1799-1838), French explorer, was born at Mauzé, Poitou, in 1799, the son of a baker. The reading of Robinson Crusoe kindled in him a love of travel and adventure, and at the age of sixteen he made his first voyage to Senegal.
In 1824, the Geographical Society of Paris announced a prize of 10,000 francs (£400) in 1824 to the person who first visited the African city of Timbuktu. Timbuktu was considered an almost mythical place, a city of gold nestled in the hostile lands of Muslim North Africa. Europeans were not welcome. Several expeditions had been financed from England, but no one had yet returned alive from Timbuktu – even Mungo Park, who had set off down the Niger from Segu in 1805, had disappeared.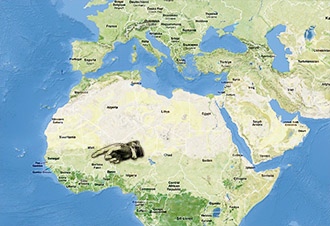 Animosity between British and French Geographical Society's existed over British explorer, Gordon Laing. There was vague evidence to suggest that Laing had successfully reached Timbuktu in 1826, but had been murdered shortly after leaving.
Caillié settled in a Muslim community on the Rio Nuñez to learn the language and customs. After three years he felt confident enough to join a caravan heading to Timbuktu, disguised as a Muslim, and carrying a minimum of supplies: a single bag of trade goods, an umbrella, compass, medical kit, and a journal. He dismissed his poor language abilities by saying he was an Egyptian, kidnapped by Napoleon's army and taken to France to be raised amongst the heathen.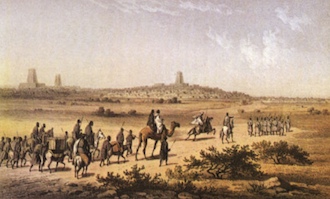 Starting from Kakundi near Boké on the Rio Nunez on 19th of April 1827, he travelled east along the hills of Futa Jallon, passing the head streams of the Senegal and crossing the Upper Niger at Kurussa. Still going east he came to the Kong highlands, where at a place called Timé he was detained five months by illness. Resuming his journey in January 1828 he went north-east and gained the city of Jenné, whence he continued his journey to Timbuktu by water.
His entrance into the fabled city was a disappointment: later describing the view as "a mass of ill-looking houses, built of earth." Caillié stayed in a house only one street away from that where Gordon Laing had slept the previous year, and was shown a compass said to belong to Laing.
After spending a fortnight (20 April - 4 May) in Timbuktu he joined a caravan crossing the Sahara to Morocco, reaching Fez on the 12th of August. From Tangier he returned to France. Caillié was the first to accomplish the journey in safety.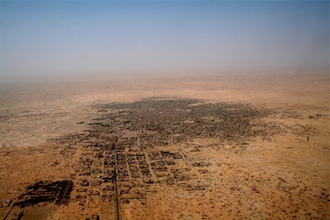 He was awarded the prize of 10,000 francs (£400) offered by the Geographical Society of Paris to the first traveller who should gain exact information of Timbuktu, to be compared with that given by Mungo Park. He also received the order of the Legion of Honour, a pension, and other distinctions, and it was at the public expense that his Journal d'un voyage à Temboctou et à Jenne dans l'Afrique Centrale, etc. (edited by E.F. Jomard) was published in three volumes in 1830.
Caillié died at Badère in 1838 of a malady contracted during his African travels.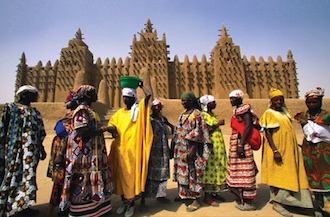 Situated on the southernmost edge of the Sahara Desert, Timbuktu is about eight miles from the Niger River -- closer during the rainy season. It was founded in the twelfth century by Tuareg nomads. By the fourteenth century it had became a major center for the trans-Sahara gold and salt trade as well Islamic scholarship and culture.
Today Timbuktu is widely used to describe a place extremely far away ("... from here to Timbuktu") and regarded by many as a myth. The city in Mali, West Africa, is of such great historical importance that in 1988 it was designated a World Heritage Site.
________________
sources: africanhistory.com
Wikisource 1911 encyclopedia project
Encyclopædia Britannica® from famoushotels.org archives