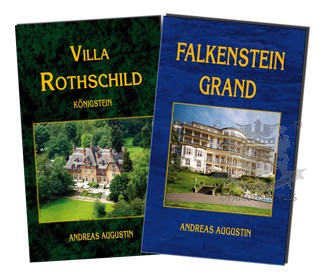 The Making Of Books
Falkenstein Grand & Villa Rothschild
( words)
PRESS / PRESSE:
These two books are available in German only;
2008 wurde Andreas Augustin eingeladen, sich mit der Geschichte der Häuser Falkenstein (1909) und der Villa Rothschild (1892), beide in Königstein im Taunus, auseinander zu setzen.
Die einmalige Geschichte dieser beiden höchst unterschiedlichen Häuser machten die Entscheidung sehr leicht, beiden Hotels jeweils ein Buch in seiner persönlichen "Treasury" Taschenbuchserie zu widmen.*
Augustin: "Natürlich gibt es die Liste der berühmtesten Hotels der Welt, an die ich mich sklavisch halte, wenn es um die Erstellung eines neuen Buches über ein historisches Hotel geht. Aber es gibt Ausnahmen - und für diese habe ich mir meine kleine Taschenbuchserie (auf Englisch: "Treasury"-books) reserviert. Sie widme ich ganz persönlichen Plätzen.
Dieses Jahr wurde ich ich quasi im Duett schwach. Direktor Henning Reichel, mit dem ich schon Schloss Velden gemacht hatte, hat ja auch gleich zwei Hotels auf einmal übernommen. Als Direktor ist er heute für die idyllische Villa Rothschild und für das Falkenstein Grand, ein Kempinski Hotel, zuständig. Beide liegen vor den Toren Frankfurts, in Minuten gemessen und soeben gefahren: Frankfurt Hauptbahnhof - Hotels: 18'.

Ich habe zwei kleine Büchlein über die beiden Häuser geschrieben, recherchiert hat sie mit teilnahmsvoller Akribie eine Historikerin; meine Frau Carola. Am 29. Oktober 2009 wurden sie einer kleinen, feinen Runde der Stammgäste des Hauses Falkenstein präsentiert.

* THE MOST FAMOUS HOTELS IN THE WORLD hard-cover Bücher sind ausschließlich für die Hotels aus der Liste von famoushotels.org reserviert.
Über den Dächern von Frankfurt. Die Terrasse des Falkenstein Grand, im Hintergrund die Skyline von "Mainhatten".
Buchpräsentation am 29. Oktober, um 17.00 Uhr im Hotel Falkenstein Grand, Königstein im Taunus, Deutschland - über den Dächern von Frankfurt (hier geht's zur Webseite mit Anreise Informationen). Anmeldung erbeten!


2 Covers der Bücher: download ca 1,5 MB
Andreas Augustin - Foto download ca 1,1 MB Credit: Philip Hutter



Rezensionsexemplar bitte hier anfordern