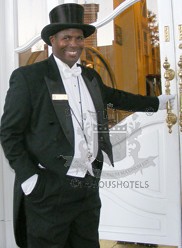 HOTELS
Doorman of the Month
( words)
Le Pavillion, New Orleans: Opened in 1907 as New Hotel Denechaud, it received instant international acclaim as one of America's most notable new hotels.
Today Doorman Albert J. Moses III. guards the doors of the protected building, one of the most famous hotels of the US.
366 hotels are listed on famoushotels.org (see: HOTELS). We publish the photographs of the doormen of these hotels, together with historical images, free of charge.
Read more about it: //famoushotels.org/article/580