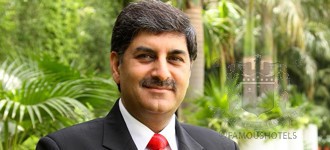 Breakfast with
Breakfast with Vijay Wanchoo
( words)
2009: The Imperial New Delhi, India
I am having breakfast with
VIJAY WANCHOO
the General Manager of THE IMPERIAL NEW DELHI. The Imperial New Delhi is not only one of the oldest luxury hotels of India, it also received more awards over the past years than any other hotel on the subcontinent. Following
Pierre Jochem
who now runs Raffles Hotels, Vijay Wanchoo is new at the helm of the hotel. You find more infomation about the hotel via the link to the left. The Imperial can also be found in our library of books.
Good morning, dear Vijay, and thanks for your time.

Three quick questions to warm up:

Q. What's your motto in life?

DO UNTO OTHERS AS YOU HAVE THEM DO TO YOU.
BE HONEST, SINCERE AND UNBIASED IN ALL TASKS AND DECISIONS

Q. What do you want to have accomplished in the next ten years?

MAINTAIN THE PROGRESS IN THE PROFESSION AND CONTINUE ADDING VALUE TO THE HOSPITALITY INDUSTRY.

Q. And your preferred breakfast?

SIMPLE INDIAN/SOUTH INDIAN VEGETARIAN STUFF. I AM A PURE VEGETARIAN.


PRIVATE

Q. What was your "dream-profession" when you were a kid?

1.JOIN THE INDIAN ARMY. 2. PLAY TEST CRICKET FOR THE COUNTRY 3. ACT ON STAGE OR FILMS. DID NOY MAKE IT TO ANY ONE, HOWEVER,TRYING TO BE A STAR IN THE HOTEL INDUSTRY.

Q. How often do you reflect about your own life?

ALL THE TIME

Q. Which hobbies are absolutely essential for you?

1. PLAYING BILLIARDS; 2.COOKING
______________________________
PROFESSIONAL

Q. When you start a project do you prefer enthusiastic partners or experienced ones? ENTHUSIASTIC

Q. What would you never like to be changed at your hotel?
THE POSITIVE ENERGIES.

Q. Can you give us an impression of your next month's agenda?

TO CONTINUE THE EXCERCISE OF EXPOSING THE HOTEL TO HIGH POTENTIAL AND DISCERNING CLIENTELE TO THE HOTEL AND FOCUS ON MAXIMISING REVENUES,GUEST AND EMPLOYEE SATISFACTION.
___________________________


PHILOSOPHICAL

Q. Do you fall in love with people or ideas?
BOTH.

Q. What was the most important advice you ever received?

1. NEVER CRITICISE OTHERS AS YOU TOO HAVE FAULTS.
2. MONEY TALKS BUT WEALTH WHISPERS


Q. For the same budget, would you rather afford the smallest room in the best and most famous hotel of a destination or the best room in a lower-class hotel?

THE SMALLEST ROOM IN THE BEST HOTEL.



And a few quick ones to end with:

Black&white or colours: COLOURS

Furs or synthetics? NEITHER

Electric or wet shaving? WET