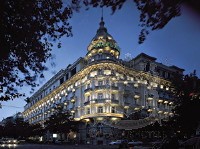 Breakfast with
Breakfast with Michele Frignani
( words)
Grand Hotel / Hotel Excelsior, Rome, Italy, Europe
Good morning, dear Michele, and thanks for your time. You have managed the Grand Hotel (the St Regis) here in Rome, now you are here at the Grand Old Lady of Via Veneto - The Excelsior.
Q. What's your motto in life? To believe in what I do and to dedicate myself in achieving this with passion and determination
Q. Where are you in ten years? RUNNING AN EVEN LARGER GRAND DAME
Q. And your preferred breakfast? GREEN TEA EXOTIC FRUITS AND TOASTED RYE BREAD WITH MY ASSISTANT'S HOME MADE MARMELADE.
Let me ask you:
Q. To whom did you really listen in the past week? MY CONSCIENCE
Q. Who is your idol in hospitality industry? CÉSAR RITZ ... OF COURSE!
Q. What makes a good hotel manager? TO HAVE THE ABILITY TO ADAPT TO VARIOUS SITUATIONS WITHOUT LOOSING SIGHT OF THE CORE VALUES.

WELCOMING IMPORTANT GUESTS IS PART OF A GENERAL MANAGER'S DUTY: HERE WITH PRESIDENT FELIPE CALDERON (MEXICO)

Q. We are sitting at the historic Grand Hotel, which has gone through various transitions in its life. Now recently it has even changed its name.
Q. How important is the hotel's history for you as a marketing tool? IT IS A UNIQUE SELLING OPPORTUNITY TO TRANSMIT RELIABILITY, TRADITION AND CHARM
Q. What was your "dream-profession" when you were a kid? RACING CAR DRIVER

President Mubarak of Egypt

Q. If you had the choice, would you follow the same career or would you do some things differently? I WOULD FOLLOW THE SAME STEPS
Q. Is it too much or too little courage that sometimes makes you fail?
TOO MUCH COURAGE WITH TO LITTLE REFLECTION
Q. How often do you reflect about your own life? LATELY NOT ENOUGH
Q. Can you give us an impression of your next month's agenda? On the road for sales calls and on to the USA to organize and host dinners with the Press and top clients. While in Rome I will keep on with my daily engagement with guests. Last but not least I am looking forward to the first general session with all my associates to transmit to them the guidelines for this year.
Q. What would you like your best friend to say about you at your funeral? THE SHOW MUST GO ON!
Thanks for your time!

Frignani with Prince Albert of Monaco
Visit the Excelsior book's preview page
here.