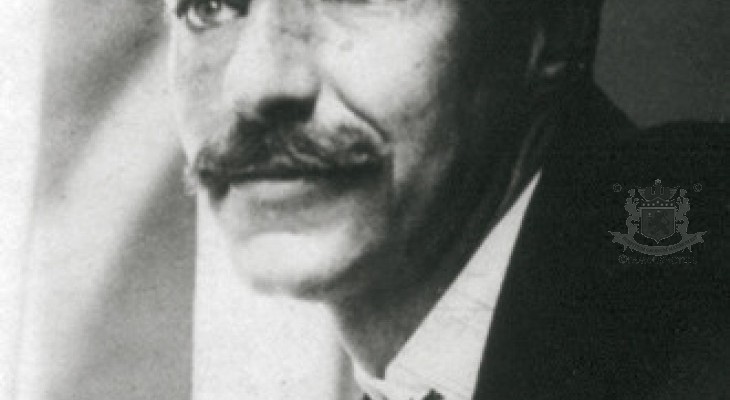 PERSONALITIES
Astor, John Jacob
( words)
The St. Regis Legend
With the launch of our book St. Regis (Grand Hotel) Rome we have a look at the legendary man behind this name. Colonel John Jacob Astor IV was born in Rhinebeck, New York on July 13th, 1864, the son of William Astor and great-grandson of John Jacob Astor, the German immigrant who made himself the richest man in America by investing in fur trading and real estate. Astor was educated at St. Paul's School, Concord and later went to Harvard. Then, he returned to the United States to manage the family fortune. He had two homes in New York. On 1 May 1891 Astor was married to Ava, daughter of Edward Shippen Willing of Philadelphia. Together they had a son and one daughter. In 1894 Astor wrote a semi-scientific novel about life on other planets, A Journey in Other Worlds. He also developed several mechanical devices, helped to develop the turbine engine, and invented a pneumatic road-improver. In 1897 Astor built the Astoria Hotel, New York adjoining the Waldorf Hotel which had been built by William Waldorf Astor, his cousin. The new complex became known as the Waldorf-Astoria. Astor became Colonel-staff to General Levi P. Morton and in 1898, at the time of the Spanish-American War, was commissioned as a lieutenant colonel in the US volunteers. He placed his yacht Nourmahal at the disposal of the U.S. government and equipped a mountain battery of artillery for use against the Spanish. He also played as an actor in two films, President McKinley's Inspection of Camp Wikoff (1898), and Col. John Jacob Astor, Staff and Veterans of the Spanish-American War (1899), in which he played his own role. Astor's real-estate interest included two other hotels, the Hotel St. Regis (1904) and the Knickerbocker (1906).

The site of the original St. Regis, at Fifth Avenue and 55th Street, was a residential neighbourhood when Astor broke ground for it in 1902. He wanted to create a hotel where gentlemen and their families could feel as comfortable as they would as guests in a private home; in fact, he frequently used The St. Regis as a place for his personal guests and visiting relatives to stay at his invitation. For their comfort, Astor introduced such 'modern' conveniences as telephones in every room, a fire alarm system, central heating and an air-cooling system that efficiently predated modern air conditioning and allowed each guest to control the temperature of his room. Mail chutes were installed on each floor, a newsworthy innovation at that time. One of the hotel's other novel features was a special design 'for the disposition of dust and refuse' – a central vacuum systems. All maids had to do was plug their vacuum cleaner's hose into sockets situated throughout the hotel. Throughout its history of nearly a century, the St. Regis in New York has invariably attracted the most glamorous, creative and intriguing personalities. Among them Colonel Serge Obelensky, the Russian Prince who had been a page at the Czar's court before he escaped the revolution and grew up to marry Alice Astor; Marlene Dietrich, William Paley and his wife Barbara ('Babe') lived at The St. Regis as did Salvador Dali and his wife Gala.
It is a legendary fact that actress Gertrude Lawrence instructed her agent to arrange all her press appointments at The St. Regis. In 1909 Astor divorced Ava and, two years later, married his eighteen-year-old mistress Madeleine Talmadge Force, which scandalized New York society . Mr and Mrs Astor travelled to Egypt and Paris and, in the spring of 1912, decided to return to America as First Class passengers on board the brand new Titanic, probably because, given that Madeleine was 5 months pregnant, they wanted the baby to be born in America. They boarded the Titanic at Cherbourg. After the accident Astor left his suite to investigate, he quickly returned and reported to his wife that the ship had struck ice. He reassured her that the damage did not appear serious. As his wife boarded a lifeboat, Astor asked if he could accompany her, due to her "delicate condition", but an Second Officer Lightoller refused, reminding Astor of the "women and children only" rule. Taking the refusal like a gentleman, Astor then threw his gloves to his wife, and lit a cigarette. He and his dog were last seen on deck. Astor died when the ship went down, on April 15, 1912. His body was recovered during the retrieval process by the crew of the Mackay-Bennett, on April 22, covered in soot, and partially crushed, leading experts to believe he had been smashed by a falling smokestack. He had $2,500 cash in his pocket. The body was delivered to Mr N. Biddle and forwarded to New York City on May 1. He was buried at Trinity Cemetery, New York. Madeleine survived to inherit 1.7 million from John, and on August 14th that same year gave birth to John Jacob Astor VI, who would grow up to become a millionaire playboy much like his father.
Additional references: First Class Passengers on the Titanic