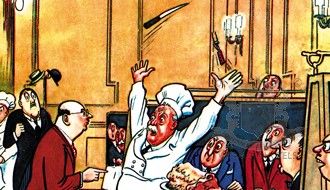 PERSONALITIES
Women steal more often than men
( words)
It can be very entertaining . . .
Yes, we were startled when we stumbled over the secret Ritz files at The Savoy, London. And when, in 1987, we discovered the original building plans of Raffles in Singapore, saving the hotel from being destroyed, and of course it was a great feeling to pinpoint the exact opening date of the Hotel Metropole in Hanoi. But, as you can guess, it is not all dead dry facts and serious history. The hotel world is full of good laughs. Here are a few of our amazing and often amusing findings, which lend our books about famous hotels a light-hearted flavour.
By Andreas Augustin
How to get a room at a Hilton
"I was sitting next to a businessman on a flight from New York to London arriving early in the morning. The guy wanted to stay at the London Hilton, but had no reservation. I said we can drive in together and see what the room situation is. As expected, there was no room available. The guy was not dissuaded. He said to the room clerk:
'What if Conrad Hilton came in this morning without a reservation?' The clerk became a little flustered and finally said: 'Well, we would have to find something for him.'
'So,' says my seat companion: 'I have news for you, young man. Mr. Hilton is not coming this morning and I want his room.' He got it."
Curt Strand
Chairman of Hilton International, retired in 1986, told us this story in 2013
(from our book LONDON HILTON ON PARK LANE)
A Room with a Bar
Laws can in fact "encourage" hotel openings. When Theodore Roosevelt was police commissioner of New York, he enforced a highly unpopular measure called "Raines Law", designed to cut down on drinking by banning the sale of alcohol on the Day of the Lord - apparently the most popular day for drinking.
The one exception was for hotels which could serve alcohol with food or in rooms, and almost at once bars started opening at least ten rooms - the minimum number required - and turned into hotels. Of course, the bars weren't averse to the rooms being used, in any way, and very soon a huge boom in prostitution took place using them, totally subverting the moralistic intentions of the law.
In Chennai, Tamil Nadu, India, today, similarly stupid measures require bars to be attached to hotels, and some have created lodges for this purpose, though it isn't clear if this has facilitated prostitution.
"The Times of India"

Oscar Wilde, who gave us such delightful plays as The Importance of being Earnest and a good two pages in any reputable dictionary of quotations, stayed at The Savoy in London in March 1893. While everybody else was totally taken with the hotel's modern techniques and features, Wilde scorned the idea of plumbed-in washstands with running cold and hot water: 'What is it good for? If I want hot water, I call for it.'
The Savoy
Talking about the Savoy: "A Valet For Each Guest" titled the San Francisco Chronicle on 30 August 1891:
"There was quite an exciting discussion the other evening among a number of Californians at the Coleman, in which General John T. Cutting was a central figure. Some one (sic) of the Californians present had been reading in the Sunday CHRONICLE the views of General Cutting upon the superior service of the European hotels as compared with our American hostelries. Said the General, rather warming up to the situation: 'I'll tell you, gentlemen, that, although I only visited London and Paris, I maintain that for service there is no hotel in the United States to compare with that Hotel Savoy in London. There is no rush nor excitement when you arrive. You are courteously escorted by an attendant to your apartment, not by an officious bellboy who wants to wear his whisk-broom out on your clothes in the expectation of a tip. You open your trunk and lay out your crumpled clothes and go to your breakfast. Every wish seems to be almost anticipated, and you don't feel like being obliged to lay down a fee for attendance. You return in the early evening to dress for dinner, and your dress suit is there freshly pressed and ironed for use. In the morning your day suit is similarly fit to wear. You couldn't have your wants better attended to if you were at home. In fact, the hotel supplies special attendants for every want, and I never had to call for any special service—you don't have to ring for ice water, it's there. That's the way to keep a hotel.' And then there was silence, and more cigars were ordered."


Moral Standards Back in the 1980s strict rules applied at The Strand hotel in Yangon, Myanmar (formerly Rangoon, Burma). When, for instance, 'Aunt Monica' Mia Maung wanted to visit an old friend for tea, she unwittingly breached the moral protocol of the hotel. 'As I went upstairs to see my friend, reception called him and remarked harshly: "No female visitors in your room, sir!" The most ridiculous thing was that my friend was in his eighties and confined to a wheelchair and I was in my seventies. In the end we left the door open.'
In 1942-43 the Atlantic Hotel in Hamburg had its own way of dealing with the threat of daily bombardments. The following sentence could be found on the menu: 'The possibility of an air raid compels us to ask our honoured guests for immediate payment.'
The story reminds us of the research we carried out some years earlier in Singapore, where we discovered the 'Raffles Complex Bomb Warning System'. During the first months of Japanese air raids over Singapore, Raffles seemed unaffected by the growing peril. A special bomb warning system was devised to ensure the guests' "saftey". What the revellers did not realize was that this complex organization consisted only of the hotel´s chief engineer and one whistle. He blew this whistle four times if he spotted any droning Japanese planes about to release their deadly cargo. By then it would have been too late for the partygoers anyhow and so we could say that Raffles was lucky. No bomb touched the Grand Old Lady throughout the war. Probably because the Japanese wanted to save the hotel for themselves. After taking over Singapore they immediately converted the hotel into a home for senior officers.
Writer Simon Winchester told us a story for our history of the Mandarin Hotel in Hong Kong: 'I was staying a while ago in room 1010 and having tea with a Chinese friend of mine, a young woman who had just had a baby boy and who had decided to call it, for some inexplicable reason, Egmont. 'I assumed she had named it thus because Beethoven's Egmont Overture but she professed no knowledge of either an overture named thus, or of the composer.
'So I said, well, you must get it, play it for your child during its formative years. I'll call down to the concierge and have him hop over to Universal Music in the Prince's Building next door and have a tape delivered to my room, prontissimo. 'Of course I knew that if head concierge Giovanni Valenti answered the phone it would happen. 'But Giovanni did not answer the phone; one of his Chinese staff did. And good as they may be, I felt I had to be more careful. So the conversation went as follows.
'SW: Hello, SW here, room 1010.
C: "Hello, Mr W, how are you today?"
SW: Fine, fine, thank you . . . Tell me, have you heard of Beethoven?
'C: "Mr Beethoven? Let me see – what room is he in?"
'SW: No, no – he is NOT a guest. He is a composer. And he is dead.
'C: "Oh, my God,' the reply came, shocked: 'We'd better call security."'
Peter French was general manager of The Mandarin Oriental Hong Kong between 1982–1986. 'A West African Head of State was staying with us, of course in the Mandarin Suite, with his entourage occupying the entire 24th floor. During his visit to Hong Kong he developed a partiality for the local gourmet frogs and purchased several crates which he kept alive in the bath until their fate was imminent. Unfortunately the smell of the frogs permeated the entire top floors of the hotel, so we had to explain to him our house rule: "no pets allowed".
At the Oriental in Bangkok a moviestar handed his shoes in for cleaning. When he got them back the laces were missing. He called housekeeping. 'You are supposed to be the best hotel in the world and you return my polished shoes without laces.' The girl at the other end of the wire was clever enough to answer: 'We were expecting your call, sir. The laces have just been washed and we wonder if you would like to have them pressed round or flat.'
At the Hotel Sacher in Vienna, we found some 'Naked Facts'. Jack Lemmon once welcomed journalists at a press conference wearing only his night shirt. It would appear to be another Hotel Sacher peculiarity that some guests prefer to receive the press in their night attire. Or even without it. Like John Lennon and Yoko Ono, who caused an uproar when they invited the press to a sleep-in. They gave their interview at the Sacher – totally naked – from under the sheets, much to the frustration of hundreds of photographers who had come especially to take pictures.
When Hong Kong's Peninsula opened in 1928, rigorous morals ruled the colony (officially). The London Daily Express reported: 'Chinese subscribers who flirt over the wires with the telephone girl more than three times will have their numbers cancelled.'
Here's a guest comment entry we all understand: 'I have noticed that the comment "24 hour room service" on your in-room menu seems to refer to the length of time that it takes for the club sandwich to arrive.' We won't disclose the hotel in question.
Mauro Lotti was one of the great barmen at the Grand Hotel in Rome. He invented drinks and made them fashionable. During the research of our book Grand Hotel Rome, he confined to the author: "I had to invent drinks that told a story, such as the "Oyster Martini". I put a "naked" oyster on a skewer and lay it on a bed of crushed ice in a martini glass. You had to explain this in every detail and you saw the ladies shivering. As the poor oyster was "freezing", I poured the Martini over it. Then you ate the oyster and sipped the Martini – a wonderful taste of the oyster, and of course the drink.' His greatest coup was certainly the 'Feng Shui Stone Martini'. 'You soak (!?!) flat black lava stones with a smooth surface picked from a special spot on the coast of Japan in vermouth and then put them into the gin to mix the martini, thus ensuring a minimum of the taste of vermouth. The stones give you positive energy,' Mauro explained, smiling.
After Austrian Airlines started flying from Vienna to Shanghai, the concierge at the Hotel Bristol in Vienna assisted an American traveller who flew to China. Asked if he had a visa, the man answered: 'I don't, I've been to China many times and never had to have one of those.' The concierge double checked and came back to his guest with the fact that his stay required a visa. Again, the traveller replied: 'Look, I've been to China four times and every time they have accepted my American Express.'
Did you take anything from your room? In the past, the items usually taken away from hotel rooms were soaps, shower caps, shampoos, stationary and the occasional cloth hanger. Today, towels (the most commonly stolen item), laundry bags, pillows, ashtrays, as well as reclining chairs, safe deposit boxes, television and video players are packed into the suitcase. Modern flat TV screens often turn out to be linked to a special system only available within the hotel. So forget it — they don't work at home!
A study made by the British Hotel Association found that women steal more often than men. The American Hotel and Lodging Association estimates that theft in hotels amounts to US$100 million a year. Holiday Inn reports a loss of 560,000 towels a year. One out of five Americans has taken a hotel towel, while just as many confess to have taken a cloth hanger or an ashtray. The occasional TV goes missing from a room. Today, hoteliers look at the transportability of modern flat screens with understandable horror.But a proper hotel TV works only within its CC system, turned on at home the scree would simply go blank.
What else to sell Besides rooms and F&B, hotels successfully sell mini-bar items, books about their history and the occasional bathrobe. The Savoy in London sells its 12-inch diameter shower heads, while via its online shop the Peabody in Memphis sells mattresses, down pillows and duck shaped golf club covers, bath gel, lotions and shampoos.
Guest comment entry: 'The manager had promised that I wouldn't find a single flee in my bed. He was right: they were all married with families'. Again, we won't disclose the hotel.
You can have the cake and sell it - at least you can at the Hotel Sacher. The Viennese hotel has proved that it comes top in this practice. The Original Sacher Torte (cake) is the official Hospitality Industry Bestseller. The Hotel Sacher in Vienna, Austria, has a splendid online shop, boasting its famous 'Torte' (a chocolate cake) as the greatest seller in the hotel industry. On a typical day 300-600 cakes are produced, and during the festive season the number reaches 3,000! The cakes are shipped all over the globe in little wooden boxes.
The Peninsula, Hong Kong, around 1970: It was already after midnight when a pair of regular customers entered Gaddi's, 'The Pen's' finest restaurant (with a stiff dress code) for a night-cap. Headwaiter Chan Pak spotted them and, to his dismay, had to inform them that they were inappropriately dressed since neither of them was wearing a jacket. 'Sorry, gentlemen,' he said, 'but you cannot enter this restaurant with just a shirt and tie.' He had hardly finished speaking when the two men immediately agreed. Within seconds they took off their ties and shirts and stood half naked, whilst being applauded by the entire restaurant. Then they laughed, got dressed and beat a hasty retreat.
Guest comment entry: 'I had been promised a room with a bath. Pity that they were in separate buildings' – at a hotel we won't disclose. Same applies for the manager who honestly answered the question of 'Does the room have its own bath?' to the point: 'If no one else comes, it does.'
Charles Chaplin arrived at The Peninsula with only his wife in toe , very much to the surprise of former Manager Felix Max Bieger, who expected a larger entourage. The reservation had been made for a 'two-bedroom suite'. When asked about this, the great comedian performed one of his famous pirouettes, stopped in front of Bieger and whispered: 'I snore and my wife hates it!' On another occasion Felix Bieger accompanied US movie star Danny Kaye in the lift to his floor. A lady looked at the actor very strangely: 'You look like Danny Kaye!' she remarked. 'Oh,' Kaye replied, 'many people tell me that!'
In 1902, at the Raffles in Singapore a poor tiger, shot next to the billiards table, created a legend and with it a successful sales formula that has worked just fine for the hotel for the past 100 years (including ensuing Tiger Tavern, Tiger Draft Beer, etc.). But that's in my eyes nothing compared to the live performance you see at the Peabody Hotel in Memphis, Tennessee every day. First of all the hotel is advertised as 'Memphis only 5-ducks meeting hotel'. Every day, the famous duck march was played. The music was 'choreographed' by the original duck master, Edward D. Pembroke, a retired animal trainer who created the March of The Peabody Ducks. Pembroke trained the ducks to march on the red carpet to the music of John Philip Sousa's King Cotton March. Every afternoon the VIPs (very important poultry) take the elevator from their quarters on the roof of the hotel to the lobby, walk over a red carpet, and take a dip in the lobby fountain before heading back to where they came from. Whether the elder members of the ensemble retire to the hotel's kitchen at the end of their career has not been confirmed.
VIP - very important poultry. At the Hotel Majapahit in Surabaya, Indonesia, former General Manager Bradford Zack was inspired by the Hotel Peabody in Memphis and had his own ducks trained for their daily performance. At the Hotel Kamp in Helsinki, Ducks are part of the bathroom set-up.
And a letter to us: 'When traveling in Asia last year, I grew a little blasé with the opulence. One of my favorite moments was checking into my room at the Sofitel Royal Lagoon Dongguan, with a magnificent and huge marble bathroom, and finding a little yellow rubber ducky on the bathtub rim. That tiny gesture sent a better message to me than the multiple amenities that there was someone in the establishment who really cared to make my stay special. I knew instantly that the hotel had a Germanic GM because of the great sense of humor, and, indeed, it turned out to be Peter Erler who, if I recall correctly, is Austrian.' (Constance Genet Konold)
"There are two classes of travel: first class and with children" Robert Benchley
The Spanish surrealist Salvador Dali, (1904-1989), a man noted for his personal flamboyance, graced the lobbies of hotels like the St Regis in New York or the Meurice in Paris. Several hundred contracts would be proposed to the artist in any one particular year and of these about 50 would come to fruition. They included, in 1970, a 15-second commercial on French television during which Dali rolled his eyes roguishly and said, 'I am mad, I am completely mad - over Lanvin chocolates.' He was paid $10,000." Dali enjoyed various long-term stays in Paris, at the famous Hotel Meurice, on the rue Rivoli. On one occasion, he reserved an entire floor, where he enjoyed cruising the corridors on his bicycle. In search of inspiration, Dali would demand a herd of goats be delivered to the hotel. He would then shoot them with plastic bullets. He would also pay staff to go the Tuileries Gardens next door and collect flies in a jam jar. In his later days he used to earn some extra cash by answering personal requests for an autograph in the lobby of the Meurice with the simple reply: 'That's ten dollars.' He would pocket the money and sign an autograph for the collector.
'It's easier to find a travel companion than to get rid of one.'
At the Savoy in London, Rudi Schreiner, reception manager in the 1970s and later general manager in Vienna, remembers a particularly attractive singer who was on stage during the days of supper cabaret at the Thames Foyer. When she began a particular number from Cabaret, all the guests would stare at the stage. When she came to the bit which requires a fair degree of upper torso movement while singing 'Money money money . . . money money money . . .' followed by a sound on the cymbal denoting an imaginary silver coin falling into her juggling cleavage, everyone was spellbound… Absolutely everybody, including the young waiter who was serving a large table of fourteen right next to the stage. Unfortunately, although he hadn't put out any plates, he calmly started to serve the main course straight onto the tablecloth. Apparently no one noticed until the gravy was poured.
'But why oh why do the wrong people travel when the right people stay at home?' Noel Coward
At the Excelsior in Rome, Italy, the wife of a Sultan had her secretary presenting a list of extras she wanted: 'she needs three Mercedes, wants everything decorated with red roses, brings her own dancing instructor, asks for a Judy & Punch theatre with a simultaneous translation in her suite for her children, requests a disco in one of her rooms and subsequently requests a troop of 12 Flamenco dancers as well as an English speaking magician.'
A rather unusual room request for three days, fulfilled to the full satisfaction of the guests, had been personally presented by an ambassador of a foreign country. The visiting head of state required La Coupola Suite, in addition the Imperial Suite, 25 more suites and 50 rooms. In La Coupola additional ten monitors should be installed receiving 26 preasigned satellite programmes, their design matching the existing wood panel and to decorate everything in style a 500 kg bronce sculpture had to be lifted into the living room (by crane).
This request reached a Mountain Resort, St Moritz, Switzerland: 'I would very much like to bring my dog with me. He is well-groomed and very well behaved. Would you be willing to permit me to keep him in my room with me at night?' An immediate reply came from the hotel owner, who said, 'I've been operating this hotel for many years. In all that time, I've never had a dog steal towels, bedclothes, silverware or pictures off the walls. I've never had to evict a dog in the middle of the night for being drunk and disorderly. And I've never had a dog run out on a hotel bill. Yes, indeed, your dog is welcome at my hotel. And, if your dog will vouch for you, you're welcome to stay here, too.'
The slogan of our industry: Who said it? 'Le client n'a jamais tort.' (The customer is never wrong) It was Cesar Ritz (1850–1918)
Read also: 'Could I bring my bushpigs with me?' - the hillarious correspondence between an international traveller and Reid's Palace Hotel, Madeira.
Please be aware of all guests staying at Redding Travelodge. Doing so is greatly appreciated.
All inside furniture must stay inside rooms at all times.
No running, jumping, or horseplay on stairs or walkways.
NO Alcoholic beverages can be consumed outside of rooms. Includes walkways, stairs, parking lot, and pool and spa area.
(Redding Municipal Code 10.25.010 and RTL policy)
For your protection, we have a *closed door policy. This means doors must be closed at all times except for entering and exiting.
(*security concern, insurance regulations, energy savings & aesthetic appeal to all guest.)
The pool and spa room close at 10:00 PM. This begins our QUIET TIME. To respect those in your group and other guests desiring to rest, relax, and rejuvenate. By 11:00pm walkways, parking lot, and breezeways should be clear and quiet.
# FREE sit down Hot Breakfast 6:00am - 11:00am OR "Breakfast-to-Go" pre-packaged to go breakfast available at check-in.