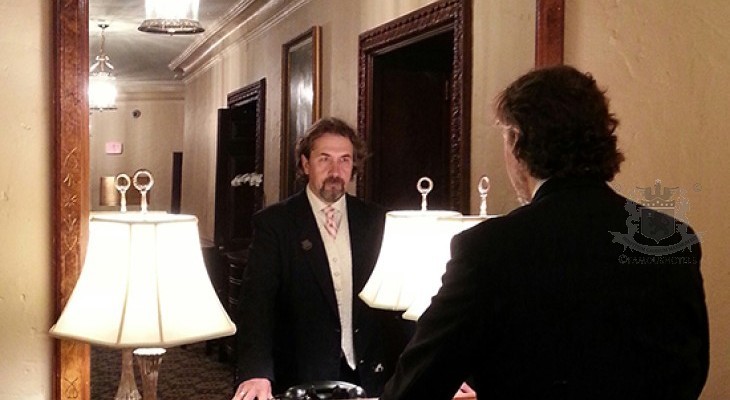 Adrian Mourby
USA/Boston: Beyond the Mirror's Reflection
( words)
By Adrian Mourby / Contributing Editor
Some hotels are greedy; seemingly hoarding all the history. The Omni Parker House in Boston is not just North America's oldest continuously open hotel, it's where John F Kennedy announced his candidacy for Congress, and where Longfellow first read out his poem Paul Revere's Ride. Here Jacques Offenbach came up with a tune he later used in Tales of Hoffmann (claiming it was based on Parker House's famously soft bread rolls). Here the young Ho Chi Minh worked here as a pastry chef in 1912 and Malcolm X (then known as Malcolm Little) as a Parker House busboy in the 1940s.
But few artefacts survive from the hotel's long history. When John Wilkes Booth stayed at the Parker House ten days before assassinating Abraham Lincoln, no one thought it remarkable that he spent so much time practising shooting with pistols. Moreover no one collected up a few spent cartridges with a view to posterity – or even took the pistols off him, of course.
I did however find one tangible link with the past: a large mirror on the mezzanine floor. At the time I was actually trying to trace the shape of the original five-storey neoclassical building which Mr Harvey Parker built near Boston Common in 1854. It was given a neo-Gothic makeover in 1884 and an Art Deco uplift to fourteen towering floors in 1927. But on the mezzanine, not far from the old Victorian reading library (now a bar) one corridor comes to an abrupt end with a desk and a huge mirror next to which a plaque reads:
Mirror from the rooms at the Parker House.
Occupied by Charles Dickens 1867 & 1868.
Authenticated by the Boston branch of the Dickens Fellowship
Evidently while staying here Charles Dickens would rehearse his readings in front of this very mirror.
The most famous English novelist of his day had been giving public readings from his novels for over a decade when in 1858 he turned professional stage performer. His American reading tour, which ran from December 1867 to April 1868, earned him over £19,000, a colossal sum for the time and even more than he was earning from his published works. Strange to think that Dickens stood in front of this large wood-framed mirror rehearsing scenes from The Old Curiosity Shop and A Christmas Carol that many believe put too great a strain on his heart.
He died in 1870, only three months after he retired from public readings.
Later I went down to Parker's, the hotel's restaurant where, according to local legend, John F Kennedy proposed to Jacqueline Bouvier and the likes of Henry James and Ralph Waldo Emerson dined in masculine splendour. It's a dark-panelled room with low lighting and the feel of a gentleman's club. A number of Boston dishes have their origins in this room, not only the delicate Parker House roll, but the catch-of-the-day fish dish known as scrod, and Boston cream pie.
My immaculate Italian waiter was Francesco Albanese who had emigrated to Boston from Rome nine years ago. He mixed a fine dry martini which he poured with a flourish as told me that Boston exemplifies the Old World qualities he feels Europe has lost. Francesco has old school panache in abundance and exemplifies the maxim that you can have a good meal in many restaurants but for a truly great meal you also require the services of a first-class waiter. Too often since arriving in America I've felt that I was being pressured by the over-attentiveness of waitstaff who parrot certain cheery phrases in blatant pursuit of a big tip. Francesco did none of this. He told me directly what he thought of my order and advised when he thought I'd made a mistake, often suggesting cheaper dishes. And he was always right.
Henry James might have found Francesco intrusive, but I think Charles Dickens would have enjoyed his company. I know I certainly did.
Dickens' American Travels in 1842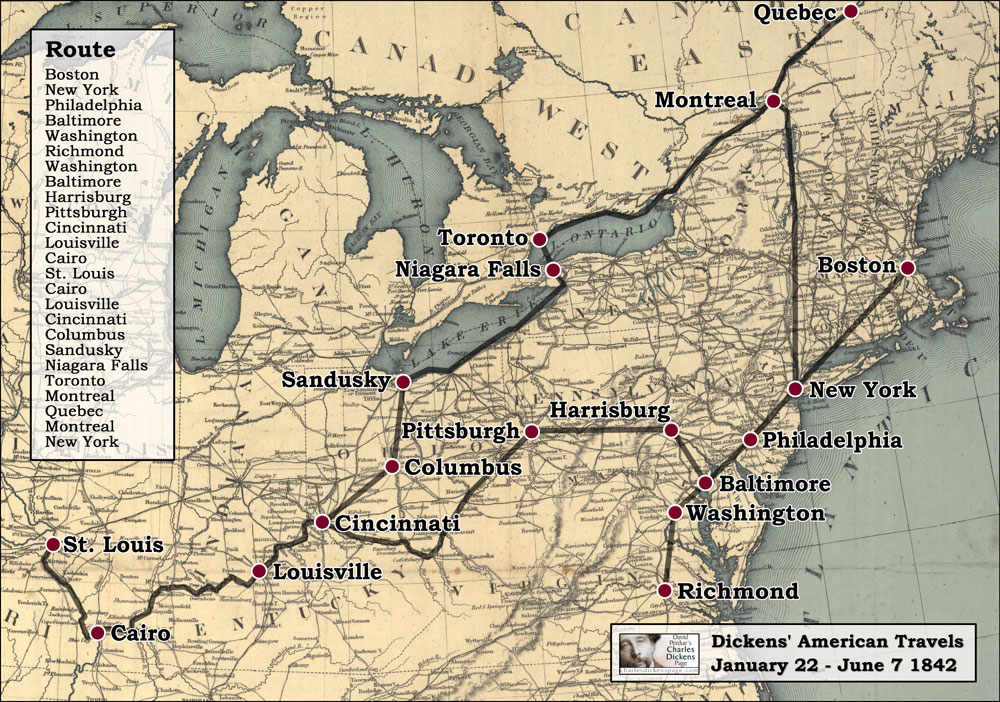 Further Reading: Susan Wilson's The Omni Parker House. A Brief History of America's Longest Continuously Operating Hotel.