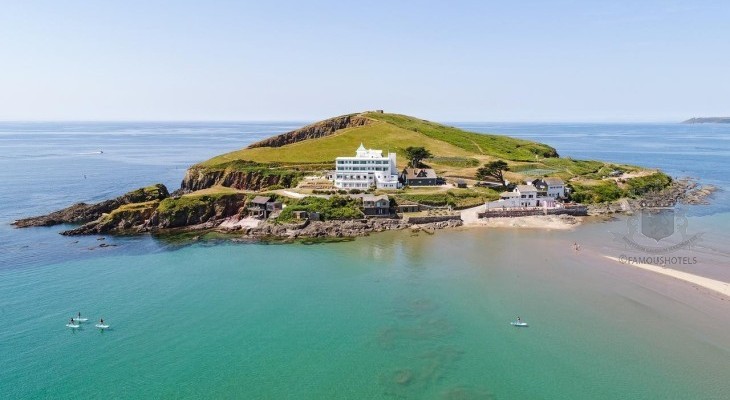 Adrian Mourby
Splendid Isolation
( words)
I was sorry to read a few days ago that Burgh Island had joined the roster of British hotels that had closed until Coronavirus was "sent packing" – to use these common words.
I was really looking forward to getting back to the island having spent one of the most adventurous nights of my life going to dinner there last year.
---
Burgh Island is one of the most exciting hotels in Britain to arrive at late at night. Should your mobile phone lack a signal on this remote part of the Devon coast – as happened to your correspondent – then you are faced with a quandary.
---
By ADRIAN MOURBY — traveling correspondent
---
There, across a narrow stretch of water, rises the island's brilliantly-illuminated Art Deco Hotel, a pure vision of late 1920s architecture. In an ideal world you are supposed to ring the hotel so they can send the Sea Tractor, a tall gangly four-wheeled bathing machine - over to pick you up. But if there's no phone reception, do you wait until it next ploughs through the waves to the mainland? Or do you decide to walk the narrow, sandy causeway that divides Burgh Island from mainland Britain - and hope the tide is not coming in?
That winterly evening I was already late, having driven slowly down some English country lanes hardly wide enough for one vehicle, let alone two trying to pass each other, and so I decided to brave the crossing on foot. This could have been a big mistake.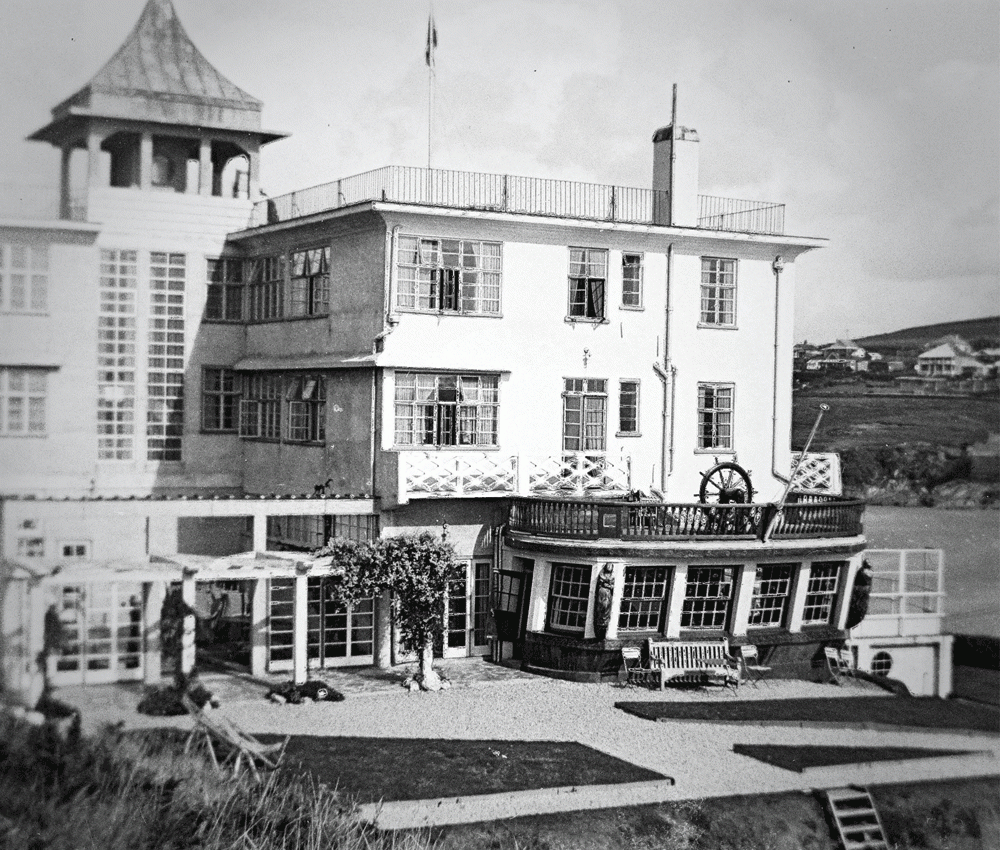 A long white Art Deco breakfast room is named after Archie Nettlefold the man who in the 1920s built a house on Burgh island that he later converted into this hotel.
It was a very black, very windy night, which made the hotel's illuminated exterior shine out even whiter in the darkness. Using my mobile phone as a torch – thank goodness it could serve some purpose! – I headed across the sand as the angry sea surge snapped at my highly polished shoes and my hat nearly blew away.
One does need highly polished shoes at Burgh Island because not only is it one of Britain's premiere Art Deco hotels, it maintains the standards of interwar glamour created by the likes of Dame Agatha Christie, Noel Coward, Amy Johnson, and the Duchess of Windsor – all of whom, according to hotel legend, stayed at Burgh Island in the 1930s. Statues of athletic, small-breasted women are everywhere in the hotel in true Art Deco fashion. They hold up light fittings. They are draped round picture frames. They're even supporting the bar.
Once inside the hotel - opened in 1929 as Britain's answer to Bermuda – nothing seems to have changed. There is the Palm Court Lounge with its stained glass dome, radiating in peacock feather patterns. There is the old cage lift and the stairs up to the ballroom framed by two great Art Deco columns topped with glass acanthus leaves.
I was greeted by Vladimir Krupa, Director of Guest Relations who was of course wearing a dinner jacket.
My tour included bedrooms that are not only Art Deco in style but furnished with genuine Art Deco sofas, mirrors, vanity units and headboards. The rooms are named after glamorous figures from the 1930s like Lord Louis Mountbatten, Malcolm Campbell, Josephine Baker and Major "Fruity" Metcalfe who was aide de camp to Edward, Prince of Wales. There are no televisions in the bedrooms, as indeed there would not have been in the 1930s and the telephones are originals - and very heavy indeed. But what makes Burgh Island unique is its rigorous dress code. If you wish to dine in the ballroom, it's strictly black tie. If you'd rather not dress for dinner, then the Nettlefold Fish Restaurant is for you.
This long white Art Deco breakfast room is named after Archie Nettlefold the man who in the 1920s built a house on Burgh island that he later converted into this hotel. Lovely and pristine though The Nettlefold is, most guests choose to dress for dinner and dance to the palm court orchestra (Monday, Wednesday, Saturday) or listen to the pianist (alternate nights). The sight of all these glamorous couples at table looks just like a shot from an Agatha Christie novel and indeed the mistress of high-class murder did set one of her books, retitled as Then There Were None * on Burgh Island. Not surprisingly, there are also bedrooms named after two of her fictional detectives, The Jane Marple and The Hercule Poirot.
Thirty years ago Burgh Island's hotel was derelict. Like so many British hotels it been commandeered for troops during World War and even accidentally bombed when Luftwaffe planes jettisoned their bombs while returning from an attack on Plymouth. By the time it featured in the 1965 film Catch Us If You Can it was empty and falling apart.
Burgh Island had failed to reinvent itself for post-war Britain. But in the last thirty years, a number of brave and generous owners have poured money into a massive restoration project. These benefactors include Deborah Clark and Tony Orchard who owned the hotel from 2001 to 2018. Filling a 25-bedroom hotel with genuine Art Deco antiques and decorative artefacts is an expensive and demanding hobby. The current bar – underneath that stained glass dome – is the hotel's fifth.
I enjoyed my solo dinner, watching immaculate couples quick-step foxtrotting round the dance floor. When it was time to leave a driver was found to take me across the now-flooded causeway in the Sea Tractor. This vehicle – the third version to be built – was designed in 1969 by Robert Jackson CBE, a pioneer of the Britain's nuclear power station programme in the 1950s. It is a unique, dogged contraption that cost £9,000 to construct. The story goes that Jackson, a friend of the then owner undertook the work in exchange for a case of champagne.
The Sea Tractor was a dramatic way to leave, with waves rushing up its steps towards me, but tonight was nothing, Vlad assured me. In the stormy winter of 2019/2020 winds of 70 mph created waves that rendered the Sea Tractor unsafe to use and Burgh Island's guests were marooned for days on end – as in the Agatha Christie novel And Then There Were None.
"I think our guests enjoyed being trapped here," Vlad told me. "I called it a technological detox."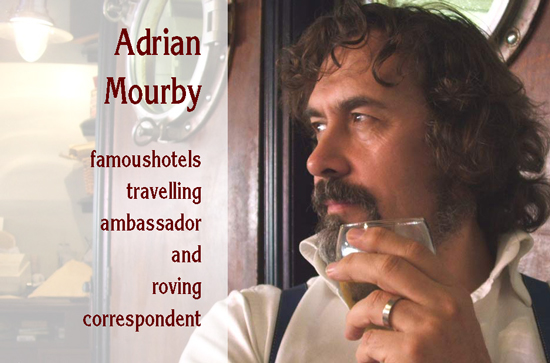 "Truly Burgh Island is unique. When the current CoVid-19 restrictions are over I really want to get back there but next time with my wife so I can join everyone else looking wonderful on the dance floor."