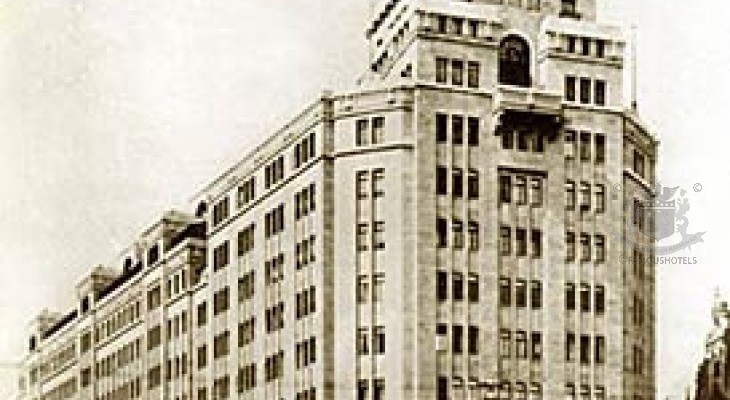 PERSONALITIES
Peace Hotel - New Design
( words)
Shanghai's most eagerly awaited historic restoration project is currently underway. The heritage art deco Peace Hotel (opened in 1929 as Cathay Hotel), located on the riverfront Bund, is being refashioned as an iconic international hotel for the 21st century.
A True Shanghai Landmark
"The Peace Hotel has been a Shanghai landmark for more than a century. It is the most famous hotel in China, and arguably in Asia," says Ian Carr, Principal of HBA. "It is our intention to recreate the grandeur and majesty of this major Asian landmark, and restore it to its rightful place as one of the world's finest hotels."
HBA/Hirsch Bedner Associates - a global leader in hospitality design - is now in the final design stages of the world-famous Peace Hotel and transforming it into the ultra-luxurious Fairmont Peace Hotel Shanghai. The reopening of this Shanghai landmark in 2010 will mark the rebirth of an Asian institution, as the old Peace Hotel came to symbolize Shanghai's Pearl of the Orient heyday in the 1920s and 1930s. Back then, China's finest hotel was known as the "ultimate venue for life's pleasures" and hosted scores of celebrity guests, including Charlie Chaplin and Noel Coward.
HBA is working closely with the Peace Hotel's owners, Jin Jiang International Hotels Group, and Fairmont Hotels & Resorts, which will manage the new hotel. Also lending their specific expertise are the Shanghai Design Institute, architectural consultants Allied Architects International and lighting consultant BPI.
HBA has a team of 14 designers in Shanghai and Singapore working on the Peace Hotel project, headed by HBA Principals Ian Carr and Connie Puar. Since its doors closed to the public in April 2007, the historic property has also undergone a detailed structural study to define the hotel's original floor plan and design schematics. "Architecturally we are trying to retain as much as we possibly can," says Carr.


The lobby of the future Peace Hotel
A New Era of Elegance
The refurbished Fairmont Peace Hotel will usher in a new era of elegance and comfort for discerning travelers to Shanghai. The hotel's glamorous restyling will enable it to sit alongside Fairmont's impressive list of heritage hotels worldwide, including The Savoy, London and the Fairmont San Francisco.
The newly revitalized Fairmont Peace Hotel Shanghai will offer approximately 256 deluxe guestrooms and suites. A selection of six restaurants and lounges will include the endeared Jazz Bar, Deli Cafe and a lobby lounge on the ground floor, a mezzanine-level sushi, wine and cigar bar, and a heritage Chinese restaurant and the Peace Grill Restaurant on the eighth floor.
This level will also host the Peace Hall, with its famed sprung-timber dance floor, plus several meeting rooms and an expansive outdoor terrace. A low-rise extension added to the rear of the hotel will house some guestrooms, plus a sky-lit swimming pool and spa.
The famous 'Nine Nations Suites' will remain a feature of the new hotel: four of these (Indian, English, Chinese and American) will be preserved from the old Peace Hotel, while the French, Italian, Spanish, Japanese and German suites will be redesigned in keeping with their original concepts.
A Presidential Suite will occupy the 10th-floor penthouse where the hotel's flamboyant creator and former owner, Victor Sassoon, once lived.


8th floor Suite Living Room, 1930s
Designer Detailing
HBA's design for the Fairmont Peace Hotel will recall Shanghai's renowned art-deco heritage, combined with streamlined furnishings and state-of-the-art in-room facilities. "It will be signature HBA - a look that is luxurious, contemporary and endearing - but muted and tailored for this particular property," stated HBA Principal Connie Puar.
The ground floor, which was originally designed as a luxury shopping arcade, will be returned to its classic crucifix floor-plan, with revolving entrance doors on all four sides of the hotel.
The splendid octagonal glass skylight and an entire mezzanine level - which had been covered up for decades with gypsum board - will be revealed once more. Custom-patterned stone mosaic floors will echo the hotel's original deco-style tiling.
A soft "buff and blue-grey" colour scheme will enhance the hotel's original intricate cornices and coffers. Refurbished copper balustrades and light fixtures will be complemented by antique bronze and polished nickel. Authentic period styling will also include grey-vein marble accented with rich Noir St Laurent dark marble borders and walnut burl grain wood paneling that were popular during Shanghai's 1930s art deco heyday.
Behind the scenes, many hidden innovations will add contemporary comforts to the guest experience. The mechanical and electrical systems, including air ventilation, plumbing and heating, will be completely overhauled and concealed as befits a contemporary five-star hotel.
As the work continues to restore one of Asia's most famous hotels, luxury travelers the world over will be keeping a keen eye on its progress. "Whether it's to sleep in the decadent surrounds, or just to step into the ground floor lobby and get a sense of what Shanghai used to be - every visitor to Shanghai is really going to want to put the new Fairmont Peace Hotel on their must-see list," says HBA's Ian Carr.
About the Peace Hotel and Jin Jiang International
The Peace Hotel, located on the corner of Shanghai's Nanjing East Road and the Bund, was first conceived by Jewish trader Victor Sassoon in 1929, and opened as the Cathay Hotel. It was designed by Palmer & Turner Architects in the Gothic style of the Chicago school and features a green copper-sheathed roof that rises 77 metres above sea level.
In later years, it was twinned with Palace Hotel across the street, and renamed The Peace Hotel. This high society hotel became an enduring symbol of Shanghai's famously decadent 1920s and '30s era. Among its celebrated guests were actor Charlie Chaplin and playwright Noel Coward, who completed Private Lives while staying at the hotel.
Appointed by China's largest hotel group, Jin Jiang International Group, HBA/Hirsch Bedner Associates are the design consultants for the renovation of this historic property. Jin Jiang International Group is an established client of HBA, with the two companies having collaborated on several properties, including the Old Jin Jiang Hotel Shanghai and Sofitel Hyland Shanghai.
The new Fairmont Peace Hotel Shanghai is set to reopen in 2010. It will be managed on behalf of Jin Jiang International by Fairmont Hotels & Resorts