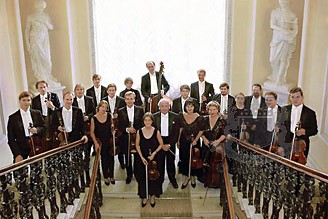 HOTELS
Kiev Premier Palace: Centenary in Style
( words)
2009 will become a milestone year for Ukraine's chamber music.
Premier Palace
, the
Most Famous Hotel
of Kiev, is celebrating its forthcoming centenary with an exceptional event. Instead of spending zillions at the usual "centenary vanity fair", it decided to stage - in co-operation with the equally famous National Philharmonic of Ukraine - a nation-wide chamber music competition.
General Manager
Oleksandr Lytvyn
says with pride: "For the first time since independence we have a chamber music competition in this country. We have one of the best orchestras of the world in town. As the leading historical hotel of the Ukraine, we do accept a certain responsibility towards the fine arts of the country. An independent competition for chamber orchestras will gather the best musicians of the Ukraine."
Ukraine's top professional chamber orchestras will all be present at this competition. Judging them will be an international jury led by
Anton Sharoyev
. The other members of the jury include: world-famous British conductor
Peter Marchbank
; well-known composer and conductor
Myroslav Skoryk
, HU, National Artist and Shevchenko Laureate; and seminal composer
Yevhen Stankovych
, National Artist and Shevchenko Laureate.
The competition will take place May 11–14, 2009:
May 11 – registration of participants, drawing lots and rehearsals
May 12 – Round ? (Sofiyivskiy Grand Hall, Premier Palace Hotel)
May 13 – Round ?? (Sofiyivskiy Grand Hall, Premier Palace Hotel)
The competition performances are open to guests of the Premier Palace Hotel, the press, and music critics.
May 14, 19.00-21.30 – Gala Concert by competition participants in honor of Premier Palace Hotel's 100th Anniversary (Lysenko Column Hall of the National Philharmonic of Ukraine)
For additional information:
Anna Bondarenko
PR Manager, Premier Palace Hotel
Tel. 8 (044) 244-1284
Olena Zenina
Artistic Director, Lysenko Column Hall of the National Philharmonic of Ukraine
Tel. 8 (044) 278-6291
National Philharmonic of Ukraine

//filarmonia.com.ua/eng/ko.shtml