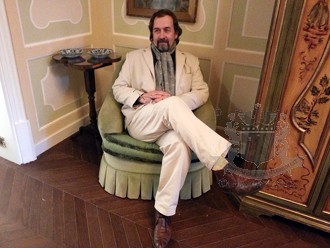 Adrian Mourby
Gritti Venice: Hemingway's Window
( words)
Not only can I look down from Hemingway's window, I can also sit in his chair."

Adrian Mourby in the newly unveiled Hemingway Suite at the Gritti Palace which reopened last month after an 18 month refurbishment.
Outside my window the men who punt the black traghetti back and forth joke while waiting for customers. The traghetto has crossed at this point for centuries. There are only a few places on the great serpentine coil of Venice's Grand Canal that are still served by them, but when Hemingway, Somerset Maugham or John Ruskin wanted to get across the Grand Canal, these eminent men of English letters could just walk outside the Gritti Palace and step on board. It's one of the many advantages of this sixteenth century brick palazzo that became a hotel in the nineteenth.
To commemorate these writers, the newly reopened Gritti Palace has named a suite after each.
Not only can I look down from Hemingway's window, I can also sit in his chair. When the Gritti closed eighteen months ago for refurbishment, every item of furniture, every picture and Murano glass chandelier was labelled and stored, which is why I know that Papa Hemingway sat in this unremarkable low green chair. By the time Hem was staying at the Gritti he had grown corpulent, sitting here his belly would have rested low on his thighs. As I take his place, I can't help wondering what he would have made of the new Gritti and the suite that bears his name. No doubt he would have found it all a bit over-decorated, and more to the taste of "Miss Mary", his hard-faced fourth wife who is pictured on the wall opposite. She and Papa are standing on the terrace of the Gritti during one of her visits, circa 1949.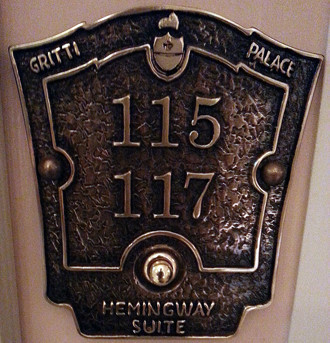 There is only one Gritti Palace, and there is only one true Hemingway's Suite.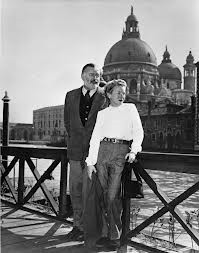 Of course, as an avid Hemingway fan, I'm aware that when that black and white photo was taken Hem (left with Mary) was infuriating Miss Mary with a new infatuation. Ernest Hemingway was 50 and had recently fallen for a young Venetian artist, Countess Adriana Ivancich. She was only 19 and quite unaware of the strength of his feelings. Frustrated, Hemingway poured his passion into the worst book he ever wrote, Across the River and into the Trees. The story is a thinly veiled fantasy in which an old American colonel, marked for death, is having a barely unconsummated affair with Renata, a young Venetian aristocrat. Hem wrote the book fuelled by crates of Valpolicella which he would buy from Harry's bar round the corner. I feel rather sorry for the author, physically old before his time, staggering back to the Gritti at night or waking as light played on the surface of the Grand Canal, and taking a bottle of Valpolicella and the Herald Tribune to the lavatory with him, as Colonel Cantwell does.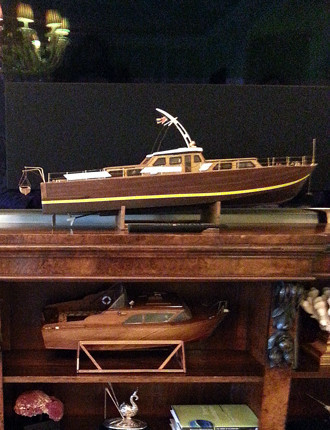 A man needs toys. Big men need big toys ...
When the book came out, it was a critical disaster. Worse, Hemingway made the guilty mistake of dedicating his book of Adriana fantasies to Mary. No wonder she looks so tightly wound in that photo. Ironically the critical mauling that Hemingway received over Across the River and into the Trees spurred him to hit back with The Old Man and the Sea, which won him the Nobel Prize for Literature - though I'm sure Mary Hemingway would have had something to say about the fact that the cover illustration of that book was done by the young woman he fell in love with in Venice.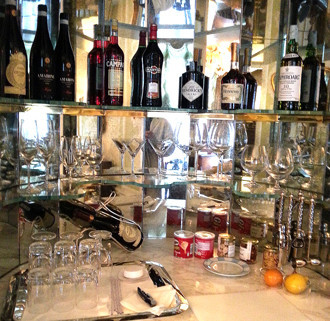 And finally: Rum with a view. The bar in the author's former suite is well stocked ...