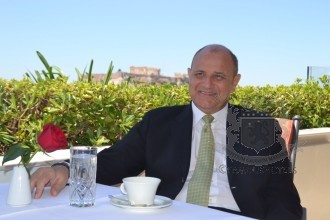 Breakfast with
Breakfast with Tim Ananiadis, Grand Bretagne, Athens
( words)
BREAKFAST WITH

Tim Ananiadis

The Location: Syntagma Square, Athens Greece, 8th floor roof terrace

The Attractions: The Acropolis, the Greek Parliament Building and Syntagma Square itself

The Hotel: Hotel Grande Bretagne: opened in 1872 (A Select Member of The Most Famous Hotels in the World®)

The Man: Tim Ananiadis, General Manager & Managing Director Hotel Grande Bretagne and King George Hotel, Area Manager for Starwood Hotels & Resorts in Greece, Cyprus & Balkans

The Reason: Tim Ananiadis arrived at the Grand Bretagne six months after it reopened under Starwood – following a major refurbishment - in 2003. When the neighbouring King George Hotel also reopened after refurbishment in 2013 he took that on as well. Currently he looks after 21 hotels that Starwood operates in Greece, Cyprus & Balkans and has witnessed a lot of excitement in Syntagma Square during Europe's economic crisis. Currently both Athens hotels are running at over 95% occupation.
Breakfast at the Hotel Grande Bretagne is taken on the 8th floor roof terrace which has one of the best views of the Acropolis in Athens.

1.What 's your preferred meal up here?
Tuna tartare. It's one of our most successful dishes over the last ten years. I normally have it as a main course. When it comes to breakfast I admit my sins: Greek cheese pie, Greek yoghurt and honey and some fruit.

2.Do you have a motto in life?
Yes I do actually: To treat people as I'd like to be treated and to treat my employees as I'd like them to treat their guests.

3.So tell me... what have you changed at The Grande Bretagne since you arrived?
It was very much a team effort but yes, we turned this roof garden that was supposed to be a seasonal outdoor casual restaurant into an extremely popular all-year venue for breakfast, lunch and dinner.

4. What would you never change at this hotel?
The look and feel of the guest rooms and the public areas. This is one of those few hotels that has to remain a classic. We will renovate, we will modernize our facilities but we'll stay true to our traditional classic style.

5.What do you want to have accomplished in the next ten years?
Five years. I think in terms of a five-year cycle, ten years is too long in today's rapidly changing environment. We need to make sure The Grande Bretagne stays fresh on the technical side and in terms of decor but this is a product that competes with the best hotels in London and Paris. I don't want to change things for the sake of change. But we do continue to re-evaluate. It's a balance.

6. You talk of change but the hotel was completely overhauled before its reopening in 2003...
Yes, but that was to restore it to how it had looked in the nineteenth century. We took out the mezzanine that had halved the height of the lobby and returned it to how it to it's original appearance. This is a hotel that hardly advertises. People hear about us through word of mouth and over 50% of our guests are returners. Why would I want to change a hotel people love?

7. So how important is the hotel's history for you as a marketing tool?
It's everything.

8. What was your "dream-profession" when you were young?
I wanted to be a pilot - but I never even got near! My first job as a student was in the kitchen but then I started working on the hotel side and after my first day I switched majors. This was what I wanted to do.

9. If you had the choice, would you follow the same career or would you lead a different life?
What I do now is what I love. People retire to do what I do for a living!

10. How many languages do you speak?
Greek and English and a little Spanish although I am losing it.

11. Do you actively promote a dress code at The Grand Bretagne?
We struggle with this. We actively promote no sandals or shorts in the restaurant for dinner. This needs to be an elegantly casual restaurant. Fortunately the locals do it of their own volition - but with some of the international guests it is a challenge.

12. For the same budget, would you rather afford the smallest room in the best hotel in a destination or the best room in a lesser hotel?
Never the best room in a bad hotel! I remember once with my wife we checked into a big room in a cheap hotel and she looked at it and said "This is crazy".

13. When you visit other hotels what do you observe most closely?
Attitude and cleanliness. Everything else is fixable.

14. Are there any unique challenges of running a hotel in Athens?
You were part of it when you last stayed here! You remember we took the precaution of removing the handrail outside the hotel because there was going to be a rally in Syntagma Square! This hotel has a perfect location but it can be "less advantageous" when there are marches and protests.
Historically-speaking luxury does not come natural in this part of the world. Education & constant training of our staff has become an integral part of our everyday service. For example, we are face language challenges and have to be careful how we address in English our guests as something may sound gracious in Greek but may not translate well into English.

15. What was the most important advice you ever received?
A long time ago, as a young manager I made a mistake with a promotion and I remember being told "Plant the seeds before you pick the flowers" or to put it another way "Don't change anything until you have prepared the ground".

16. How do you balance business life and private life?
Living in the hotel is very important. In the last twenty years my wife and I have lived in all the hotels I've managed- (although we always have our own furniture). Living on site also changes how you look at the hotel and how the hotel looks at you. But at the same time - if you can afford it – it's important to have a place you can go when it's your time off. I have always made sure I had a weekend place to get away once in a while.

ENDS
Adrian Mourby took breakfast with Tim Ananiadis, Kate Mourby took the picture.