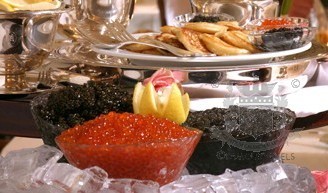 Breakfast with
Breakfast with Thomas Noll
( words)
From Russia - with amazement!
Russia/St.Petersburg
Welcome again, my dear and patient fellow travellers. This time I take you to Russia, to the Venice of the North, to St Petersburg. When I arrived there for the first time in 1985, my first impression was: "this city is an architectural museum!"
In fact it is the city of many museums. For example the Hermitage. There is one room with over 20 Picassos in it. It is that sort of museum.
Another attraction, yes, I am coming to the point, is along Nevsky Prospekt, at the corner of Mikhailovskaya Street. Here stretches one of the finest hotels of the continent: the Grand Hotel Europe. Ever since it opened its doors in 1875, it has stood as testimony to the excellence of Russian hospitality. The tsarists regarded it their playground, the communists turned it into the 'House of the Soviet Clerk' and perestroika changed it in 1991 back into (new) Russia's first five-star hotel.
In 1996 Stephan Kaminski (who today is the general manager of the Vier Jahreszeiten in Munich, an other Select Member Hotel of The Most Famous Hotels in the World) and his director of Sales and Marketing, Brigitte Gruber, had called us in to establish the history of this hotel. Today we are publishing its history in the third edition of this amazing book, on well researched grounds and with more competent material than we had then, when Russia was still very much old fashioned red-tape Russia and when we our source of information was limited to the knowledge of local researchers only.
The blurb of our book reads: 'Tchaikovsky spent his honeymoon there, for Turgenev there was no better place in the whole of St Petersburg, Rasputin dined there, George Bernard Shaw met Maxim Gorky in a private dining room, Dmitri Shostakovitch played a sonata for Sergey Prokofiev in his suite, Elton John performed at the restaurant, Bill Clinton calls it his home in Russia. Jane Fonda cooked her own food there. Queen ElizabethII praised the hotel's kitchen.' The Grand Hotel Europe has become an Orient Express Hotel – and with this change of management (2005) the hotel has taken on a new face, too. Ten years after my first visit the hotel has taken on a charming patina. With a few important smart interior design changes it also has developed a cosy and warm atmosphere.
I am having breakfast with Thomas Noll, the General Manager. Guten Tag, Herr Noll, and thanks for your time. Three quick questions to warm up:
THOMAS NOLL, General Manager of the Grand Hotel Europe, St Petersburg
Q. Where are you in ten years? In beautiful St. Petersburg.
Q. What's your motto in life? Be Happy, Live Happy and Make People Happy. Have no fear of opportunities and go for them, but be loyal to your family, your company and your team members.
Q. And your preferred breakfast? Breakfast the Grand Hotel Europe style - Beluga Caviar, served as an Egg in Egg (fine scrambled egg with truffle oil, topped with Beluga) and a glass of champagne, accompanied by the harp music in our Europe restaurant.

Q. We are sitting where the great composer Pyotr Tchaikovsky, the mysterious Grigoriy Rasputin, American Presidents like Bill Clinton or the legendary Italian tenor Enrico Caruso all had their meals, their drinks and their good times. Of course not at the same time, but over the past 132 years. Do you like this philosophical air of history lingering all over the hotel or do you consider such strong ties with the past as a burden?
I love this air of history, and so do our employees. It gives so much more respect and responsibility to the place, but also a great aura that one can feel and relive. This historic aura is a reason why many customers like to stay at the Grand Hotel Europe.
Thomas Noll with Bill Clinton: the former American president arrived to support a charity.
Q. I am impressed by your personal engagement when it comes to guest comments. You are a regular responder to postings made on websites like Trip Advisor? You very professionally set things right and explain your activities. Do you have people watching these websites for you? And how important are they?

We do welcome and appreciate any feedback from the customers. My team and I are very proactive in recovering any service failures and in using the failures to train ourselves and our team members to continuously improve our service and facility standards. Among my team I have a Director of Quality, who among other things is responsible for regular screening of "Trip Advisor" for good comments and for critical ones. If a customer takes his time to write his experiences down, than we have to thank him for doing this, and for helping us to be aware of shortcomings.
Q.: I am an avid reader of your regular press releases about various caviar and vodka promotions at the hotel. For the hotel's 130th birthday you produced the 130 meters caviar sandwich - a sure entry in the Guinness book of records. Visiting journalists are still treated to 'caviar by the pound and vodka by the gallon', as a traveling correspondent confined to his readers. Is this true Russian hospitality or simply Grand Hotel Europe luxury PR-work?
Even though the caviar has recently become a lot more expensive, still the local cost is a fraction compared to what it costs in Europe. As a luxury hotel, we do have many customers who come to our Caviar Bar to enjoy generous portions of the Russian delicacy. On local high society events, good Beluga is still served at a discretion – it is one of the pleasures that make life here wonderful. As for the press, the journalists that we host are usually known to our company and we know that they will write about their impressions. Caviar and Vodka is a must experience for anyone coming to visit Russia, therefore we consider this a luxury PR work.
Thomas Noll with Mikhail Gorbachev
Q. Is history a positive element in your marketing actions or is it rather difficult to sell an old hotel?
It is a very positive element, as long as it is accompanied by modern technology. We are proud to have, for example, the latest flat screen TV's in all guest rooms, the fastest high speed Wifi in Russia, the newest and largest BMW limousine fleet in Europe, but we are also proud to have a lot of original decor, architecture, art paintings and furniture from the 19th century. Our guests are always amazed by the many original features that we boast, and at the same time we provide them with all modern facilities that today's demanding traveler might need.
Q. Is it difficult to find staff in Russia, to train them and to adapt them to the level of luxurious environment?
I have seen more luxury environment in Russia than at any other place I have been, so people are used to serve in this environment and they do enjoy it. Our employees work here with grace and with pleasure. Besides, they are extremely well educated, and I am amazed by how much they know about the history and the art. They are always happy to share their knowledge with our guests, and do that with true love and passion for our hotel. As for the formal training, we have our own training center and we continuously refine our service standards. Russians are very willing to learn and to improve their lives and careers by acquiring more knowledge.
Q. What were your most difficult things to change when you took over?
The mentality of staff – to turn it towards the real "Grand Hotel Europe" thinking. I needed to change more than 50% of my management team to bring in a new and fresh attitude towards the customers and towards the team members. Change is never easy, but sometimes one has to make radical changes, to clear the way for the future.
Q. What would you never like to be changed at the Grand Hotel Europe?
The "old world" feeling, the historic features, the live music in all outlets, the original artworks in our suites, the great cuisine in the hotel and being the average rate leader in town.
Q. You have eliminated various architectonical hick- ups like the terribly long corridors. They are still a hundred meters long, but now they look like a hallway in a boutique hotel. What is your 'interior design philosophy'?
We take every step to preserve our distinct Art Nouveau interiors, at the same time carefully introducing an array of extra modern luxuries. In all rooms, we now have the best beds with hypoallergenic mattresses, original paintings, individually crafted wooden furniture, and skillfully reproduced traditional Imperial Russia-style fabrics on curtains and upholstery. Q. Do you ever personally 'test-drive' your hotel? I test drive my hotel every day, every minute, from the moment I pass through the entrance doors. I always walk my hotel as an extremely demanding customer, and I want to remain a customer in my hotel, because only that way I will see everything through the eyes of our guests. In our restaurants, I never sit on the same table or eat my favorite dishes - every time a new view point and a new experience, and every time and day I give my feedback to my team as a client. We are customer driven and our guests feel that.
Q. Can you give us an impression of your next month's agenda?
Next month is June. It is our prime month of the year with the White Nights in St. Petersburg. 94% occupancy, average rate of 680.-$, 60% of the guests are on the VIP arrival list, mainly CEO's and MD's and famous names from art, music, business and politics. It is a very busy month, but a great time of the year. We will also launch our own luxury boat for canal tours and for private rental. We purchased a boat similar to the one our company uses at the famous Hotel Cipriani in Venice. This will give us another competitive advantage. Than we will be planning the next renovation phase that will commence in October by doing a full refurbishment of our Penthouse Suites and the Atrium Cafe, which will become the coziest and one of the most popular coffee-time spots in the city. Thanks for your time!
Grand Hotel Europe Facts in brief:
Number of Rooms: 301
Suites: 29
MICE square metres / rooms: 7 conference rooms, from 43 to 300 square meters in area
General manager: Thomas Noll
Resident manager: Expatriates working in hotel: 10
Staff in total: 630 shoulder season / 700 high season
Staff / guest ratio: 2.6
Staff in f&b: 285 shoulder season / 320 high season
Staff in front office: 72 (including phone operators, Concierges, drivers)
The new edition of the Grand Hotel Europe book sports an elegant Burgundy red cover.