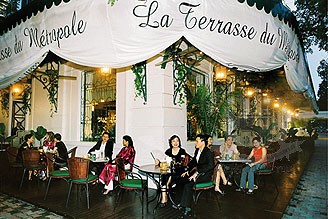 Breakfast with
Breakfast with Gilles Cretallaz
( words)
Bonjour, Gilles, thanks for your time out here at La Terrasse.

Three quick questions to warm up: Q. Where are you in ten years? In the Sofitel Metropole Hanoi's History Book … Q. What's your motto in life? Offer the "unexpected luxury" with style and delicacy. Q. And your preferred breakfast? Delicious Parisian Croissant dipped in the voluptuous hot chocolate, unique in all Indochina, served only at "La Terrasse".
Q.: I am captured by your regular press releases about various food promotions at the Metropole. They are always a piece of art. It sometimes seems food is the most important thing here. Is it because you are French, and the executive chef is French, and the management company, well, is French ...?
We are proud that alongside of the Vietnamese culture, French culture is well preserved and promoted at Sofitel Metropole. Sofitel Metropole is a centenary monument in Hanoi, with its magnificent French architecture. We constantly focus on elements of our reputation such as, hospitality, gastronomy, design and architecture and proactively evolve with the newest trends of the luxury lifestyle business. In Sofitel Metropole Hanoi "Past" is a word which is conjugated in present, very distanced form the nostalgia of the French Colonial Period. "Eternal" is what we aim everyday.
Q. This leads me straight to this venue. When I started researching the hotel's history, I stumbled over this street-side Café. Now you have reopened it after certainly more than 50 years. How do your guests like it? La Terrasse du Metropole also provides an oasis of French culture in Hanoi. Our desire is to preserve the hotel's old world charm while providing a breath of fresh air to the "Grande Dame de Hanoi". And this idea is highly appreciated by our guests, who frequently come here to share a romantic candlelight dinner or simply relax with a glass of champagne, refreshing drinks, cocktails and of course fine cigars. This is a cozy place to meet old friends and make new friends whilst contemplating the beauty of Hanoi when the night falls. Q. Is history a positive element in your marketing actions or is it rather difficult to sell an old hotel? Sofitel Metropole has never been mentioned as an old hotel but rather as an old wine which ages gracefully with years adding to its value. In a hyper-dynamic world where everyone struggle to keep up at "the light speed", Sofitel Metropole Hanoi offers a glimpse of lightness where time freezes and smiles back with wisdom. History is one of our strong marketing points.
Q. How does one maintain a luxury level in Vietnam, a country which has - one should think - other priorities?
Vietnam is a developing country. Luxury hotels are one of the key factors of attracting business travelers. With the increasing income level of the Vietnamese younger generation, the branded luxury goods such as clothes, fragrances, cosmetics, cars etc are becoming a part of the daily life. WTO will also play its part by rendering luxury goods more affordable. As you can see the priorities are changing constantly.
Q. Is it difficult to find staff in Vietnam, to train them and to adapt them to the level of this environment? Training is a tradition in Sofitel Metropole Hanoi. We heavily invest in our people's personal development and we are proud to say that you can easily recognize former Sofitel employees today, holding key positions at the hotel industry. Accor's very large Hotel Network enable us to train and cross train our employees as well.
Q. What were your most difficult things to change when you took over? The biggest challenge was to practice a "Face lift surgery" without damaging the "Bone Structure". In other terms extending the walls by keeping the soul of the property untouched. Q. What would you never like to be changed at the Metropole? The tradition of the hospitality which is linked to our service quality and culinary perfection.
Q. Do you support female traveler's friendly environment. In Sofitel Metropole Hanoi, we do rather use the term "Business People" instead of "Business men". Therefore we highly support female travelers in terms of treatment, security and other special cares. Very soon , our "Club Floor" will be launched carrying special Lady amenities. Q. And what about smoking hotels? Step by step, we will reduce the available smoking areas in our hotel to compile with health regulations.
Q. Would you encourage young people to enter hospitality industry, and why not or why yes?
Definitely I do encourage them. However one should be conscious that it is hard labor. To excel in this field, vision and passion are necessary. One should not be duped by the luxurious and glamorous perception of this industry, there is an ongoing rehearsal at the backstage. Q. Do you personally read guest comments? I do personally read and reply to all guest comments, which keeps us in track with the satisfaction and expectation level of our guests necessary to our survival. Q. Do you ever "testdrive" your hotel? Yes, but only when there is a room available, which fortunately is quite seldom.
SOFITEL METROPOLE HANOI Facts: Number of Rooms: 266 Suites: 22 MICE square metres / rooms: 5 meeting rooms General manager: Gilles Cretallaz Expatriates working in hotel: 12 Staff in total: 500 Staff