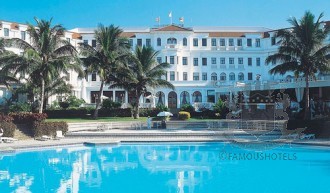 Polana Serena: one of Africa's finest hotels with a commitment to history.
Polana Serena
Built in 1922 along sweepingly splendid lines, the magnificent Polana Serena Hotel has long been considered one of Africa's finest hotels. Located on the leafy boulevards of one of Maputo's most exclusive residential districts, the Polana Serena Hotel has recently emerged from an extensive renovation programme, which has resulted in the presentation of a landmark historic building whose classic charm has been fused with the ultimate in world-class amenities.
Offering 142 rooms, many of which are spacious suites, the 'Grande Dame' of Maputo now also offers a choice of three restaurants: the all-day dining Varanda Restaurant, the Delagoa fine-dining experience in the French style; the Aquarius Restaurant and Bar, and the Polana Bar. The hotel also offers the 'Maisha' Mind Body and Spirit Health Club and Spa, a stunning swimming pool, extensive gardens, an exclusive residents' lounge, a business centre, a beauty salon and three gift shops.
At the forefront of Maputo's business venues, the hotel has its own conference and social events suite, which features a majestic ballroom.
Google Map