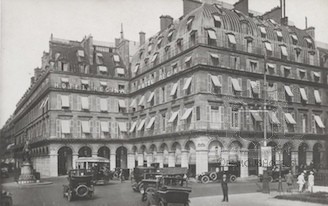 The Regina is situated right opposite of the Louvre.
Regina
The Hotel Regina in Paris was in 1918/1919 the temporary headquarters of the international Red Cross and during the German occupation during World War 2, the reading room was turned into a table tennis room for officers.
All this is not "Salvadore Dalì herding goats at the Meurice material"— and so the hotel is maybe not the ultimate temple of luxury — but for a first time visit to Paris, it is perfectly located. Just exit the hotel and you will be faced with an unusual dilema: cross the Pont Royal bridge and visit the Orsay museum? Or wander through the Jardin des Tuileries until you get to the Orangerie? Maybe you go around to the other side of the hotel to see the Palais Royal, its gardens and the Comédie Française? A stone's throw away you find the exquisite Louvre Antiques - a collector's heaven. The Regina is also right in the middle of a district famous for its theaters and designer boutiques.
All in all it represents a charming old fashioned hotel style. Expect a good grand hotel of the Fin de Siècle, with a very cosy and well freqeunted bar.
Google Map