Since its opening in 1900, the hotel is one of the finest addresses of the Orient.
Beijing Hotel
The Grand Hotel Beijing has a splendid history, indeed. It was built at times when Beijing was Peking (or Pékin), and an imperial city, ruled - with interruptions - by the Emperor of China for more or less 900 years. The city was 'a city of gardens, with few crowded neighbourhoods visible, the characteristic features of the scene were upturned roofs of temples, palaces and mansions, gay with blue green and yellow glazed tiles, glittering among the groves of trees with which the city abounds.' (Encyclopedia Britannica, 1890).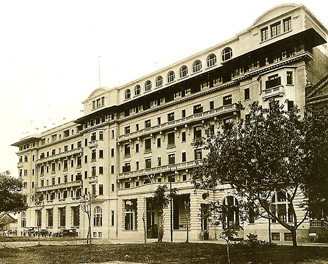 The Grand Hôtel de Pékin in 1920, after it had been rebuilt in 1917. It is nice to compare the two pictures of then and now (sorry for that rather sad image of the new hotel. Once we get them to switch on all the lights in the rooms we will publish a better one). You find all details under History>>.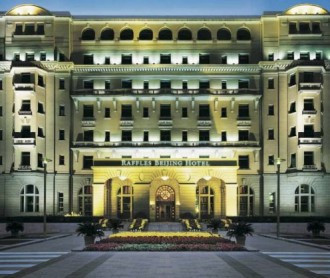 The 20th century held other important events in store for China than preserving traditional hotels. They either fell in despair, became government hotels or made place for new buildings of a totally different function.
But this Grand Hotel (read its story of the various blocks and buildings under 'History') was always considered one of the finest hotels in the Orient. The French-funded Grand Hôtel de Pékin had 200 rooms with bath and a tea hall "with dancing every night." The hotel had "its own orchestra, which rendered a program of classical music during dinner."
A brochure from the 30s also tells of its "spacious roof garden commanding lovely views of the Forbidden City, the Legation quarter and 50 miles surrounding." The hotel was well known for its excellent "French cooking" and "wines of the best known districts of France." The offices of Thomas Cook were located in the lobby. It was located opposite the Italian Legation and three minutes from the train station. "Autobus and porters in uniforms meet all trains." Needless to say it was a favourite of travelling Westerners.
Also see Chinas History of Hotels
Google Map