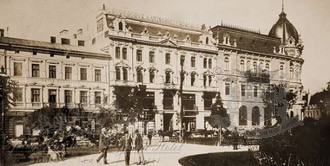 The Grand Hotel is our choice of historic hotels in Lviv (Lemberg).
Grand Hotel Lviv (Lemberg)
Red carpets, deep velvet, brass handles - the Grand Hotel breathes the air of a bygone era, but does it with dignity. It is not dusty - the last reconstruction of the hotel took place in 1991-1992, when the stucco moulding of the façade was renovated and the interiors of the guest rooms were changed. Decorative finishing, stucco decorative moulding and design elements of décor have been added in order to preserve the hotel's traditional atmosphere. The best materials (granite, marble) were used for the renovation and the rooms were furnished with the best way, with the pieces manufactured locally and abroad.
The Grand Hotel has welcomed more than one hundred thousand guests from different countries, famous diplomats and politicians, public figures and artists and are looking forward to greeting new ones. The city is regarded as one of the main cultural centres of today's Ukraine and historically also for Ukraine's neighbour, Poland.
The city has many industries and institutions of higher education such as the Lviv University and the Lviv Polytechnic. It has a philharmonic orchestra and The Lviv Theatre of Opera and Ballet. The historic city centre is on the UNESCO World Heritage List. Lviv celebrated its 750th anniversary in 2006 (Lviv was founded in 1256).
Google Map