London Hilton on Park Lane – England (English)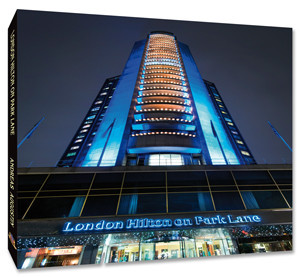 Photographs
Illustrations
284 historic and contemporary photographs; Photography Michelle Chaplow
Binding
This 2023 special collectors edition is at large a reprint of the original 2013 book. It is a softcover - memorial to celebrate the 60th anniversary of the hotel.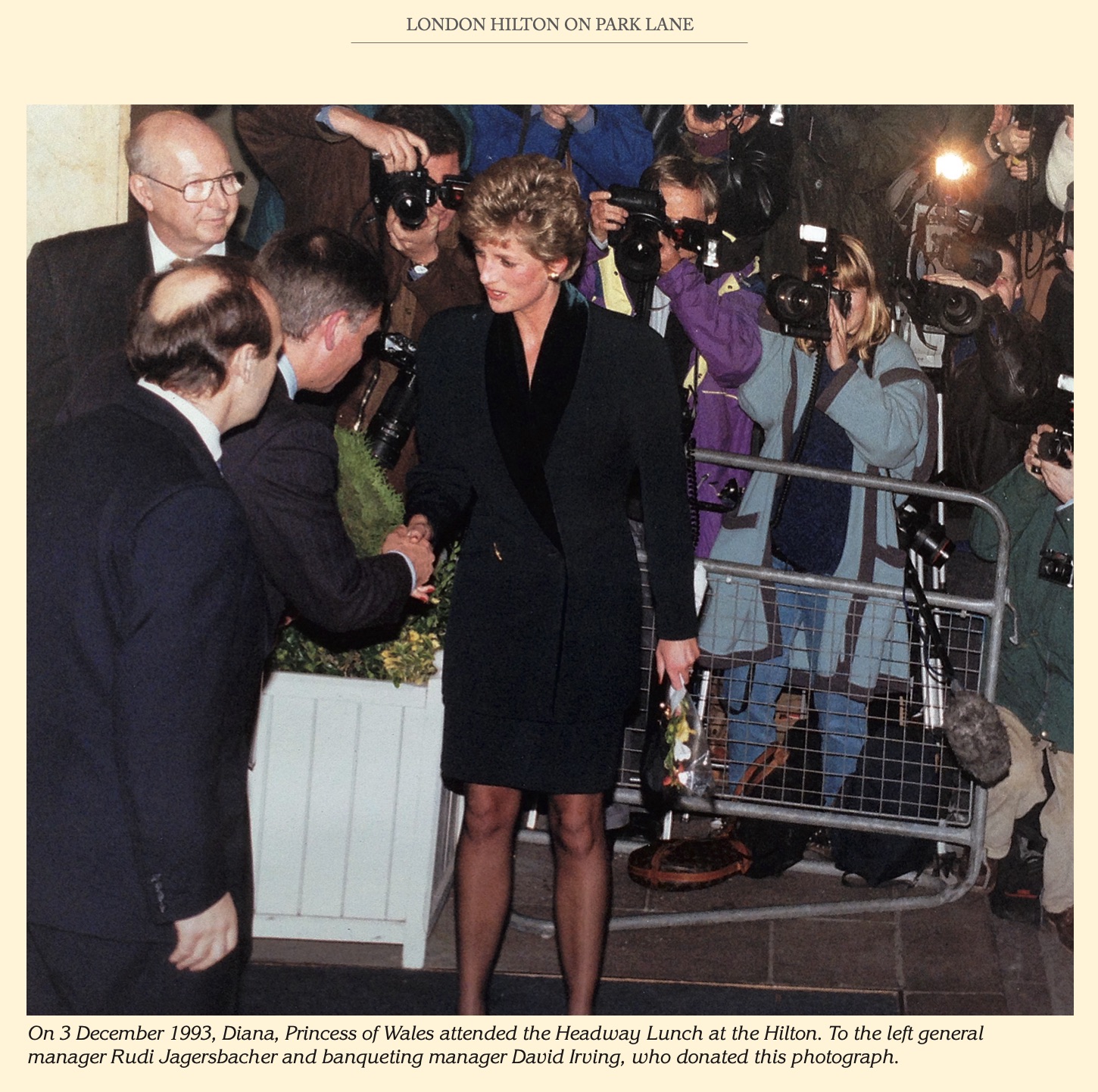 Overlooking Hyde Park, London Hilton on Park Lane stands tall but never still. In 1963, when it opened its doors, the London Hilton was a novelty, a sensation, a scandal perhaps, but certainly a temptation.
The hotel revolutionised British hospitality. A suite on its upper floors became the most sought-after accommodation in the city on the River Thames. Today snapshots from its rooftop restaurant are shared on social networks round the clock, and no visit to London is complete without having been to Trader Vic's. Moreover, for generations of young hoteliers the world over, London Hilton on Park Lane served as a training ground.
This book takes you from the first idea for the hotel to the first visit of Her Majesty, The Queen, from the Hilton's early days as the centre of 1960s Swinging London to its recent role as the headquarters of the Olympic Games. Three hundred photographs illustrate the progress of the hotel on Park Lane, from a luxurious skyscraper, filled with modern novelties, to one of the most famous hotels in the world.
At sunrise, London Hilton on Park Lane casts a long shadow over Hyde Park. On a hot summer morning the squirrels, in their little fur-coats, are holding their daybreak assemblies on the lawns and on the park benches, making use of this pleasant, shady strip. They are gazing at trotting horses, running joggers and power-walkers. In a few hours they will retreat to the trees.
Until then, the Hilton is their canopy.
The park acts as the front garden of the hotel. It exceeds the size of Monte Carlo. The deeper you penetrate Hyde Park, the more you are leaving London. Like Mary Poppins, you jump into the magic painting of pavement artist Bert, which takes you into a different world of a serpentine shaped lake dotted with little boats, ducks and waterfowl, swimmers, sunbathers; a melting-pot of people.
On the horizon, this never-ending sky is met by one large tower, which overlooks it all. London Hilton on Park Lane.
Let's go back to that lean tower, our hotel, let's enjoy some breakfast at the lavish buffet, before we set out to explore some of the neighbourhood.
Neighbourhood? Every Mayfair, every Kensington, every 'City of London' is a city in itself. Over the centuries, London has grown, grown, and grown again. Various disasters could have provided opportunities to reorganise the city, lay it out in a modern manner, avoid the narrow lanes, and create generous boulevards and broad thoroughfares. But neither the great fire in 1666 nor the German Blitz from 1940– 1941, with one third of todays City and the East End destroyed, were able to trigger a process of this magnitude.
That gives us a London as we all know and love it, of course, unprepared for modern traf c requirements, in some parts a rabbit warren of tiny streets, charming mansions, back lane alleys, ginnels and elegant passages, galleries, squares and legendary 'places', where groups of houses were built in crescents and circuses.
All of them over-run by taxis with the turning circle of a tango dancer. At least when you don't need one.
Travellers should either stay for weeks in order to explore everything within the Circle Line, or exercise a selective choice. Samuel Wheelock Fiske, an American travel writer of the 19th century, noted: 'If London could be cut up into a dozen parts and taken in twelve separate, distinct doses, the effect might perhaps be pleasant and healthful; but as it is, all together, swallowed whole, it nearly kills one.
presents
LONDON HILTON ON PARK LANE
in the library THE MOST FAMOUS HOTELS IN THE WORLD
First of all the author and his team wish to thank Michael Shepherd, general manager of London Hilton on Park Lane, who made this project possible.
To Angela Rossodivita, who assisted in the most valuable manner, Ashleigh Brayshaw, who coordinated the in-house archives and to Stefanie Hardy, who took the project under her wings.
The acting and retired Hilton team who supported this project were:
the late Rupert Huber (in an interview given in Vienna, 2004), Manfred G. Matysik, Michael Schützendorf, Rudi Jagersbacher, Gianni Riatsch and - in loose order - Klaus Kabelitz, Andreas Jersabeck, Eve Bergeron, Susan Shilling, David Irving, Hayk Madoyan, Julio Abajo, Josef Debono, Ron Lucas, Bettina Williams, Armin Schroecker, Robin Spearman, Rainer Mohaupt, Peter Howard, Jean-Paul Herzog, Garry Barnett, Anthony Marshall, Fred Sirieix, Toshikatsu Azami, Marco Ercolano, Arthur Gimson, Thomas Peter Blyth, Arenda Weishaupt, Steven Skippen, Kaye Karonias, Mark Young, Carmelo Supino, Christian Muhr, Paul White, Peter Finamore, Ashraf Erfan (Hilton OldTimers), Ellen Oosterwijk, Benny Vennincx, Thomas Peter Blyth, Marie Dobson, Wolf H. Lehmkuhl, Hans Strasser, Kurt Wachtveitl and so many other important people.
Special recognition goes to Robert Grieve, who recorded the story of the early days of the hotel, to Sue Steffan, who compiled a catalogue of information, and to Dr Annabel Wharton, author of Building the Cold War: Hilton International Hotels and Modern Architecture. Chicago: University of Chicago Press, (2001).
Special thanks to Dame Maureen Thomas
Photographs: Michelle Chaplow, Eve Bergeron, Allen Warren, Ming Tang-Evans, Angela Rossodivita, Paul Wyeth, various private collections, Archives of London Hilton on Park Lane, Archives of famoushotels.org, Hospitality Industry Archives – Conrad N. Hilton College, University of Houston, João Paulo Carvalho, Graham Reading and Joplin Sinclair.
Director of Editorial and History: Carola Augustin
All rights in this publication are reserved. This book and no part of it may be reproduced, stored
in a retrieval system or transmitted in any form or by any means, electronically, mechanical, photocopying, recording, or otherwise without the prior permission in writing of the copyright owner (except for book reviews). It may, as we like to suggest, be bought, read, recommended and given as a present to friends who like to read and travel and understand a little bit more about our world.
© Andreas Augustin, 2013 ISBN: 978-3-900692-40-7 First edition 2013
The Most Famous Hotels in the World TM Mail: friends@famoushotels.org
You find additional material of this book and the story "The Making of ..." on www.famoushotels.org
Design: Ramazotti Michelangelo