Grand Hotel Kronenhof – Pontresina, Schweiz (Deutsch Leder Edition)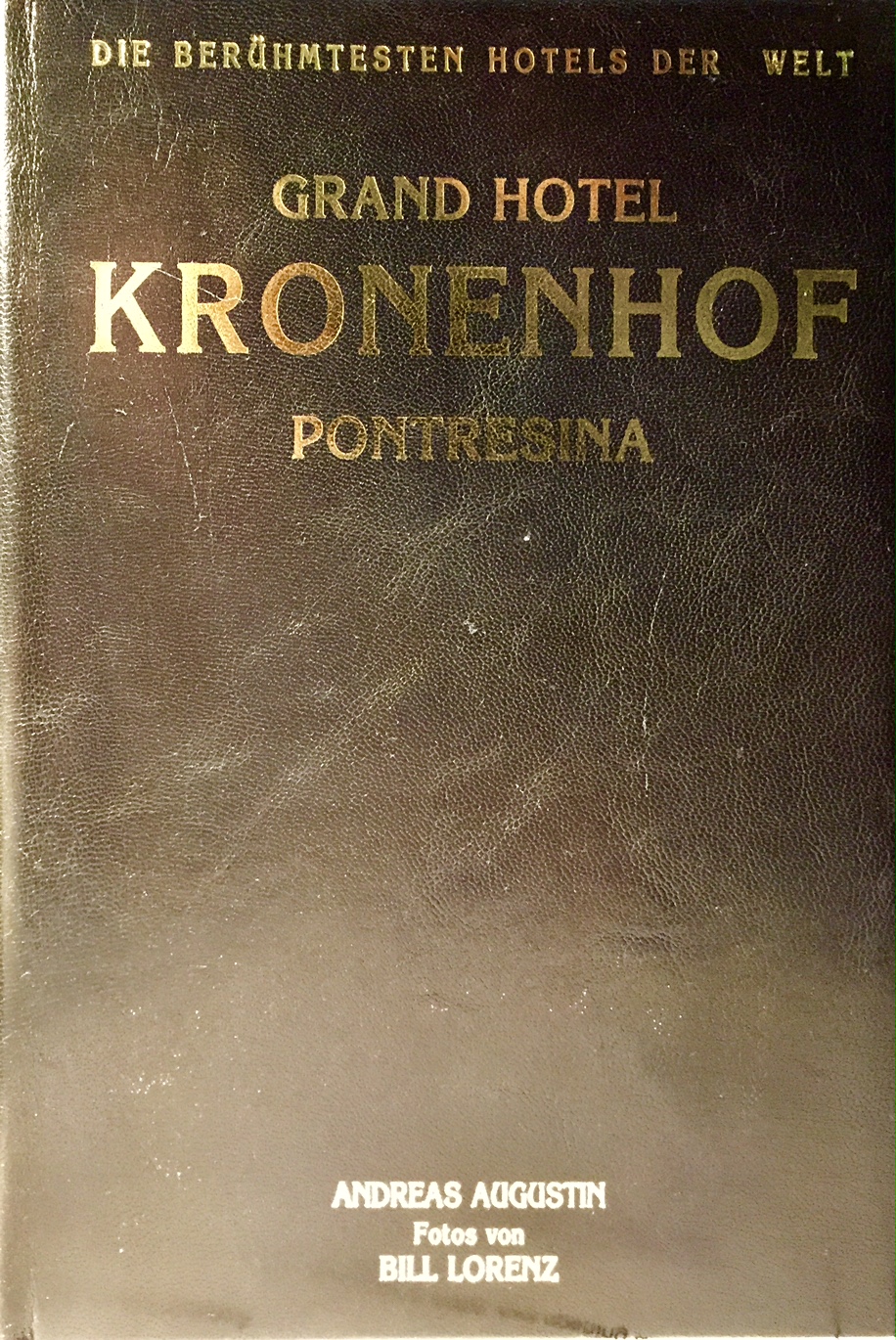 Photographs
Illustrations
über 200 historische Aufnahmen und aktuelle Fotos, Photograph: Bill Lorenz
Binding
Hardcover (real cloth bound / gold stamping / dust jacket)
Includes
Über 200 Fotografien und Illustrationen, historische Ansichten und von heute.
Leder gebundene Sammlerausgabe — Nur 50 Bücher wurden in Leder gebunden.
1849 entsteigen der Postkutsche in Pontresina zwei Männer: Vater und Sohn, Andreas und Lorenz Gredig. Sie sind auf dem Weg ins Veltlin, der italienischen Weinbauregion jenseits des Berninapasses. Während ihrer Rast in Pontresina fällt ihr Augenmerk auf ein verlassenes Gasthaus. Es heisst Rössli. Die Gredigs kaufen es. 1851 wird aus dem Rössli der Gasthof Krone-Post. Händler auf der Durchreise steigen hier ab. Jetzt kommen die ersten sogenannten Fremden in die Region. Sie tragen die Nachricht von der Schönheit des Oberengadin und seinem Pontresina in die Welt hinaus. So steigt die Nachfrage nach einem Quartier in der Sommersaison. Erstmals werden aus "Fremden" gerne gesehene "Gäste". Die Gredigs erweitern ihre Krone zum Grand Hotel Kronenhof und werden so als Weinhändler und Transportunternehmer zu Hoteliers. Mit der "Erfindung" des Wintertourismus wandelt sich die Struktur des Fremdenverkehrs. Plötzlich ist aus dem Sommerkurort Pontresina eine noble Wintersportdestination geworden. Der diskrete Kronenhof wird zum Quartier für europäischen Grossadel und internationale Finanzpolitik.
Dies ist die faszinierende Legende eines der berühmten Hotels des Oberengadins, von seinen Anfängen im Jahr 1849 bis in die Gegenwart. Es erzählt die Geschichte des Tourismus im Engadin und wird mit seinen über 200 historischen Aufnahmen und neuen Fotos zum Spiegelbild der Region.
Dieses Buch ist leider Ausverkauft!
Bun di
Die Morgensonne weckt den Piz Rosatsch vis-à-vis des Schlafzimmer-fensters mit goldenem Strahl. Will-kommen im Grand Hotel Kronenhof in Pontresina. Sie befinden sich in der Schweiz, im Oberengadin im Kanton Graubünden. Pontresina ist der Hafen der Ruhe. Hierher zieht es die eleganten Reisenden, die zum Entspannen nicht den Lärm des Jet Sets benötigen.
Pontresina hat andere Sensationen. Am Morgen dominiert Aufbruchstimmung. Das war schon vor 100 Jahren so. Da kommen die Führer und die Skilehrer. Ein Tag voller Abenteuer steht bevor, ein unendlicher Rausch, die Luft wie Champagner. Abends kehrt man heim in den Kronenhof. Man setzt sich an das einladende Panoramafenster und lässt seinen Blick über die Gipfel schweifen, die langsam im Rot der letzten Strahlen der Abendsonne verglühen. Während sich der grösste Kanton der Schweiz langsam der Nacht anvertraut, kommt das Leben im Kronenhof so richtig in Schwung. Elegante Paare beleben die Halle. Es ist Zeit für den Apéro. Der Tag auf dem Berg war lang. Früh ist man auf die Wanderung oder zum Skilift gegangen, je nach Saison. Oder hat den ganzen Tag am Pool oder im Hallenbad gefaulenzt. Der small-talk kommt in Schwung und seine Durs und Molls verschmel-zen zu dieser gemütlichen Sinfonie der Gelassenheit. Der Tennisplatz, der Wanderpfad, im Winter das Eisfeld, die Piste, ein Pferderennen auf dem See. Ach, das Eisstockschiessen, nein, ich war auf dem Muottas Muragl Schlitten fahren. Morgen geht es ja mit dem Pferdeschlitten ins Val Roseg. Im Sommer sind wir da mit unseren Mountainbikes vom Hotel unter-wegs! Am Abend wollen die Kinder unbedingt ein Fondue Chinoise im Kronen Stübli. Vergessen sie am Donnerstag bloss nicht das Ladies Race. Jaja, mit Schlittschuhen und Schneeschaufeln, genau das. Geht die Patience auf, Madame? Das nächste Mal spielen wir unser Tennismatch aber auf drei Sätze, lieber Freund! Wir haben gestern auf unserer Wanderung ein Rudel Steinböcke gesehen. Sie müssen die Hummerterrine am Buffet probieren! Einfach köstlich, sage ich ihnen. Wir treffen uns nach dem Essen auf eine Partie Bridge im Salon Roseg. Heute lieber Billard? Aber mit Vergnügen. Die Dame da drüben kommt schon seit 30 Jahren ins Grand Hotel. Und das junge Pärchen aus Los Angeles feiert seinen 10. Hochzeitstag in der Bar. Jaja, am Muottas Muragl hat er um meine Hand angehalten . . . Noch ein Glas vom Veltliner?
Seit 150 Jahren impor-tieren wir den selbst. Seit 150 Jahren? Ja, das waren noch Zeiten! Als die Pioniere hier in den Bergen began-nen, ihre Paläste zu bauen, ihre Grand Hotels, die wie in die Urlandschaft gestellte Luxusschiffe wirkten, wie Stefan Zweig's Frau einmal bemerken sollte. Der Veltliner rinnt trocken die Kehle hinunter und mit dem Blick auf dieses herrliche Tal wandert die Phantasie zurück in die Geschichte dieser "Urlandschaft", in die Zeit um 1850, als hier alles begann ...
Above the Clouds the Sun always shines or Wintering in the Alps by Andreas Augustin
Switzerland is famous for exporting talented hoteliers all over the globe. The logic is simple: the country is known for having some of the most legendary hotels on the planet. Let's start with the Engadine, a mountain region at 1,800-3,000m. It inspired Hemingway (1899–1961) to say: "Switzerland is a small, steep country much more up and down than sideways, and is all stuck over with large brown hotels built in the cuckoo clock style of architecture." ("Toronto Star Weekly", March 1922). St. Moritz and Pontresina represent the social heart of the region. They share the highest airport in Europe – Engadine Airport Samedan, where only visual approaches are permitted. Grand hotels await the traveller all over the place, perching on top of the hills like pristine early ocean liners or, better still, old palaces. In 1896 an hotelier named Caspar Badrutt even decided to call his hotel "Palace". This, by the way, was the first Palace hotel in the world. The Palace in question is NOT a cuckoo clock, but rather a "Big Ben" – it has a tower. Back in 1998 we made our way to Pontresina, where the Grand Hotel Kronenhof awaited us. Its former manager Xaver Stocker had called us in to record the history of this fine old establishment. I always fondly recall our days at the Kronenhof. It has such a family friendly atmosphere that we even brought the children. They both skied all day long on the slopes of Pontresina. The Diavolezza, Bernina and Lagalb areas are a magical winter wonderland. Photographer Bill Lorenz accompanied us and shot some of his most remarkable work in hotel documentary photography. Upon starting our research, we were led into a small room in the oldest part of the house, dating back to 1849. 'These are the archives,' Stocker proudly announced. Stacks of old photographs, guest books and historic documents like drawings (left) greeted us. We dove into the material and were at once driven back to the days of the 1850s, when a few men in this region realised that a new breed of travellers, called tourists, was seeking the kind of accommodation worth staying in for more than one hasty night. Over the decades the Palace, the Kulm (both in St Moritz) and the Kronenhof, the grand old lady of Pontresina, developed into grand alpine hotels. The Kronenhof was the first of them all. A small boarding house with only three rooms in 1849, it became the Gasthof (inn) zur Krone-Post. Historic details (left) can be found all over the house. All guest records are still kept in the archives of the Kronenhof. Hence, we know that there were 14 guests in the first year, 11 Germans and 'other' nationalities, and three English guests. One of them was a certain F. Hugh who brought his dog Flip (to give you an idea of the sort of archives we found!). Pre-eminent among the myths of St. Moritz is the tale of how, through a bet with some English friends, Caspar's father Johannes Badrutt (at the Hotel Kulm) reputedly "invented" the concept of wintering in the Alps. One summer day, the legend goes, he was asked what they did up here in the rough mountain climate during winter when it was all ice and snow for months on end. 'In winter,' he replied, 'it's sometimes so sunny and warm that we wear short sleeves.' 'Not true', the Englishman laughed, a foggy London winter day in mind. 'I bet you. If it's not true, I will pay for your stay.' Winter arrived. When the skeptic Brits arrived to bright sunshine, they found that they had packed everything one needed for cold winter days: pullovers, sweaters and gloves. But one essential item was missing: sun glasses! Thus, the winter season was born and guests from all over Europe soon flocked to the mountain destination. As mankind needs games, skiing, skating and curling were invented. St Moritz knew what it owed the British and American guests and invented The Cresta, an ice run, three quarters of a mile long. The first rider to adopt the now traditional head-first position was a British subject, a Mr Cornish, in the 1887 Grand National. Riders brake using the rakes on their boots and if they are out of control they are certain to go out at Shuttlecock, the most famous corner of the Run. Fallers at Shuttlecock automatically become members of the Shuttlecock Club and are entitled to wear a Shuttlecock tie. It's that sort of game. During this period, hotels designed to become homes away from home, were built. They duly contained a reading room, a cards room, the fireplace and the library. The primary aim was to please the distinguished traveller. With the greatest care, the necessities and styles of the foreigners were copied, sometimes merciless merged with the afore-mentioned cuckoo clock style of architecture. Traditionally the owning couple of the Gredig family ran the Kronenhof. Many years ago the large family sold the hotel. Managers took the helm of this Swiss institution; Henry Hunold followed Xaver Stocker - all hoteliers in the great Swiss tradition. Recently a guest remark reached us: 'The manager attended each meal and made a point of coming around to each table to make sure you were well taken care of. I have never, EVER been to a hotel before where the people were so incredibly eager to please and the service was impeccable.' Today, again, a managing couple is at the helm of the house. With ample experience in deluxe hotels, Heinz E. and Jenny Hunkeler are leading the hotel through its most remarkable renovation phase. A spa wonderland is going to be added. New rooms, apartments and an underground car park have been partially completed.
Andreas Augustin
präsentiert
Grand Hotel Kronenhof, Pontresina
in der Serie Die Berühmtesten Hotels der Welt
Der Autor und die Organisation THE MOST FAMOUS HOTELS IN THE WORLD, LONDON, danken ganz besonders dem Direktor des Hauses, Xaver Stocker, für seine Gastfreundschaft und seine Bemühungen, uns neues und historisches Material in Pontresina und dem Oberengadin zugänglich zu machen.
Ganz herzlichen Dank an die neuen Besitzer des Hauses, die es heute ermöglichen, dieses traditionsreiche Haus in der gewohnten Qualität eines internationalen Grand Hotels weiterzuführen.
Bedankte seien Rita-Angela Gredig sowie Lorenz und Gisela Gredig, die sich für uns an die Zeiten erinnerten, in denen ihre Vorfahren und schliesslich sie selbst den Kronenhof aufbauten und führten.
Dora Lardelli vom Kulturarchiv Oberengadin in Samedan für ihre kunsthistorischen Ausführungen und Juliano Pedretti (der doch noch die "meist verschollene" Schachtel mit dem historischen Fotomaterial in den Kellern des Kulturarchives fand), Dr. Rudolf Campell, dem "Senior" Gemeindearzt von Pontresina, Ernst Amacher, der 25 Jahre lang Gemeindeschreiber war und Reto Danuser, der dieses Amt nun bekleidet, seien ebenfalls bedankt. Dank an Richard De Unger für sein Murray's Handbook to Switzerland 1904.
Alfred Lochau war besonders freundlich, uns aus dem Archiv seines Fotoateliers die Aufnahmen des berühmten Fotografen Alexander Flury (†1901) zur Verfügung zu stellen.
Im Haus gebührt besonderer Dank dem reizenden Personal, das während unseres Aufenthaltes so liebevoll um alles besorgt war. Dank an Brigitta Thut und Chefconcierge Tom für den freundlichen Empfang, Franz Nicka, der für alles kulinarische im Haus zuständig ist, Maître d'hôtel Rainer F. Hoffer, der mit seiner Brigade für Grand Hotel Eleganz sorgt, Daniele Battocchi aus dem Restaurant Kronenstübli, der dort in Kooperation mit Küchenchef Peter Pfiffner kulinarische Auszeichnungen für das Hotel verdient. Janosch Braegger, dem technischen Direktor des Hauses, herzlichen Dank für seine Ausführungen und Dietrich Selig, dem Nachtconcierge, der sogar sein eigenes Video über den Kronenhof drehte, für frühmorgendlichen Beistand.
Fotos: Bill Lorenz
Bildmaterial: Alfred Lochau (Foto Flury, wir danken für alle Aufnahmen aus dem Archiv von Alexander Flury) sowie einige der Aufnahmen der Zimmerausstattung, Archiv des Hotel Kronenhof, Kulturarchiv Oberengadin - Samedan, Archiv der Österreichischen Nationalbibliothek, Famous Hotels Main Archives, Vienna. Bei einigen Bildern konnte das Urheberrecht nicht geklärt werden. Wir ersuchen um Verständigung.
Abwicklung: Thomas Augustin
Produktion: Carola E. Augustin, Harrison Dolittle
DTP: Michael Patzal, Werner Graser, Erich Pribil
Allgemeines: Alle historischen Daten wurden im Zuge der Recherchen nach üblichen Kriterien ausgewählt und zusammengestellt. Das erklärte Ziel war es, einen möglichst unterhaltsamen, geschichtlichen Überblick zu vermitteln. Dieses Werk erhebt also keinerlei Anspruch auf Vollständigkeit. Historische Fotografien wurden entsprechend restauriert und gelegentlich koloriert und sind daher Gegenstand des Urheberrechtsgesetzes. Das gesamte Werk einschliesslich aller Teile wie dem Umschlag, den beigelegten Postkarten und Lesezeichen unterliegt dem Urheberrechtsgesetz. Insbesondere ist die Speicherung in elektronischen Medien und die Distribution in Netzwerken jeder Form untersagt. Jede Verwertung von Teilen dieses Werkes ohne ausdrückliche, schriftliche Zustimmung von The Most Famous Hotels in the World Ltd. London wird ausnahmslos verfolgt.
Achtung - Verlage und Autoren
Zahlreiche Quelltexte zu diesem Buch sind in der frei zugänglichen Webdatei www.famoushotels.org im Archiv zu finden. Alle in diesem Buch verwendeten Aufnahmen sind als digitale Dateien in bester Qualität erhältlich. Wenden Sie sich an das Archiv von The Most Famous Hotels in the World und verlangen Sie das bestmögliche Bildmaterial für Ihre eigenen Publikationen.