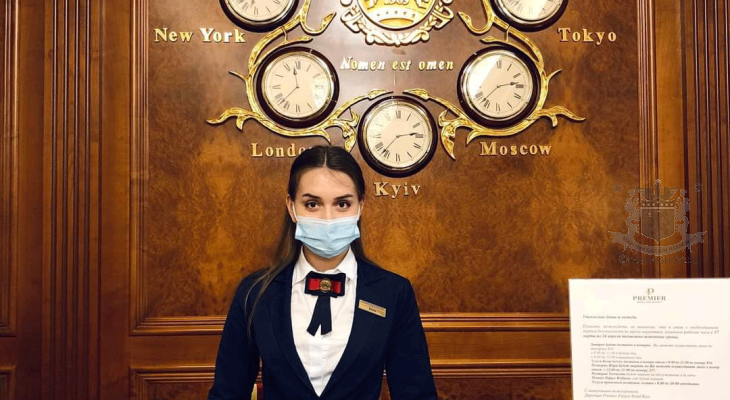 Andreas Augustin
THE NEXT STEP — PREMIERE PALACE KIEW, UKRAINE
( words)
The receptionist at the Premier Palace in Kiev, Ukraine, in 2020
Premiere Palace is the leading hotel in the partially exceptionally charming capital of Ukraine, Kiev.
I won't forget this book launch. Never! The Oriental in Bangkok invited 1,500 of their closest friends to celebrate the launch of the book THE ORIENTAL BANGKOK, at the Caledonian in Edinburgh the Lord Provost held a touching speech, ... but never ever before (and after) did a hotel arrange for one of the most famous composers of their country, Rubinstein, to present a new composition to commemorate its 100th anniversary. I have preserved a (bootleg) recording of the wonderful piece of music and release it today for the first time!
Let me share with you during these dire times an enchanting piece of music.
However; I have asked Alexey Metelskiy, Director of Sales at the Premiere Palace, how the Ukraine and his hotel Premiere Palace in the capital Kyiv copes with Corona — and this is what Alexey told me:
"I need to admit, Premier Palace was one of the few hotels, which never closed. We became a safe shelter for international and domestic travelers, who appeared in Kyiv these days. It was crucial especially last days before lockdown as guest were worried about getting home and no one knew whether this trip will be safe.
In addition, we have resident guests (some with kids), who did not want to leave the city and appreciated the hotel was a reliable and safe place to stay.
So, since the first day of lockdown the team did it best to serve guests at a level they used to. Of course, spa and a la carte restaurants were restricted. So, serving 20-25 individual in-room breakfasts became our morning exercise. And the same during lunch and dinner. It became a challenge for our chef, which she mastered successfully.
We also started to collaborate with courier food deliveries and are now developing this into a new line of business.
At the end of May restrictions became weaker and the hotel has offered all it's services within governmental regulations. Our rooftop Atmosfera restaurant has great season with lots of happy guests. We hope to have same in Terracota restaurant with stunning view to Kyiv's downtown.
Since April hotel follows Premier Hotels and Resorts rules, which are officially announced: https://www.phnr.com/en/safety-rules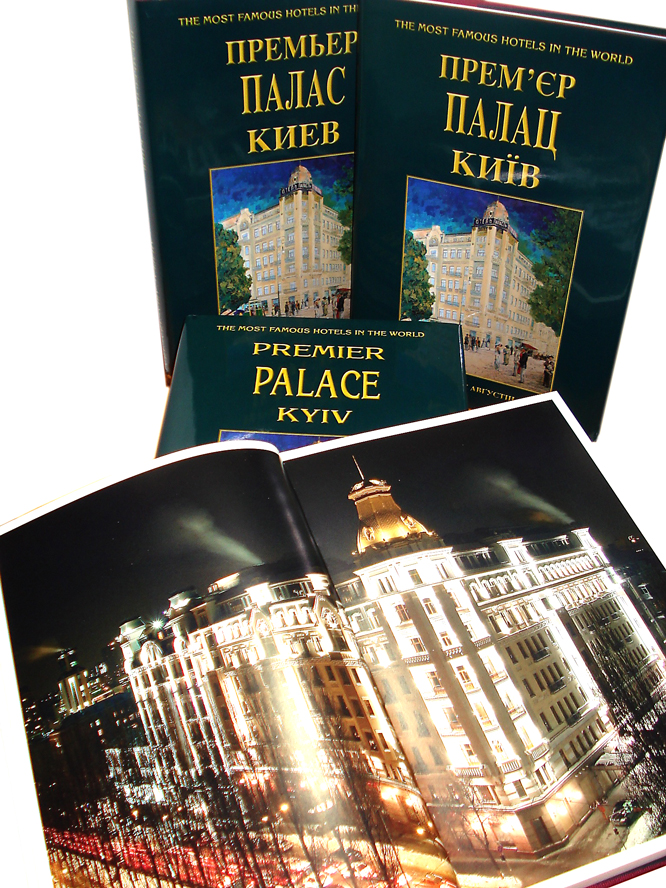 THE NEXT STEP
We won't close for sure because of our regular customers and an experience we had with first lockdown. We understand this is a long-term situation and travel industry won't improve before – at least 2021. We will serve our guests as we are used to since 1912, and create new products, which will match this "new normal". For example: in some days our Gastro getaway package starts: guests will be able to hire a hotel room and enjoy menus of all our restaurants. We have a lot of rooms and options to adapt our offers to new travel reality. Premier Palace Hotel Kyiv will always remain home away from home."
The book Premier Palace telling the story of this architectural sensation of the early 1900s, the famous artists and poets of Ukraine, ... can be found here