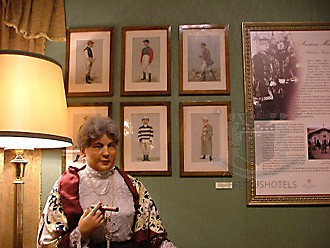 HOTELS
Sacher Exhibition Budapest
( words)
The Hungarian Museum for Trade and Hospitality held a splendid exhibition "Sacher", partially based on our book Hotel Sacher Wien, presenting pieces of furniture and memorabilia never shown before.
Silver tableware
Recreating the unique Sacher atmosphere
Legendary concierges and TV stars
The 1960s-1970s
Anna Sacher's bath tub versus modern Spa
Hotel Sacher Salzburg - the big brother
Love for details makes this exhibition unique
Room with a view - the new roof top terrace
Care to sit down? Relax, enjoy, ..
Memorabilia - Anna Sacher's trophys
MUSEUM OF TRADE AND HOSPITALITY
Budapest; V. ker. Szent Istavan ter 15,
Opening hours: 11.00.–19.00 (closed on Tuesdays)
If you can't make it to Budapest this season, you can either buy our book HOTEL SACHER WIEN (available in German or English) or visit our regular exhibitions of famous hotels and their history.