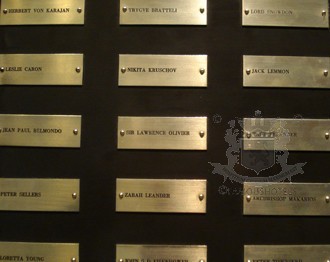 PERSONALITIES
Named to the Manor
( words)

The historic Hotel d'Angleterre, right in the centre of the picture.
Hotel d'Angleterre: Copenhagen's is the home of one of the oldest hotels in the world! It dates back to the 18th century. D'Angleterre is Denmark's leading five-star hotel - perfectly located in its historic landmark building overlooking the lovely square, Kongens Nytorv, in the heart of Copenhagen. It is just metres away from the tourist trap Nyhavn Canal and the pedestrian shopping street Strøget. All about the Angleterre's history - one of the oldest hotels in the world - in our database

The Royal: Opposite Copenhagen Central Station and the Tivoli, the sophisticated amusement park of Copenhagen, stands the giant glass structure of the Royal. I am currently putting together the files for our jury. Next year, the ROYAL is 50 years old, the minimum age for a hotel to become A Select Member of The Most Famous Hotels in the World.
Roy Albert Kappenberger
is the general manager of the Royal. He knows the history of his hotel like the back of his hand. No surprise. He was born and raised there. He was even named after it (Roy-Al).

Alberto K, the restaurant on the last floor. Magnificent view, exquisite food! In memory of the founder and first general manager, Alberto Kappenberger. Roy's father Alberto had built it. The world's first purpose built designer-hotel (unless we receive comments on this!).

Arne Jacobson, Denmark's great designer, was the mastermind behind architecture and design. From the façade to the bathroom, from cutlery to legendary swan-chairs, from lobby to rooftop restaurant, from top to toe, so to say. Here SAS (Scandinavian Airlines) had its first city check in, from the main station opposite of the hotel leaves the train to the airport.
Next year it is going to be fifty years old. It will be shortlisted to become a Select Member of the Most Famous Hotels in the World this autumn.
Visit the SAS Royal - Arne Jacobsen Room 606
The Plaza: A gem of a bygone era dwells at the foot of the Royal, in front of the old station. It was never famous, but in a way 'always there'. The Plaza was built on request of King Frederik VIII to accommodate the laded gentry when in town for a visit to Amalienborg, the Royal Palace. The 1908 built hotel houses the beautiful, cosy and unique Library Bar. I am very pleased to find (while writing this) and can only confirm that the Library Bar has been awarded one of the five best bars in the world by Forbes Magazine. Surrounded by hundreds of antique books you are taking a trip to a different time. Good food, good drinks. The rest is upon you. I would seriously consider an application of The Plaza for famoushotels.org.