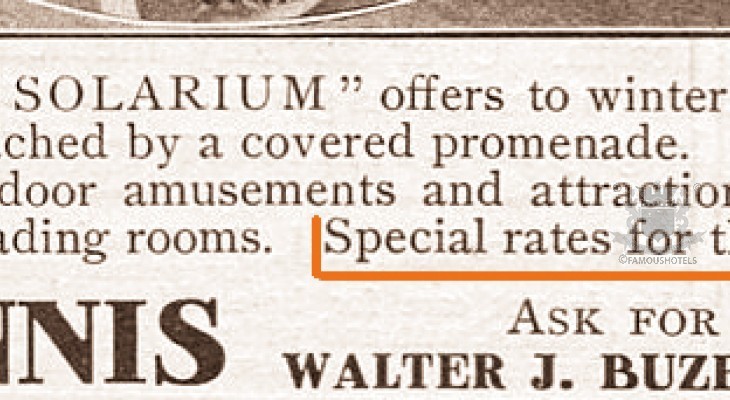 Andreas Augustin
Feuilleton 385: The Long Term Stay
( words)
"The great advantage of a hotel is that it is a refuge from home life."
George Bernard Shaw
1856, Dublin, Republic of Ireland – 1950, Ayot St Lawrence, UK; Irish playwright, critic and polemicist
Long Term Stay Available
ANDREAS AUGUSTIN
---
In the current tourism crisis hotels are fighting to survive. Many of the most famous hotels survived various crisis, such as wars, 9/11 and 2008. In order to be able to pay your staff, suppliers and electricity bills why not invite guests for a long-term stay at very reasonable rates? Looking back there was the long-term-booking opportunity for the long term resident, and the rates advertised were called "terms negotiable". I see a revival of this historical term. So let me tell you how it works.
With the Corona plot thickening again and winter approaching, hoteliers are best advised to offer long term packages for guests who don't want to spend the winter again in tiresome isolation but in splendid company.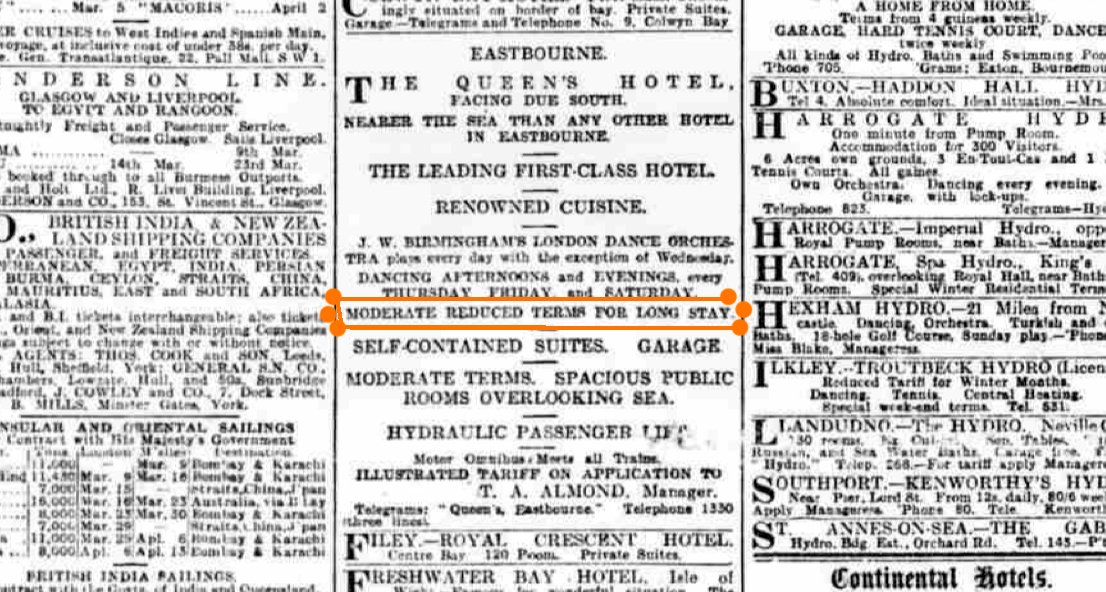 Advert from the 1920s
During the cold season the landed gentry locked up their castles and country houses and moved to the city to enjoy the pleasures of the season. The staff was sent home, only the closest servants were allowed to travel with them. They moved either to their city palaces or into a grand hotel.
Grand hotels were well prepared to accommodate this clientele. In hospitality history there was the long-term-booking opportunity aiming at the long term resident. The rates advertised were always referred to as "terms negotiable" or "moderate reduced terms". I see a revival of this historical term. So let me tell you how it works today
The Micro Cosmos
I have lived at different hotels (mostly writing my books looking at myself, sitting at the desk in front of the mirror. Don't think that's funny all the time.) for many years.
That's how it feels: you have you very own private refuge, where you can withdraw yourself (= your room). Once you feel like it, you dress up, open the door and go (usually) downstairs to explore the adventures of the lobby, meet new people at the bar, enjoy the gardens, the pool, dine at the restaurant. Enjoy a micro cosmos within reach. Added opportunities reach from swimming pools to adjacent shopping mall to golf course, seaside, horse stables, tennis …
Most hotels would accept a deal
Terms negotiable depend clearly on the property. But most of famous hotels have one thing in common: they prefer a long term resident to the overnight stay. Long term residents get to know the staff, they treat the hotel as their home which in general means they treat it better than the accidental guest does.
There is no doubt where to go
First of all check into a famous hotel (to be found in our list under HOTELS). Don't settle for less. Otherwise you could very well stay at home. Always choose the best and most famous hotel, even if you can only afford the smallest room. Every room, even a microscopic small one, comes automatically with concierge desk, room service, maid and cleaning, fresh bed sheets, a hotel lobby, maybe terraces and pool, some with views to see and all to be seen. All this includes a reputation you can only buy for money. You ancestors will talk about you for generations.
Learn all about your hotel.
Don't accept any room. Check in, stay a few nights and walk the corridors. Look for the room that suits your needs best – for example "most silent". You can always peep into a room when housekeeping is in it cleaning. And you should study the fire- and emergency instructions. They usually come with a floor plan. Allocate interesting rooms, find extra and adjoining and extra large rooms.
The check list for potential guests
Next and opposite the lift is the busiest area. You will hear people on the corridors, doors banging, staff communicating. Not a good place for a permanent residency.
A corner room is usually larger. It also might have an extra room.
A suite in a less favourable location is probably less expensive.
Are there cooking facilities at hand?
Pets allowed?
Where can you park your car?
Your surf board is probably best kept with the concierge, so is your golf bag and bicycle.
You need a larger wardrobe. Make sure you get an extra one placed in your room. Ask for more hangers.
Is the size of your desk sufficient? If you ask for an extra desk to be placed in your room your host might automatically allocate you a larger room.
Go as far away from gym and other preferred facilities as possible and your room rate will drop by the meter. Guests prefer short distances to the top facilities. For you, the extra meter is part of your daily fitness program.
By the way: always take the stairs if you can - fitness totally free of charge. And it's less crowded than the elevator.
Negotiate the price. It should be at least 50% less than the average daily rate, and could be packed with a lot of goodies.
Among the goodies e.g. daily laundry allowance, breakfast buffet, your allocated parking lot, personalised stationery and your IN RESIDENCE business card.
I wish you happy settling-in. If you want please share your experiences with me! - aa ... at ... famoushotels.org