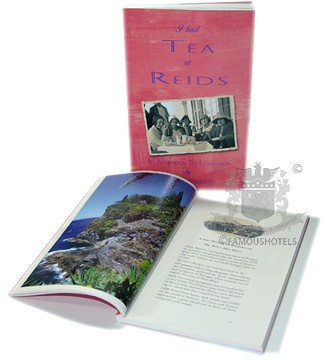 The Making Of Books
Famous Hotels Bookstore
( words)
Our Prestigious Leather bound collectors editions are:
Metropole Hanoi: (leather bound collector's edition); €73.00

'A wonderful history of Vietnam, and a great story of the Hotel Metropole ...' South China Morning Post
Caledonian Edinburgh ( leather bound collectors edition); €73.00

'Of course this is a book aboutthe Caledonian Hotel, but it is also a social study and a well cut synopsis ofthe history of Edinburgh.' ?The Herald
Grand Hotel Europe St Petersburg (leather bound collectorsedition); €73.00

We also offer our regular cloth bound editions autographed by the author.
The Oriental Bangkok:
(cloth bound edition) € 28.00
The latest 2008 edition of the Oriental Bangkok (clothbound), €28.00
Hotel Metropole Hanoi
(cloth bound edition) € 28.00
The latest edition of the MetropoleHanoi (cloth boundedtion); €28.00
Welcome to the Grand Hôtel Métropole Palace, as thiswonderful hotel has been called on its opening day in 1901. Come and see theold colonists as they meet. Stroll through the history of exoticVietnam.?Encounter Gustave-Émile Dumoutier, the...
The Imperial New Delhi
(cloth bound edition) € 28.00
Our all time favourite The Iperial New Delhi, french or english edition (cloth bound edition) €28.00
Edition Français:
The Caledonian Edinburgh
(cloth bound edition) € 28.00
Hotel Ritz Madrid
€ 28.00
(cloth bound edition)
Hotel Sacher Vienna:
(cloth bound edition;english and german editions); € 28.00
Deutsche Ausgabe
I

had Tea at Reid's - just released!



The first compilation of tea - stories, history, facts and pictures around the legendary Reid's Hotel in Madeira. One of the most famousplaces to have tea.
(paperback edition) € 15.00
Find the answers to how to make and how to take tea, a brief history of the island of Madeira and of Reid's Hotel, its best kept secrets such as the visit of Empress 'Sisi'...
A comprehensive companion to afternoon tea, partserious, as the matter can be, part hilarious, as the author can be.
THE COMPLETE LIST OF BOOKS CAN BE FOUND HERE: //famoushotels.org/books