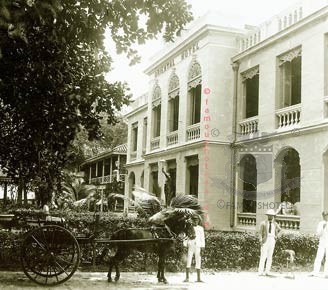 PERSONALITIES
Bangkok: O-Zone - An Employees' Heaven
( words)
by Andreas Augustin
An entire industry eyes at the CSI Customer Satisfaction Index, but we are now looking forward to the next results of the ESI, the Employee Satisfaction Index, at the Mandarin Oriental in Bangkok. "The Oriental", for many years the number one in the world - ever since often copied and rarely reached - is again a trailblazer in recognizing trends before they happen.
Of course we have seen the odd staff cafeteria and experienced the occasional add-on such as free vitamin pills (at the Premier Palace in Kiev), but the vitamin pill The Oriental is serving nowadays to its staff is certainly going to work.
Meet the O-Zone Experience. "We recognize our employees for being the most valuable asset in delivering a truly legendary guest experience," says Jan Goessing, general manager of the hotel.
In its 135th year the management decided to celebrate their internal customers, their own employees. The former executive offices on the second floor of the River Wing had to make way for a recreation areal, solely dedicated to the employees. Called the O-Zone Experience, it can best be described as a "hotel within a hotel".

Super comfortable sofas, library and large flat screen - guess how the public areas look like because this is the staff recreation lounge!
Mandarin Oriental Bangkok: 1700 employees, 3,3 average per room, 16 years average employment time!
As well as being the first of its kind within Mandarin Oriental Hotel Group, this venue certainly creates a new benchmark in the hotel industry. Amongst other things, O-Zone offers a unique contemporary design, a staff concierge and employee assistance program, a relaxation and entertainment area, a bilingual lending library, hi-tech meeting venues, a restaurant branded "Café 48" complete with a retail "Kiosk 48" as well as state-of-the-art locker rooms and resting facilities. O-Zone is divided into 10 distinctive Zones: Sell, Fashion, His, Hers, Health, Café 48, Talent, Mind, Dream and Relax.

"O-Zone is a platform supporting our unrelenting drive towards retaining and further enhancing the hotel's employer of choice status within the hospitality industry. O-Zone further demonstrates the respect and importance we place in our staff members, by providing a sanctuary where they can interact freely and creatively with their peers," said Jan Goessing, General Manager of Mandarin Oriental, Bangkok.
The O-Zone branding is derived from a playful interpretation of three words: "Ozone", standing for transparency, health and the environment; "O", referencing the hotel's unique culture and original historic name "The Oriental" and "Zone", allowing for space assignments and innovation in design. The entire floor reflects the hotel's Green Awareness through numerous environmental initiatives. Not simply a physical renovation, O-Zone is a testimony to the dedication and passion of the 1,300 individuals who call Mandarin Oriental, Bangkok their "home away from home".


Welcoming hotel employees to the 2nd floor is the "Hand on Frames" art installation. This select group of 48 plaster handprints showcases those employees who have worked at Mandarin Oriental, Bangkok for the most number of years, totaling a more than 1,700 years of loyalty and service commitment. As a leader in the hotel industry we continue to honor those who are responsible for our legendary service and excellent customer relations.
Team work and transparency are the two key priorities on which the O-Zone Experience has been designed. The areas dedicated to new office environments, such as Sales, Public Relations and Human Resources, are lit generously and share windows, creating a feeling of intimacy, yet openness amongst colleagues. The employees' bilingual monthly newsletter "Sup Sip" contains articles written by staff members for fellow staff members, thereby further instilling a family environment within the workplace.

O-Zone has been designed by Tandem Architects 2001, a Thai-based innovative design company, well-known for their contemporary interpretations of Asian influenced architecture and design. Their portfolio includes resorts, residential buildings and retail facilities throughout Bangkok and Thailand. The Chedi Chiang Mai and the award winning Met Condominium are a few of their projects in Thailand.
As part of the hotel's dedication to attention to detail, all facilities offer carefully chosen amenities and technical parts. For example the locker room shower-heads are from Kohler and use a special "racetrack" waterway that delivers a full and steady water fall, regardless of water pressure. The His and Her Zones, respectively, provide shower gel and soap from Davidoff for men and from Dior for women.
Students with the Oriental Hotel Apprenticeship Program (OHAP) have also been integrated into the O-Zone experience as part of their hands-on training. They are scheduled to assist in Café 48 and Kiosk 48, the staff concierge desk and lending library. OHAP's inclusion in the O-Zone concept during their itinerary further demonstrates the importance that is being placed on practical training within Mandarin Oriental, Bangkok, which has been recognized for many years as the 'Best Hotel in the World'. "We are proud of the fact that O-Zone provides our staff with facilities that are on par with real guest facilities, making this literally a "hotel within a hotel" experience for all," added Mr. Goessing.
More about the hotel, its history, its famous guest and greatest legends. Here.