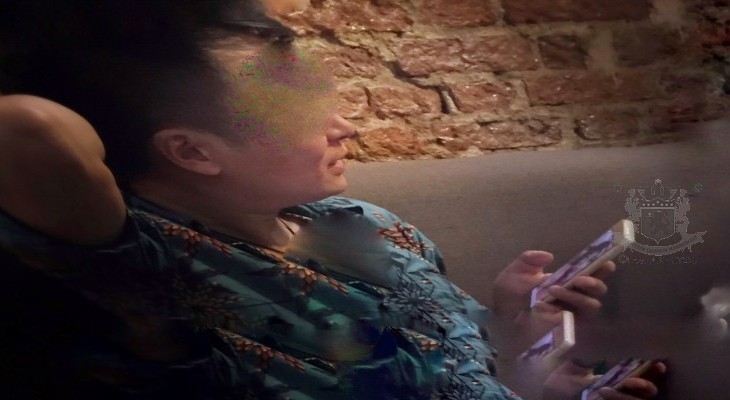 Style Book
Feuiletton 359 — Style
( words)
Karl Lagerfeld — 'Sweatpants are a sign of defeat. You lost control of your life so you bought some sweatpants.'
Style
One detour per year should be tolerable. This year I leave the beaten track of hotel history writing and turn to my second pet peeve. It is called ETIQUETTE.
DEAR FRIENDS ON ALL CONTINENTS: Let it be known all over the world: We Europeans do not endorse bad style. It is inacceptable to turn out in baggy track suits and sweatpants, often joined by bare rumps displaying tattoos at pools, shorts, t-shirts and flip-flops in restaurants, noisy behaviour in public, ... It is SIMPLY BAD STYLE — and that's a breach of ETIQUETTE. We in Europe wouldn't tolerate it. So why on earth this person believes he/she gets away with it on foreign soil I don't know.
---
'One is never over-dressed or under-dressed with a Little Black Dress." Karl Lagerfeld
Travelling means visiting other countries, peoples and zones of etiquette. I firmly believe that it is up to the traveller to adapt to the guest country, not do as we please. That's the code—in general.
So let us appear at our bests! In dress, style and manners! That's the second code.
3 points to consider:
1.
I am a staunch defender of dress codes. Dress for the beach at the beach. Flip flops, shorts and t-shirts don't pair with the city's finest hotel. Never wear it after six. You must understand that you are simply a nuisance when you underdress. And don't give me the dollar talk. I don't care if that super-cool-latest-fashion sleeveless t-shirt costs 250 Dollars. It's just not right, get out of my sight! Another Karl Lagerfeld: 'Trendy is the last stage before tacky.'
'WHY, OH WHY, DO THE WRONG PEOPLE TRAVEL WHILE THE RIGHT PEOPLE STAY AT HOME?' Noel Coward
Courage, dear hosts! From my experience, a stern dress code has more PR value than a $100,000 series of adverts.
Sleeveless shirts, flip flops and rucksacks are among the things strictly forbidden at the Mandarin Oriental in Bangkok, one of the last bastions of dress codes
'Clothing contributes significantly to the atmosphere of each event. Guests overriding dress codes are rude, disrespectful and reckless. At Viennese balls, for example, they are therefore denied entry,' says Austrian style & etiquette expert Thomas Schäfer-Elmayer.
Don't be a nuisance.
2.
"That's the pool, here's the sea, that's the bar where we get drunk every night, … WHAT? No, Granny, you must hold it upright! YES. THE POOL, … NO, THAT PERSON NEXT TO ME IS NOT JOHN … I DON'T KNOW WHY HE LOOKS SO UNINVITING!"
DON'T USE YOUR MOBILE IN PUBLIC to make a conference call. Don't encourage your guests at the table to loudly sing Happy Birthday over the phone. Giving the beloved ones at home a taste of our holiday currently tops my PUBLIC NUISANCE list, courtesy of WhatsApp, Skype and consorts.
"It's a funny thing about life; if you refuse to accept anything but the best, you will be surprised how often you get it."
W. Somerset Maugham
COURAGE, PLEASE!
I would like to encourage all hoteliers and restaurant owners to request style. It is a matter of politeness. It helps your guest to get it right, to solve that ever-pressing question of what to wear. It helps the hotel to create the atmosphere it desires. I want you to know that you are not alone. You will receive standing ovations when you ask somebody to stop using the mobile. You will not receive me back if you don't.
Somerset Maugham brought it to the point: It's a funny thing about life; if you refuse to accept anything but the best, you will be surprised how often you get it.
Why don't we create public speaking areas? Next to the smokers' section.
3.
And, inescapably, at various resort hotels there is the daily battle for sunbeds. It is definitely bad style to block a bed and not to show up for hours, left alone not at all. So the pool attendants of the Mandarin Oriental in Bangkok invented the hour glass timer. Once somebody reserves a pool bed and leaves it unoccupied, a hour glass is placed on it. After one hour the bed's reservation time is up.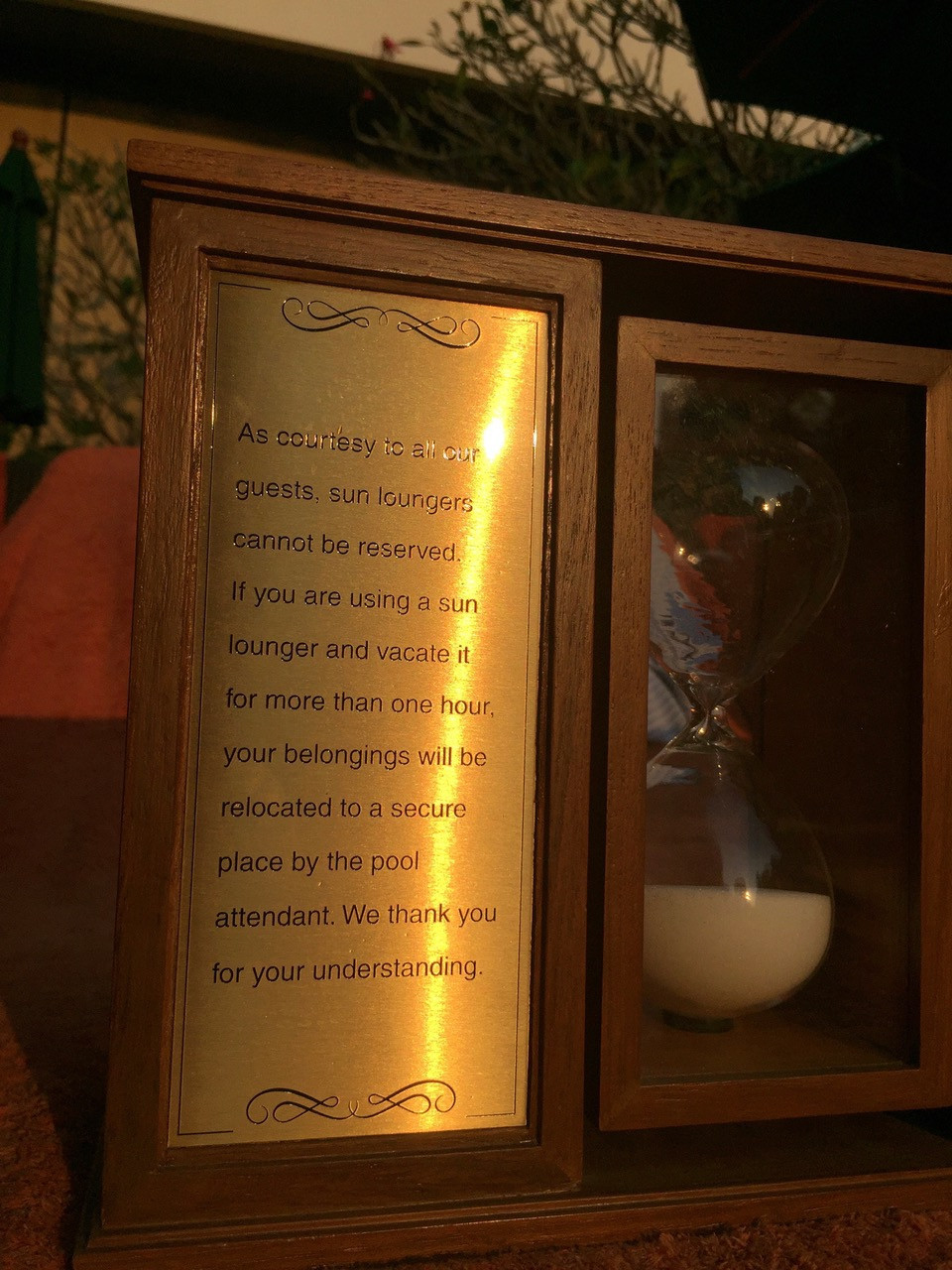 The pool attendants invented the hour glass timer. Carefully study this picture please.

In 2018, by the way, Thomas Cook introduced a sunbed reservations system. Up to 20 per cent of sunbeds are bookable, leaving the rest free for early risers. Customers receive a plan of the pool area that includes a compass, showing where the sun falls at different times of day (25 Euro). Simply: sunbeds can only be occupied by sunbathers, not by books, magazines and towels.
Could we please agree to ban phone calls from public places like pools and restaurants, that we dress for the occasions, and – in case there is any doubt – that we tell the people what to wear? Temples, mosques and churches request it. So why not famous great hotels?
Thank you
Yours - as always
Andreas Augustin