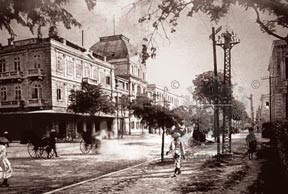 The Making Of Books
'Leaves nothing to be desired'
( words)
HOTEL METROPOLE HANOI:
The latest edition of our successful book has just arrived. The history of Vietnam blends harmoniously with the story of its legendary Grand Hôtel Métropole Palace, as this wonderful hotel has been called on its opening day in 1901. Come and see the old colonists as they meet at the Café of the Metropole, sip a Nuoc-Soda and exchange the latest gossip. Stroll through the history of exotic Vietnam. Encounter Gustave-Émile Dumoutier, the fabled French anti-imperialist who opened the hotel in 1901. Meet André Ducamp, Dumoutier's wealthy partner, who ran the hotel for almost three decades. Here the first "moving pictures" were shown, long before Charlie Chaplin and his wife Paulette Goddard arrived in person. Meet authors like Pierre Loti and Marguerite Duras, British dramatists Somerset Maugham and Noël Coward and of course the "war correspondent" Graham Greene. Read about Jane Fonda and Joan Baez in the bunker of the hotel during air raids in the horrifying days of the Vietnam war. Read about Doi moi, meaning renovation, the new slogan that brought the country irreversibly to a new path. A path that lead to a total renovation of the Metropole. Finally meet the lovely people who make all this possible. The professionals behind the scenes. Welcome to the young country of the Vietnamese people with their natural talent for hospitality. A book full of fabulous historic and contemporary photographs, presenting the story of one of the last grand hotels of the exotic East.
Alfred Cunningham, a British visitor in 1901, was one of the Métropole's first guests. He was clearly impressed by what he found. 'The most important hotel in Hanoi is the Hôtel Métropole. It is a splendid building, only very recently erected, and is situated on the boulevard Henri-Rivière, immediately opposite the Résidence Supérieure. 'The hotel is elegantly furnished, each bedroom has a bathroom adjoining; and there is a public hall, salon de conversation, reading room. The sanitary arrangements are perfect, and the general accommodation leaves nothing to be desired. 'The service is good, being Chinese, and the room boys are Annamites. The cuisine is what one would expect in a French town, and the charges vary from $6 to $7.50 a day or $125 to $155 a month. For two persons $10 to $12 a day and $210 to $250 a month, and according to custom a bottle of white or red wine, and liqueur, is free at both meals, Tiffin and dinner.'
From: The French in Tonkin and South China; by Alfred Cunningham, 1902
More stories and the
hotel's database
Go to the book page:
Read the "
Making of
" this book