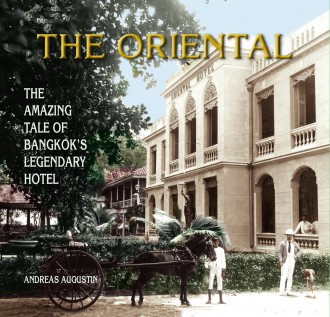 The Oriental Bangkok in 1900. A hackney coach is parked in front of the Oriental Hotel. The hotel was always popular for its fine garden, clean rooms and exquisite food.
The Mandarin Oriental Bangkok
Jim Thompson, the silk king, owned it, the late Peter Ustinov loved it, Graham Greene has a suite named in his honour and Michael Jackson hid from the press there. Hollywood royalty graces the hotel, the Queen of England enjoyed it and Her Majesty, the Queen of Thailand, is a beloved faithful regular visitor.
—
When Thailand was still Siam – in the mid of the 19th century – a rest house for foreign seafarers was established on the banks of the Menam river. It was to become one of the greatest hotels in the world: The Oriental.
The Oriental — so many stories, so many tales. What's the secret behind this composition? This book tells it all. From famous guests to PR strategies and management tactics.
—
From Joseph Conrad, the sea captain and writer, who drank in the bar, to Nijinsky, who danced in the ballroom. Somerset Maugham suffered from malaria in his suite, playwright and actor Noël Coward treasured the memories of his favourite cocktail venue. Meet over 150 of the most important international Authors in their Lounge and enjoy a glimpse of the fascinating Oriental Royal Collection. Over 500 VIPs listed, over 420 photographs, 160 gripping pages.
—
'This is a truly gripping, thoroughly researched and well written story of one of the greatest hotels in the world.'
Gavin Young
'Having known the Oriental for 40 years and more, I find here is a writer who has made the history come alive and tells the story as no other author can.'
Harold Stephens
Our book THE ORIENTAL – THE AMAZING TALE OF BANGOK'S LEGENDARY HOTEL is an account of over 15 years of ongoing research. The photograph on its cover is one of our latest findings.
Dive into the history of this hotel, enjoy the reading and one day please go there, because:?"At The Oriental you never feel bored: the buzzing river in front of you, the relaxed pool, the choice of the best restaurants. And why not visit Bangkok while at The Oriental?"? The database with its various subjects (to the right) contains additional material not published in the hotel's book.
Andreas Augustin
Google Map