2015-We Cannot Escape History
"We cannot escape history ... No personal significance or insignificance can spare one or another of us. The fiery trial through which we pass will light us down in honour or dishonour to the last generation.

Abraham Lincoln (1805-65; 16th president of the USA)


"We weave dreams for you. We inspire experiences for you. We prepare to astonish you. We accessorize you."

Liam Lambert
Irish, hotelier and artist, family man and philosopher.
Dear Friend of The Most Famous Hotels in the World;
Our archives reach back to the beginnings of tourism.
We collect and receive, we verify and list, we take notes and establish timelines.
If you have material which you think is of interest to us, please share it.
yours sincerely
Andreas Augustin
President
The Most Famous Hotels in the World
Andreas Augustin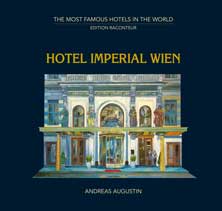 Imperial Vienna - new look, new book

Vienna's hotel Imperial has received a fantastic facelift, now the new book is out, too. Go to the page »
1931: Adlon Berlin: Chaplin meets Dietrich


Who's Who at famous hotels? While hundred of fans besieged the main entrance of the Hotel Adlon in Berlin, inside a casual meeting between Marlene Dietrich and UK-comedian Charles Chaplin took place.
Read more
15 Books You Must Read About Famous Hotels

The hotlist for 2015 is out. 15 books you must read about famous hotels. Read more…